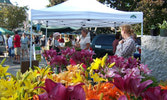 Goderich has Huron's oldest farmers' market
The Goderich Farmers' Market is proof that you can teach an old dog new tricks.
As one of the oldest Farmers' Markets in the area, the event, which has survived relocations due to a tornado and becoming a sidewalk sale in the interim, continues to innovate to create a unique shopping experience.
The market is held on The Square in Goderich from 8 a.m. to 1 p.m. every Saturday until Thanksgiving and brings together more vendors than the average market.
"We have an amazingly broad spectrum of local products," Goderich Business Improvement Area Manager Susan Armstrong said.
"The market really is a destination for local shoppers and visitors alike," Armstrong said. "The local shoppers are here at 8 a.m. to meet and chat just like a coffee shop."
For more information, visit the Goderich BIA website at www.goderichbia.ca