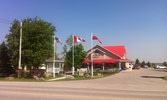 Zurich's food spots an attraction for village
Because of its annual Bean Festival, Zurich has a reputation for food with many people. But food lovers can find flavourful food experiences year-round thanks to a selection of food processors in the village.
Because they all retail their products through other outlets across southwestern Ontario, you don't actually have to go to Zurich to enjoy the products of Jerry Rader Homestyle Catering and Market, Tasty Nu Bakery and Coastal Coffee Company but their close proximity and "added features" make it worth the trip for food lovers.
Take the experience at Coastal Coffee Company, for instance. Ben Gingerich's love of coffee means he loves to talk about the roastery to customers who want to know more about good coffee.
What makes Coastal Coffee Company special is Ben'sintimate knowledge of where and how the green coffee beans originate. He's been to Nicaragua where he has developed a personal relationship with four different micro lots and he also imports unroasted beans from Columbia, Brazil, Rwanda, Zimbabwe, Ethiopia and Sumatra in Indonesia, all from small producers. Ben and his mobile coffee shop can be found every Saturday morning at the Goderich Farmers' Market. coastalcoffeecompany.ca/
Coastal Coffee Company is the newest of Zurich's food producers but directly across the street is Tasty Nu Bakery, the longest running of the three. While current owner Ramon Alpuerto has only owned the bakery for three years, it's been operating since 1929. There's still a calendar from 1950 hanging on a wall, Alpuerto says. Over those years the bakery has built up a loyal following from as far away as London. People travel particularly for the bakery's signature Bismarck doughnut, a traditional German pastry similar to a doughnut with no central hole which may have a filling or is iced on top. Loyal customers also travel for the bakery's bread.
Jerry Rader Homestyle Catering and Market is at the east end of town at 38110 Zurich-Hensall Road (which runs from St. Joseph to Hensall). The bright, spacious building offers fresh baked goods as well as freezer cases full of Jerry Rader's frozen entrées — everything from beef, chicken and turkey pies to lasagna, cabbage rolls and shepherd's pie. https://www.jerryraders.com/