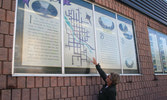 Walking tours visit Brussels' Victorian architecture
The village of Brussels has some classic Victorian architecture, both on main street and in the residential area and walking tours help you find these treasures and discover the fascinating history behind the buildings.
Several years ago, a group of students from the university of Waterloo visited the village and mapped out two different walking trails. You can find these maps in large displays downtown at the Brussels Foodland.
In the later 1800s Brussels was an industrial centre with a large woolen mill, a planing mill and furniture factory, flax mills, carriage works and even a factory making fire engines.
One of the trails also takes you past the imposing Melville Presbyterian Church (built in 1915), Dunedin Manor, built in 1887 and modelled on Scotland's Dunedin Castle, and its neighbour, the turreted Lekie House, built by Brussels' first reeve, John Leckie.