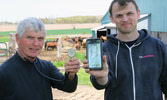 By Jeff Tribe
Jessica Small does not consider herself an agricultural expert, far from it in fact. A 15-year career as a senior programmer for an event planning company based out of Toronto gave her a valuable and marketable skill set. However, her life took a turn after meeting her future husband at a tractor pull near her own rural roots resulting in a COVID-driven pivot into sheep farming in conjunction with his cash-cropping endeavours. At that point, Small's former employment left her woefully unprepared to deal with mastitis in one of her flock's Romanov ewes.
"She'd had twins Monday," recalled Small, who noticed the ewe in question limping Wednesday. "That's how quick it was."
Beyond "YouTube school", she took an Ontario sheep farmer's online course and could tap into the experience of a girlfriend who'd raised sheep for close to a decade. However, in the moment, Small was staring directly down the barrel of the challenges which sourcing veterinary care can present for many in rural areas.
Her sheep-farming friend had lined up a veterinarian eight years previously, "just squeaking in under the wire," adding, "I don't think they've taken new clients since."
Veterinary services are absolutely necessary, says Small, but can be problematic to access, particularly for smaller farmers.
"It's really difficult for ruminants or any farm, especially someone my size."
What may seem virtually impossible for some is now a virtual possibility through the VETSon app (vetson.ca) which links farmers through their phones to experienced care provided by Slant Road Mobile Vet Services. The concept was pioneered by Dr. Glen Yates who graduated from Ontario Veterinary College (OVC) in 1976, in conjunction with the technical expertise of his youngest son Colin. The app's name pays joint tribute to "vet and son", as well as "vet online".
There has always been a demand for veterinarians: Glen starting work near Barrie two days after graduation. The following year he joined his twin brother Gord to expand Yates Veterinary Hospital in Woodstock.
"We started out mostly large (animals) and some small," Glen recalled.
At that time, 12 veterinary practices in their home Oxford County offered service to large animals, compared to three when they finalized sale of the Yates small and large-animal operations in March, 2021.
During that period, OVC continued to graduate 120 new vets annually, a number Yates says does not even replace retirees. There has been a significant increase in demand for small animal service over his career, and a corresponding industry shift away from mixed practices and large animals.
"There are more pets today and more farm animals than there ever have been," says Colin, noting demographically, more veterinary students are also coming from and wishing to return to urban centres. "You grow up in the city, where are you going to work?" he asked rhetorically.
His father was certainly of an age to retire when the Yates' practice was sold, if not of that mentality. Glen was not eager to get beaten up or hauled out of bed regularly at 2 a.m. as he had throughout his career. But he wasn't ready to binge watch TV series either. His willingness to continue as a veterinarian dovetailed with need from farmers he had worked with for years converting to hobby operations.
"They didn't want to totally give up farming. They needed a vet and no one was available," said Glen of the motivation to found Slant Road Mobile Vet Service.
Coincidentally, Colin was conducting research for a different application recording cattle's body temperature in real time. Associated Q&A sessions identified a lack of access to medications at local stores as an issue, along with the shortage of available veterinary service. Many preferred an actual physical visit, however possibly against the backdrop of increased virtual human medical care through COVID-19, indicated they would be willing to work through what issues they could, given professional, experienced assistance.
"The big question I asked was 'How comfortable are you with technology and using your mobile phones?'" said Colin, envisioning a virtual link between that need and his father's 47 years of experience.
As expected, those under 40 very much were, but so too were those who might occasionally need help from grandchildren with their tech devices.
"Even the older ones were 'I'm having to adopt in everything else, so it's not that big a deal.'"
The advent and ongoing rise of technology inside the barn offers future potential to incorporate, for example, data from a robotic milking parlour's individual chips. However, for the time being simplicity and accessibility were judged paramount to the interfacing platform, says Colin. So user friendliness trumped aesthetics or complex potential.
"Just a couple of clicks to get the vet, and only giving them the information they need and will use."
"That was our first goal," Glen added. "Providing service to people who were not being served."
Users download the app with android owners creating a username and password. Apple handhelds log in with their Apple ID. The VETSon landing page has five entry tabs allowing users to schedule a virtual visit, purchase medication, review written and video notes, a fourth for prescriptions and finally, a billing and invoicing portal.
In practice, VETSon virtually links users with an experienced veterinarian via video, front and rear-facing camera options allowing ease of conference and alternately, providing vets with real-time information. If this approach does not suffice, a physical visit can also result.
Dr. Steve Lee, a mixed practice veterinarian with experience in New Zealand and United States before joining Slant Road, saw his wife use equivalent virtual technology in small animal practice.
"It got me thinking and realizing this could apply to farm animals as well," said Lee, laughingly describing himself as the "young vet, only in my 27th year."
His previous work confirmed challenges in accessing veterinary service. Not having one in the area extends beyond Southern Ontario or Canada — it represents a worldwide problem.
"It makes you feel a little bit bad to be honest to think it took us so long to offer a different option for clients." Their approach offers advantages for both vets and clients, taking away miles and hours of travel for the former, and billing for the same, for the latter.
"Having access to professional advice without the high price tag you would expect," summed up Small, who connected with VETSon at a farm show in London. Dr. Lee handled both the initial diagnosis and care instructions for her ewe and a follow-up consultation the following week involving a small abscess on one of the lamb's face.
"It takes like two seconds," she said of the booking process, following which "you just join the call."
During diagnosis, Lee asked her to position her phone for a better look at the ewe's udder.
"I just flipped the camera and gave him the video of it. He was like, 'Here's what we can do for her,'" she added of a treatment including hot compresses and massage as well as realistic expectations of the ongoing rami-fications from a serious infection.
Small appreciated both the advice and Lee's understanding of what kind of farm operation she has, keeping her on course with "actual medical professionalism."
Apart from being super convenient, Small also praised the service as affordable.
She could see upgrades to messaging being beneficial, given the advantages of quality photo or video communication from areas which could feature lower bandwidth. However overall, she credits VETSon as "something really great".
"There is a boatload of people looking for what they have."
The app was launched in November 2022 with Dr. Lee onboard, opening in January 2023 for a few test subjects before widening to accept new clients. The biggest uptake for VETSon has been among smaller farms, says Colin, six goats to 100 beef cattle to the "small circus", a memorable operation with 100 animals encompassing 15-20 species.
Marketing has been extremely limited as VETSon strives to ensure it can handle growing demand, however prospective clients have connected from all across Canada seeking service. There is also potential to provide additional veterinary services with their own dedicated app, meeting needs already expressed, for example from Alberta.
"They are finding us without us even trying," said Colin. "Which indicates they are searching for service."
"There is a need," Glen added in conclusion. "A huge, huge need. Every day we are learning how big it is." ◊