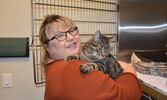 By Lisa Boonstoppel-PotWhen a stray cat showed up on a farm outside of London, the landowners took him to the East Village Animal Hospital (EVAH) to get "her" spayed, knowing they offered a feral cat program.
That cat turned out to be a "he", was renamed McConaughey because he was so handsome, and is now the cover cat in this issue of The Rural Voice as he lounges with his new owner, Ann Marie Patkus, manager of the EVAH in Kitchener.
"That family was worried about keeping him at the farm because they had a large dog that wasn't cat friendly," remembers Patkus. "So they kept sending me videos and I knew he was mine. Now he's a little diva. Even one drop of rain and he's inside."
Patkus loves McConaughey and the situation is representative of the kind of work that goes on at EVAH in Kitchener, one of two hospitals started by Dr. Martha Harding, a woman described as "incredibly compassionate and caring who felt a very deep sense of responsibility as a vet to provide accessible vet care to those in need," says Laurie Ristmae, Kitchener EVAH's Executive Director.
Though located in the city, EVAH provides a valuable service to the farming community via its Trap, Neuter and Release Program (which is currently suspended during the COVID-19 crisis). The hospital remains open. Farmers with feral or barn cats can trap said cats, bring them to the clinic in the morning for spay, neutering and vaccinations. The ears of the barn cats are notched, a symbol of their outdoor/barn cat status. Owners are charged $50 for males and $60 for females, plus tax. There is an additional charge for treatment of parasites.
The clinic offers the service at a loss but Ristmae said it serves a real purpose.
"When you sterilize and vaccinate a cat, it is not only good for that animal, but for the entire environment," says Ristmae. "It reduces unwanted behaviours such as spraying and fighting and popping out unwanted kittens. Then you have a healthier colony in the barn that can serve their purpose keeping the rodent population down."
If farm families end up with a litter of barn kittens, EVAH will take them. "We have good connections for rehoming. We get them all fixed and then find them new homes," says Ristmae.
People drive in from all over Ontario to take advantage of the service, which is significantly cheaper than what a veterinarian can charge. Veterinarians in private practice need to charge a fee to stay in business. The only reason EVAH can offer the service at these rates is because it is a non-profit organization. "When we originally opened the clinic, a local family, the Webers, and a rescue organization called Animal Outreach funded it. Now we rely on volume and two years in, the clinic is sustainable because it is a non-profit," explains Ristmae.
The clinic also offers an indoor pet cat and dog program, but only for low-income families. New clients are screened for their income levels so no one takes advantage of the service.
The clinic performed a total of 8,700 spays and neuters between the two clinics last year. That includes cats and dogs. The clinic actually performs more surgeries on dogs via their partnership with groups like the Animal Rescue Foundation (ARF) which serves indigenous communities.
Not so coincidentally, Ristmae founded the ARF after adopting a dog from a friend who had worked with Two Nations in Alberta. "When I realized how incredible this huge beast of a dog was, I started volunteering with that group in Alberta." Seeing the great need in those communities, ARF Ontario was formed and works with over 10 First Nation communities.
It's clear Ristmae, like Patkus, has a great love for animals. In fact, it's evident in the whole clinic as I get a tour of the facilities. Though not large, the clinic is bursting with staff and volunteers.
In one corner, Fiona, a student who had just been accepted into a veterinary technician program, sits with a cat that is just coming out of anesthesia. She will check for pupil response and measure the cat's temperature while comforting the animal.
"She is our eyes on that cat. We are high volume so we need high quality care. Animals are constantly monitored in our care," explains Ristmae. Other volunteers include the "cleaning ninjas" and people who organize admissions and/or greet clients coming into the clinic.
During the interview, one of the veterinarians, a Dr. Barb, is filling in paperwork but can't help but interject as we talk about the staff and volunteers.
"We work here for the people," says Dr. Barb. "You have to have a strong leader and we have Laurie at the helm and it naturally attracts other people that have the same goals." Dr. Barb is paid but it sounds like it might not equal her other veterinary job. However, part of working here is about celebrating life. "I just recently went through cancer treatment and working here is about giving back. It's fun and it feels good to give back," she says.
Patkus agrees. "This is a very supportive environment but I also feel very strongly about helping rescue groups and helping people who are lower income," she says. "It's a busy clinic but we are there to help the client when they have to say goodbye to their pet. We feel with them."
Many families who live in a lower income bracket haven't been able to access veterinarian care for their pets before. "These clients have a fear of judgment but we are a judgment-free zone. We are here to help," says Ristmae.
The next goal for EVAH is to be registered as a charity. It will be a process but Ristmae says for those who work at the clinic, it means the clinic would live on despite who runs it. "It would bring peace of mind to all of us who have created this entity that we could gift it forwards so that it would always be governed as a charity."
Ristmae explains that working at the clinic is, for her, a sense of calling.
"Since a very young age, I have been drawn to animals and it was devastating for me to see any kind of suffering," says Ristmae. "I finally got to an age where I could do something about it, one animal at time."
That one at a time philosophy has turned into thousands of animals a year.
EVAH Kitchener is located right in the city, on Weber Street. The location is strategic. Since most of the clients are low-income, they need to get to the office via a bus route.
For more information, check out their website at https://evah. ca/kitchener.html or call 519-894-2323 for the Kitchener EVAH. London EVAH is 519-455-3824. ◊