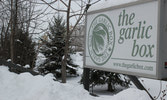 Super food garlic the focus of Hensall business
Garlic, the super food is the focus of the The Garlic Box in Hensall store which offers garlic fresh and in preserves, sauces, dressings, condiments, seasonings and soups and chilled and frozen garlic and garlic scapes.
Founder Jackie Rowe said this is the perfect time to visit or revisit the retail location of The Garlic Box, just on the north end of Hensall. Thanks to the Ontario Growing Forward 2 Program, the company was able to upgrade its processing facility recently to address a larger market.
The company is looking offer an expanded catalogue of products, specifically those made with garlic scapes, or the flower bud of the garlic plant.
"We currently offer 42 different products and we're working to expand our offerings for garlic scape," she said." Garlic scapes are really a value-added product and are the perfect way to bring a little bit of the farm home for visitors."
Specifically, Rowe encourages visitors to try the garlic scape sea salt, which she says she puts on everything.
"It's a great cooking and finishing salt that goes great on Ontario produce like cucumbers, potatoes and tomatoes," she said.
For more information, visit www.thegarlicbox.com.