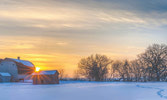 By Lisa Boonstoppel-Pot
Rural communities are not just tiny versions of urban areas. Rural people know this intuitively but can they articulate exactly what rural is?
Five rural professionals tried to answer that question in a thought-provoking panel on The Future of Rural Is… put on by the virtual Rural Talks to Rural Conference organized by the Canadian Centre for Rural Creativity. One panelist suggested the future of rural is "creative", while another said it's "green" and another is "healthy" with all agreeing the future combines aspects of all the above.
The future is local
The future of rural is local, believes Patricia Latendresse, who shared the story of a town in Manitoba where the local municipal office allowed people to park in the municipal parking lot to access wifi in order to do school and business during the height of the COVID-19 pandemic.
"Obviously, it was not an ideal solution but it speaks to local finding solutions for what is needed most," said Latendresse, a Policy Advisor at the Federation of Canadian Municipalities (FCM) which focuses on rural, remote and northern policy directions. "It was innovative and necessary but when you take a step back to look at it, it's a problem. People should not have to go to their municipal city hall to get wifi to go to school."
The example speaks to the fine balance of how innovative rural communities can be while still struggling with lack of services and funding that can help rural communities thrive. Latendresses said much of her work involves focusing on innovative solutions in communities while urging the government to apply a rural lens when designing programs.
"When I am advocating in Ottawa, we think the best ideas will be drawn from local expertise," she said. "We feel the government is hearing us and we see that with funding." In particular, bandwidth funding to close the digital divide, something Latendresses is passionate about.
"This pandemic has shown us how critical broadband is," she said indicating how schooling, business and even this Rural 2 Rural Conference are all being conducted online. "I wake up at night thinking about but what keeps me going is that some really incredible people at all levels are thinking about and working on these issues."
The future is creative
The idea of the future of rural being local was enlarged by speaker Kristin Catherwood, an Intangible Cultural Heritage Development officer with Heritage Saskatchewan who says she does a lot of community engagement work and is excited about the creativity that flourishes there. She is a fan of asking "stupid" questions to explore answers that should be obvious but are not. Questions such as: "Why do you do that? Why do you eat that food? Why are you here today? What is important to you?"
"It seems like the answers should be obvious but they are not," she said, adding that it is our cultural assumptions that define our answers. "What I do is a sort of widening of the frame to bring things unseen into the frame and into focus. Once people understand their culture and the institutions built to serve them, then it's hard to neglect that when making decisions," said Catherwood. "We are all stewing in culture whether we believe it or not."
When we become aware of our cultural assumptions, which lead to our worldviews, then it becomes possible to understand other people have a worldview that is different than ours. "Then you can understand other people's cultural contexts and the culture of their community and how culture can sustain communities. Then, it empowers you to be creative to shape the next stage of your community's cultural evolution."
How that creative manifests isn't always the same. It can get messy. But creation leads to new things instead of sitting on hands and making decisions based on fear. "What makes me excited is people like Sarah on this panel who show up to be creative. They love rural places. They want to be here. They choose to be here and that choice is powerful and gives me hope." Leadership is key.
Thinking locally and thinking creatively can lead to the future of rural as "healthy" which was the idea promoted by Margaret Tromp, a physician working in Moose Factory in Northern Ontario who has a career in rural medicine. She is the past president of the Society of Rural Physicians of Canada.
Working with indigenous communities, she says their level of health is lower than most Canadians which has a lot to do with social determinants verus location of health services. Social factors affect our health more than the healthcare system, she believes.
When rural communities encourage exercise through walking paths or start museums so people have a sense of culture and heritage, these initiatives encourage health individually and as a community, said Tromp. So does equity, versus the lack of it. "What are the real things we can do to promote health?" she asked. Adequate housing and social services is one. Having community is another. Being able to go through major life events such as birth and death surrounded by family, friends and community is another.
"What are we doing so that people have meaning and purposes in life to feel they are achieving that on a daily basis are some of the major topics we address when talking about health," explained Tromp.
Another piece of the future of rural is….question is "green" believes Sarah Breen, the Regional Innovation Chair in Rural Economic Development at Selkirk College in British Columbia. She has a PhD in Resource and Environmental Management from Simon Fraser University, a Masters in Geography from Memorial University, and a Bachelor's degree in Geography from Lakehead University.
`"Our future has to be green or we run the risk of not having a future at all," said Breen, who laments the carbon footprint each person is leaving, particularly in regards to transportation. Yet she's also hopeful as she considers how incremental approaches can lead to life-altering change.
"Transportation is a huge source of our emissions but this pandemic is showing us what is possible. Do I really need to fly to those meetings or drive hours everyday to get to the office? The answer is becoming, "no, not everyday", said Breen. As she looks to the community around here, she sees rural residents changing their habits by riding electric bikes, and developing driving cooperatives or ride shares.
The idea of "active transportation" is taking hold to reduce emissions which has the benefit of increasing human welfare. "In Canada, people always ask "well what about the winter" but I see parents in my community regularly pedaling ebikes to drop their kids off at daycare. It's quick and doesn't require space for parking," shared Breen.
The key is to focus on improvement. For instance, the mining sector has been notorious for detrimental waste products in the past. However, there are initiatives such as Metal Tech Alley, a collective of over 80 high-tech companies in Trail, B.C. which is partially funded by a zinc and lead smelting refinery to refine waste products into valuable materials. "There has been monumental progress with the creation of a state-of-the-art fabrication lab," said Green.
However, not everything is about economics when it comes to thinking of the future as green. It's also about trees and knowing when to cut and when to let them stand. Engineered lumber and buildings using mass timber have the potential to reduce emissions in the building sector so cutting trees, a renewable resource, can be beneficial when done with good management practices. There are also times to leave trees standing as studies have shown that mature tree stands increase tourism which is more economically valuable in some areas than cutting the trees down. Part of being green is doing the studies and getting information out to people.
Being green is aso about technology: emission sensors, electrification of fleets, precision ag -- each of these areas is complex and each has its drawbacks and trade offs but they are allowing for "incremental improvement", a way of moving forward. "We should not hold our breath for a perfect solution," said Green. "Neither should we wait for someone else to come up with solutions. This is everybody's problem and it is 100 per cent possible for everyone to improve."
These improvements happen where we live and require a future of rural to be "mobile" which was Heather Mair's focus on the panel. Mair is a professor in the Department of Recreation and Leisure Studies at the University of Waterloo and says she is most interested in the role(s) of leisure, sport, and tourism in rural community life. She studies mobility and specifically, who can move and who cannot move in terms of transportation, mobility for education and transportation as it relates to tourism.
She grew up in an age where many students who grew up rural were told to "get an education and get out" to find opportunities. Some could, some couldn't, which were issues in themselves. One of her thoughts is that people who move to rural communities can build a great life and can use their energy to create opportunities in the place where they live. "They don't have to leave to access opportunities," said Mair.
When it comes to tourism, COVID-19 has created a huge shift. Mair is hearing that people are "poking up like groundhogs'' in Italian communities. Free from tides of tourists, Italians are feeling free to explore their own communities. Mair admits she's becoming a person who believes in staying home and making home a place to experience new things but she knows once restrictions and pandemic fears subside, it will be hard to convince those who rely on tourism to make a living to make a change. "I am in some ways anti-travel. How come some people get to to change places to grow, nurture and challenge themselves and others don't?" In terms of planet health, there is a growing movement of people who believe in staying home to reduce transportation emissions. It's a moral argument and Mair is worried it will be "bound up in economic activity" once the planet returns to "normal."
Moderator Ashleigh Wheedon, an award-winning rural innovator who is currently completing her PhD in Rural Studies at the University of Guelph concluded the discussion of the future of rural by quoting a fellow rural activist who said, in essence, to as what seems impossible to do in your community; the thing that would fundamentally change it for the better? Essentially...do that. ◊