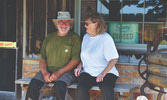 Offspring from one of the rarest apple trees in the world, a Bardsey Island, produced its first apple at OKeefe Grange near Arran this year.
"It has one apple. It could fall off early before I even get to taste it," says O'Keefe Grange's owner, Bill O'Keefe, an apple picker, tree grafter, researcher, historian and quite possibly the largest collector of heritage apple and pear trees in Ontario.
Bardsey Island is a lonely wind-swept island off the tip of the Llyn Peninsula in North Wales, U.K. It has long been a venue for pilgrims both pagan and later Christian. In 1999, a single, gnarled old tree was discovered near a 13th century abbey. It is, perhaps, all that remains of an old monastic orchard and has been called the rarest tree in the world. On the Island, both the trees and fruit are completely disease-free.
When O'Keefe learned of it, he had to add it to the some 600 varieties of apple and pear trees he grows on an old farmstead he and his wife Lyn purchased 29 years ago. This is definitely not a commercial operation and perhaps the only real way to measure its worth is to attend an apple-tasting event at the farm. This is when tasters realize what they've missed in the drive toward uniformity. One can taste chocolate, pineapple and coffee among other singular flavours in the heritage apples O'Keefe harvest and sells in the fall.
Alas, this year the tasting event has been cancelled; another victim of COVID-19. Most of this year's apples will be turned into cider, a product they have sold for 15 years. However, Bill and Lyn's son, Sean and his wife Cathy, are taking the cidery into a new direction with a proposed pizza place as cider and pizza pair very well. Sean is busy developing cider recipes by mixing varieties of heritage apples for fresh, new tastes. A current favourite is called Smack Your Lips and is made of Mother, Glowing Heart (a red-fleshed apple) and Sunrise apples.
Change must come even as O'Keefe collects to ensure the survival of heritage apple species. "He needs to make money. I get that," says O'Keefe, walking amongst the trees, his legs not as spry as they were in 1991 when they started O'Keefe Grange. Now 71, O'Keefe says he researches everyday, collecting trees and their stories.
He tells the tale of the apple variety known as Wealthy. In the 19th century, a self-educated horticulturalist named Peter Gideon tried to start an orchard in Minnesota using apple seeds from his former home in Illinois. Most of the trees died or were unproductive and eight years in, only a Siberian crabapple tree survived. Times were hard but the Gideon family had faith and using his last $8, Peter Gideon bought a bushel of apple seeds from Maine. One of those seeds grew into a apple tree hardy enough to live in Minnesota and when it cross-pollinated with the Siberian crab apple, the variety he named after his wife, Wealthy, was born.
Half a century later, Wealthy was one of the top five apple trees grown in the United States and Ontario.
"But it fell out of favour as new apples and flavours came along," explains Bill. "People want something different all the time. But I really like it. It's a sweet apple."
The famous Red Delicious apple almost met a quick end as well. The story goes that Jesse Hiatt of Iowa found a stray apple in his orderly orchard and repeatedly cut it down because it upset his straight rows. However, the apple tree's persistance eventually impressed him and he let it grow. Ten years later, it fruited a red and yellow striped apple he named "Hawkeye." Impressed by the apple, Hiatt sent a bushel of the apples to a state fair competition in 1892 and won! However, the label had been lost and Hiatt never learned of the win until he resent a bushel the following year, label intact. Loving the apple, Stark Nurseries bought the rights to the apple and renamed it Stark Delicious before renaming it again in 1914 to Red Delicious to pair with their Golden Delicious variety.
Bill has many more stories to tell as we sit on the porch of the O'Keefe Grange store but I'm curious which apple he likes the best.
He pauses. This is a hard question. Turns out he cannot answer it quickly and I suspect, given time, it's the tree with the best story that he would pick.
The orchard is a business but profitability hasn't always been Bill's chief goal and he worked many years off-farm to support the orchard. The business does profit from apple and cider sales, apple fritters made by Cathy, as well as tree sales. Bill takes orders from clients (usually after the tasting events when customers find a flavour they love) and grafts these varieties onto Russian rootstock, the only rootstock he will use.
"Even at minus 40 with no snow cover, these trees will survive," says Bill. He learned the art by taking a course at the University of Guelph and can boast a 99 per cent success rate. One year he grafted 700 trees.
Sheep and bees also used to make their home at O'Keefe Grange but as Bill and Lyn age, they are focusing on the apple trees and Bill's mission to save heritage apple species.
One such variety is known as "Lady", a prolific apple tree first grown by the Romans to make cider and for Christmas decorations as the apples are red and tiny.
Or Fenouillet Gris and Fenouillet de Ribours, two French varieties from the first documented apple orchard in Quebec, circa 1632.
Then there is Lubsk Queen, an apple with white porcelain-like skin with splashes and blushes of bright pink and red. "It looks like a porcelain doll," says Bill.
There are many stories to be shared on this porch on a fall day. Hopefully, when COVID-19 is over, people can join Bill to listen while they drink cider, eat pizza and order a future tree of their favourite heritage variety. ◊