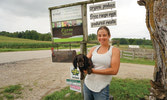 Agriculture is in transition, no doubt. In the next decade, 50 per cent of agricultural land across Canada is anticipated to change ownership and 85 per cent of current farm owners don't have a plan for anyone to take over the business.
Statistically speaking, the average age of farmers is steadily increasing in the census data, but this isn't for lack of young people in the industry. These numbers don't capture the hundreds of thousands of young people involved in agriculture or those wanting to farm. But, without the proper support, how can these potential farmers buy in and compete with developers, investors or established farm operations who can pay top dollar when farmland goes for sale? Perhaps it is time for a national farm succession plan.
Harry Biermans feels that people in the industry can play a larger role in supporting young people in agriculture. For the last five years, he has been working with 29-year old Mark Ribey to transition his farm business. Ribey grew up on a dairy farm 20 minutes down the road; his dad knew Biermans and made the connection for him to work a high school co-op term at Biermans Farms. That was 12 years ago.
In 1978, at the age of 19, Biermans started farming near Chesley as part of his family's business. Today Biermans Farms employs five full-time staff, grows 5,000 acres of grains and oilseeds and does custom farming on thousands of acres to boot.
"If Mark weren't here, I would have downsized," says Biermans. To him, having a successor means that he gets to keep doing what he loves well into his so-called retirement. "As much as it is a good start for Mark, it also allows me to keep farming and do the travelling that I want to do. So, I need him as much as he needs me," he says.
A few years ago, Biermans moved into town, making space for Ribey and his wife to move into the house on the home farm when they are ready. "I thought it would be hard to let it go, but it was incredibly easy. I trust Mark to take care of things," he says.
Ribey thinks back to his first months on the job. "When I started, I didn't even have my G2 driver's license, so my mom had to drop me off," he smiles. "On the second day, I was driving the grain buggy chasing two combines."
"Right from the beginning, Mark was always keen," says Biermans. "I knew there was a spark in him and there have been a lot of opportunities along the way for him to show his stuff. He has a great attitude." With two hired men leaving the operation in those early days, Ribey rose to the occasion and started operating more and more of the equipment. Biermans encouraged Ribey to go to Ridgetown and was impressed with Ribey's work ethic. "He would put 40 hours in here on the weekend and go back to school for the week," he recalls.
Trust was built over years of working together, but Ribey was really put to the test four years ago when Biermans had an accident at the start of the harvest season that kept him out of commission. "Mark assured me that he could handle the employees and the harvest. And he did," says Biermans.
With Ribey as the third son in his family, and realizing he was more passionate about cropping than working on the dairy farm, he was open to new opportunities. And when Biermans realized his own children weren't passionate to take over the operation, the two started discussing options for succession. "How we thought it would look then, is completely different than what it looks like now," says Biermans. They relied on accountants and friends along the way, and they've trusted their gut feelings. "Each step of the way we both had to feel comfortable about the decisions we were making," he says. They've now established a jointly-owned company.
"My dad would just love this scenario. To him, it was all about succession," says Biermans, who was also the third son in his family. "My dad and I never saw eye to eye growing up but once we were farming together, it was great. He got me. He gave me the opportunity to make mistakes and he trusted me. And now Mark and I have a similar relationship. He reminds me of myself when I was his age."
Both Biermans and Ribey have a keen interest in soil health and precision agriculture, using cover crops, min-till and variable rate fertilizer. "The size of the operation allows us to use the technology that is available today, and Harry has been very open to changes," says Ribey.
Communication is the key to their success. "We never argue," they say. "We both have strong opinions about how things should be done, but we always talk it out and find a compromise. We explain how we came to our opinions and then we meet in the middle," says Biermans. "And sometimes I wonder if it is easier that we're not family," Ribey adds.
There are just as many ways to support new farmers as there are farmers. Martin de Groot of Mapleton's Organic near Palmerston produces milk for on-farm ice cream processing and runs educational tours for the public. For years, he has contributed to the CRAFT (Collaborative Regional Alliance for Farmer Training) network across Southwestern Ontario, which trains young potential farmers with summer internships. Martin mentored dozens of people on the farm over the years, including international volunteers through the WWOOF (World Wide Opportunities on Organic Farms) website and his own hired help.
In the last 10 years, he has been working with his daughter Arwa who returned to the farm and now manages the herd. He admits that working with family is different than working with interns or staff. "The hard part is letting people learn through mistakes, especially when it is going to cost money. But, I think that we say things faster and harsher to family members," says de Groot.
De Groot wants to see young people be successful in organic and ecological farming. "But I saw that one of the biggest bottlenecks for those CRAFT interns was access to land," he says. So, in 2005, he offered a few acres for free to anyone who wanted to start out on their own growing vegetables.
Caitlin Hall took him up on the offer in 2006. Born and raised in Oakville, she had a keen interest in sustainable agriculture and had several seasons of experience growing vegetables. Hall started Reroot Farm and for her first year at Mapleton's Organic, she grew for 30 customers using a pre-paid CSA (Community Supported Agriculture) model. The next year she doubled that, started supplying the farm store and selling at local farmers' markets, while mentoring her own CRAFT interns and WWOOF volunteers as well.
After three years and with help from family, Hall purchased her own farm 20 minutes up the road in Minto. She credits de Groot and his offer of land as pivotal to her success. "I wouldn't have done it without him," she says. The secret to the relationship was mutual respect for person and property, as well as excellent communication, including a basic written agreement.
"It is difficult for anyone to start farming these days," says Hall. "But especially this model of market gardening, CSAs and local food is foreign to many people. It isn't seen as viable and it is really difficult to get a loan." The land opportunity she had allowed her to put money away for her own farm, gave her low-risk experience and helped her establish a customer base.
Hall has paid it forward, providing land for two of her interns to start their own businesses. Jenny Cook began Knuckle Down Farm in 2012 and now grows near Stirling. Stephen Sergenese and Jerrica Li began Henceforth Farm last year and now grow vegetables, herbs and flowers on Hall's property.
Sergenese began as a CRAFT intern a few years ago and when Hall decided to step back from mentoring interns, he decided he wanted to be more serious about farming. He worked for Hall for the first summer and she plowed him up a space of land where he grew his own vegetables and had a 10-member CSA. "I did it that summer just to prove that I could," says Sergenese, who is looking at creative options to make farming viable for himself. "I believe in getting in where I fit in."
While these internships are rewarding for those who learn about farming, Hall says it is just as rewarding for her to see her former interns keep farming. Nearly half of her interns have gone on to start their own farms, including Amanda Bilek, an engineer turned farmer, who started Chilligo Creek Farm just a few kilometres from Mapleton's Organic.
Bilek worked in Wingham and met Hall when she rented an apartment in Hall's farmhouse. She quit the job to intern with Hall the next summer and soon met and married Phil Bilek, the son of a local farming family. The couple now have two young daughters and with four seasons under her belt, Bilek has transformed three quarters of an acre of a field in front of their home to raised beds, high tunnels and chicken coops, selling at the Cambridge farmers' market every Saturday.
She continues to work as a consultant in the off-season and admits that it wouldn't be possible to manage the family and the market garden without the support of her parents and in-laws. "A lot is invested into the infrastructure, like irrigation, greenhouse and equipment," says Bilek. "I'm lucky that Phil is a farm boy and understands my passion for it. For an anniversary, he surprised me with my first Farmall tractor and he helps a lot by building and fixing equipment."
This unique network of young farmers and local food in Wellington County has been bolstered by farmers' markets and highlighted by the County's Taste Real program. Wellington County has recently partnered with FarmLINK.net to promote the farm opportunities in the County to potential new farmers. Since Caitlin Hall left for her own farm, Martin de Groot has had a few other people farm on his property, but he has not been able to connect with interested young farmers for the past couple of years.
FarmLINK.net is a website to help new farmers access land opportunities such as de Groot's, along with mentorship and resources. Starting a farm takes a tremendous amount of work, time, money and family support. "Having access to land and the right people is critical, so making the right connections are important," says Keeley Nixon, Program Lead at FarmLINK.net. Over the last five years, the FarmLINK.net website has evolved into a national land-matching service. Somewhere between a farm realty site and online dating, both farm seekers and farm opportunities create profiles and can search, match and message each other. With over 1,000 users, the site includes opportunities to buy, rent or work on farms.
The next decade will see a large transition in farmland ownership and management. The nature of this transition will have long-lasting implications for society, so this is an important opportunity for government, agricultural organizations and farmers to take leadership with a more comprehensive strategy to support young farmers and manage farm succession.
Martin de Groot says it would have been a disaster if he didn't have plans for farm succession. Knowing that there would be a future for the farm meant that he invested in a new barn with a milking robot. "Working with the next generation shifts my perspective," he says. "You can drive down the road and just by looking at the farms, you can see who has a successor. And it doesn't necessarily have to be a relative."
Harry Biermans feels fortunate that the opportunity to partner with Mark Ribey nearly fell into his lap. He urges fellow farmers to ask themselves what is most important. "We're just caretakers of this land," he says. "You can't take it with you, but what more worthy cause is there than to have a young person continue with your farm and with your dream?" ◊