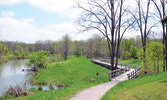 South Huron Trail links two popular attractions
The South Huron Trail represents a beautiful vista in the southern end of Huron County that provides hikers with options.
The trail consists of a four-kilometre stretch of the MacNaughton-Morrison section that starts at MacNaughton Park in Exeter and the Morrison Dam Conservation Area two kilometres east of Exeter, which forms an eight-kilometre trail. However, hikers could simply complete the four-kilometre MacNaughton-Morrison loop if they're so inclined.
In 2014, the trail celebrated its 10th anniversary and completed a number of projects to help mark the occasion, including the creation of a trail brochure, a DVD and a historical book.
For more information on the trail and for detailed maps of the area, visit the Ausable Bayfield Conservation Authority's website at www.abca.on.ca.