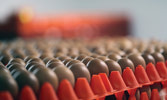 By Jeff Tribe
A Toronto-based magazine's investigation into the future of food has provided Burnbrae Farms President Margaret Hudson unpalatable food for thought.
In broad terms, the series contends consumers are going to have to get used to eating "weird stuff", alternatives based on the looming challenge of feeding a burgeoning global population in a climate-challenged world.
A team of writers tackled topics including GTA restaurants currently serving grasshopper tacos, cricket gelato, mealworm protein balls, and patacones (deep-fried plantain) topped with marinated ants and "garlicky" crickets. The flavour profiles of roasted crickets (plain, barbecue, honey-mustard and chili lime) versus cricket protein powder was probed, along with research aimed at creating chickenless eggs and cowless milk, an organic pulled-pork alternative, and enhancing mock meat affordability.
Before conceding to a diet of creepy-crawlies or complex chemical concoctions, Hudson would like to respectfully counter with Burnbrae's fresh approach to a familiar staple.
"We can get more innovative," she summed up succinctly.
Burnbrae Farms is putting significant investment where its own commitment to battling climate change and environmentally-conscious consumers' mouths are with the construction of Canada's largest solar-powered, egg-laying farm. It produces a natural, single ingredient: eggs, which are a fat soluble, bio-available vitamin and mineral-rich protein source in a highly-sustainable manner
Early this October, Burnbrae celebrated the official opening of a four-barn (one starter pullet, one free-run layer and two free-range layer, each of the latter housing around 35,000 laying hens) operation in Norwich Township, near Woodstock.
The family business turned to Barry Ruby of Ruby360 to design a system with roughly 1,500 solar panels (installed on the roofs of three of the farm's four barns, leaving agricultural land available for agricultural production) with generation capacity comfort (500 kilowatts) and redundancies, along with high-efficiency motors, lighting and ventilation. Lithium ion batteries store around 770 kilowatts of electrical capacity, roughly 24 hours worth, for overnight operation or periods of limited sun, backed by a diesel generator which charges the batteries, if needed.
In practice, the solar panels have capacity to charge the batteries in the sun-challenged or higher-demand months of January and February, meaning they are typically charged by noon in lower-demand periods. Resultant excess electricity is cheerfully channeled to an adjacent Burnbrae operation, helping lower its cost of production.
Importantly, beyond positive environmental and branding impact, there is a projected payback period, It is longer than a conventional operation perhaps, but the higher initial capital costs are offset by lower anticipated maintenance expenses.
"It's good for our business and good for our environment," said Hudson.
Joseph Hudson immigrated to Canada from Scotland, founding Burnbrae Farms (a Scottish compilation of burn (stream) and brae (hillside) in 1891 on a 100-acre property outside of Lyn, Ontario (near Brockville). Inception as a dairy operation evolved into egg production under Grant and Joe Hudson in the 1940s. Today, Burnbrae Farms is the largest integrated egg company in Canada, continuing a six-generation family business commitment to responsibly producing quality food for Canadians. Beyond a variety of traditional shell egg options, Burnbrae produces 'cracked eggs' (shelled liquid whole or fat-free original or flavoured eggs in convenient cartons) and 'prepared eggs', whole egg patties and a six-option range of 'crustless quiches' (including cheese and ham, garden vegetable, meat lovers and spinach, ricotta and caramelized onion) ready in 90 seconds.
Grant and Joe's original efforts would be recognized today as cutting-edge free range. Their production moved indoors into what evolved into conventional caged housing, which significantly reduced exposure to disease, predation, weather inconsistencies, and bird aggression while enhancing egg cleanliness.
Conventional caged housing still provides the lowest cost of production, translating into the most affordable eggs, along with the lowest carbon footprint. Partly due to consumer sensibilities, the industry is migrating toward enriched colony housing, offering a compromise between the benefits of conventional cage housing and natural bird behaviour. Laying hens have access to a nesting area and night perches, producing a highly-affordable product in a setting which controls natural bird aggression and provides a cleaner environment for both hen and attendant humans. Burnbrae eggs produced in this manner are marketed under the Nestlaid brand.
A free-run barn moves further toward a natural environment. An open concept offers free movement to birds with a scratch area on the ground level where they can forage and peck. The birds are free to either fly or walk up transit pathways to nests. This model is open to more bird aggression and the potential for piling, where birds may quickly smother and die. It is more expensive related to additional human management, lower bird density and a greater number of issues.
Free range builds on free-run with outdoor access when weather permits, although Burnbrae studies indicate birds statistically prefer the security of the barn. Outdoor exposure adds to the risk of disease and predation, contributing to the highest cost of production. This bar is raised higher with organic egg production which under the Burnbrae model factors in non-GMO, organic feed.
The resultant eggs are sold under the Naturegg brand, with additional appropriate free run, free range and organic free range identifiers.
"We believe in choice," said Director, Communications and Digital Marketing Sue Hudson. "We believe in producing eggs for everyone."
The new Green Valley Farms label offered by Burnbrae Farms, moves that consumer choice into the green energy realm. Having sourced Bullfrog Power's renewable wind turbine-produced electricity for a decade, the Woodstock-area property adds a solar-powered component. The one-two punch offers consumers free-range and enriched-colony eggs produced with sustainable, environmentally-friendly power 100 per cent sourced off the hydroelectric grid, a forward-thinking approach combined with hen and consumer-friendly housing options.
"That was a strategic choice in this situation in terms of maximum appeal," said Margaret Hudson.
However, to chalk up the solar-powered farm as just Green Valley branding would be erroneous and misleading. Burnbrae Farms has a lengthy history of operational responsibility and church and community volunteerism combined with leading-edge innovation. For example, Burnbrae answered concerns surrounding cholesterol with the launch of Omega eggs in 1996, backing that up with free-run egg production two years later.
"We've been raising birds in open systems for 20 years," said Margaret Hudson, whose degree in environmental science has helped shape her life view.
Burnbrae also takes its commitment to lowering its carbon footprint seriously, targeting a five per cent reduction in greenhouse gas emissions by 2020 through measures including lighting retrofitting and reclaimed heat. Burnbrae has always looked outside of the box. Margaret Hudson feeling strongly that advancement comes through investment, alluding to the progression of super computers which used to fill an entire room, dwarfed performance-wise by her cell phone.
"I believe in the idea that industry needs investment to drive scale," she said of what may be a relatable comparison to computation and green energy, ultimately reducing expense while increasing efficiency and scale. "So, kind of putting your money where your mouth is to make it more viable."
The power grid is in effect, an umbilical cord to the flock. Physically cutting that cord by going off the grid is a frightening concept.
"You've got a very sensitive creature," Hudson commented, "If a barn loses power for three or four hours, a whole flock can die. When I was growing up, the siren would go off and it was all hands on deck to get the power back."
In practice, the system has performed to high expectations.
"It's a bit novel," said Sue Hudson, "But the power aspect of it has gone very smoothly."
"And when you go there and see it operating, it's really cool," added Margaret with a laugh. "Ultimately, we are looking at other projects we can implement across the company."
Speaking frankly, she said the solar-powered farm would be a much tougher sell inside a public corporation, answerable to shareholders and a board of directors, as opposed to the autonomous nature of a privately-owned family business.
"This is not a project for a public company," Margaret indicated. "I think this is a bit of a passion project for the family in general.
"It's not our quickest payback project, but we did it for a whole bunch of reasons," she continued, agreeing the visionary operation is providing a form of living laboratory, providing invaluable lessons on green energy production, efficiency and sustainability. "Which we can learn and apply to other areas of our business as we learn about this type of operation."
The launch event generated considerable interest and praise, the project itself enhanced social media engagement across all Burnbrae platforms.
"People were definitely energized by the message, by the farm and by the idea of sustainable energy," Margaret said, adding in conclusion, "We're excited to have moved forward with an industry-leading initiative that kind of brings a different approach to the agricultural sector.
"It's a huge point of pride for our company and our family." ◊