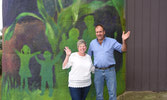 By Lisa Boonstoppel-Pot
Some people may look at art like it's a bit in left field. "But, you know, farmers are too," says Gord Lang, who contrived to bring both art and farming together on a silo that is just off-centre from left field.
Tucked between the bank barn and a field of corn, the Langland Farms silo will soon become a landmark on Bruce Road 3 near Walkerton.
The farm art piece, which was completed in July by an Alberta-based company, Lacey and Layla Art, is a celebration of family, farming and rural life, says Gord and his wife, Lee Ann.
"I was not raised on a farm but Gord was. This farm connects to the family farm," says Lee-Ann from the country kitchen in their new home, just around the corner from the silo farm. "Gord wants to leave the world a better place for the next generation; make a difference ... that's just how his mind works. This silo expresses what is important to him and us: that we love family, where we live, what we do and that we are proud of that!"
The Langs cash crop, have a small cow-calf operation as well as a finishing pig barn. Gord is also the owner of Lang's General Contracting and built the house they currently live in.
The silo art captures engaging expressions of both a pig and Charolais heifer, which are based on real animals from the farm. A crop of summer corn borders the bottom while a silhouette of Gord, Lee Ann and their three children (now grown adults) is the focus of the back of the silo, near the bank barn. The painting covers the entire 32-foot silo that once stored silage but has been empty for years. It is still in great shape.
Gord says the idea for the painting was born out the barn quilts the couple admired on barns around Huron County. Lee-Ann wanted to have a quilt painted on their own barn. Gord, however, wanted something a bit more unique. Not long afterward, they saw a story about a painted silo in the East which was featured in the Ontario Farmer newspaper. He thought it was very cool and Googled the artists.
"I thought it was a long shot that the artists would come to Bruce County to paint our silo but Gord was persistent," says Lee-Ann.
Many e-mails later, the two artists from Alberta arrived in Bruce County having finished commissions in Toronto and Iceland.
"These were free-spirited girls but they were not lazy," laughs Gord and Lee-Ann of the tattooed and pink-haired artists who joined in the family and community, infusing their dynamic skills into a realistic painting.
The project took them 10 days in total, of which three were spent pressure washing the structure.
As they were painting, road traffic was appreciative.
"There was a lot of honking going on," says Lee-Ann.
Upon completion, Lee-Ann's first response was "wow." Gord says it was more than he thought it was going to be. He often uses the adjective "cool" to describe it says his wife.
During the summer, the silo almost got too much attention as people would drive in the laneway, around the barn and trespass with no consideration for the fact that it is private property.
"We actually had to put up 'no trespassing' signs," said Gord, to guard the property and animals in the barn.
"We really do want people to enjoy it but also to respect that is private property," says Lee-Ann. The silo is easily visible from the road and will be even easier to see once the corn crop is harvested.
The pair are very pleased with the project, feeling that farmers are often portrayed in a negative light. The painted silo shows that farming can be beautiful too.
They are thrilled that their family unit is portrayed on the silo. Plus, each of their eight grandchildren came over and helped paint the silo, truly making the project a family affair. ◊