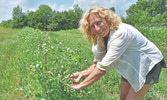 By Lisa Boonstoppel-Pot
It wasn't just toilet paper. Seed sales also spiked during the height of the COVID-19 scare and kept on bolting until seed companies like Hawthorn Farm Organic Seeds near Palmerston had to close down to process a tenfold increase in orders.
"It was unbelievable. We had home gardeners ordering hundreds of dollars worth of seed. Our phone was ringing night and day," says Kim Delaney, owner of Hawthorn seeds. The ordering desk took calls from women crying with fear, wanting to pay extra so they could get their order before others. They sold out of zucchini. There was a run on broccoli and cauliflower seeds. Then celery. Celery?
"I know," nods Aaron Lyons, field manager at Hawthorn seeds. Celery is a difficult vegetable to grow for a novice gardener. So are broccoli and cauliflower but people were thinking of what they liked to eat and ordering the seeds to grow it. "People were putting pepper in Easter weekend," says Aaron, shaking his head. Peppers are heat-loving plants that can't take any frost and Easter weekend was too early.
Some of these gardeners will struggle with a steep learning curve but Kim and Aaron applaud their ambition and efforts. The learning is good and even the plants that don't thrive contribute to the learning. Aaron is a proponent of food literacy and believes this will be a time of cultural change with our elders, who have gardening wisdom, being consulted and urged to share their knowledge. "They will be our heroes!" he says.
The coronavirus pandemic has changed everything but facing change is what seed growing is all about. Seed cultivation embraces diversity, selection and ultimately, creates seeds that will germinate into resilient plants able to grow and thrive in a changing climate.
Breeding for genetic diversity, creating landrace plant patches and growing for taste and disease-resistance are all part of the larger picture at Hawthorn seeds. It requires of lot of thinking and planning while weeding between the rows and Kim loves the combination.
She has grown Hawthorn Farm Organic Seeds into a lucrative, international business selling a full slate of organic vegetable, herb and perennial seeds that are adaptable to the vagaries of our weather and can thrive in our increasingly hotter, drier, short-season climate. Resilience is key. Unlike the large seed companies which import seeds from all over the world, Delaney grows, develops and selects seeds for the Ontario climate that are meant to thrive in our specific conditions. To meet demand, she also has contract growers.
She was named one of the top seed savers in the world by SeedChange, formerly known as USC Canada.
The business started slowly when Kim bought the farm in 1996. She moved from Chatham-Kent to Perth County full-time in 2000 after constructing a straw bale house (the first of its kind in Ontario). The inaugural Hawthorne Organic Farm Seeds catalogue was available in 2008. Aaron joined the team eight years ago. He was touring with his band when Kim took him to a seed growers conference where he realized seed growing is the perfect merge of science, art, culture, philosophy and history. "Seeds are so much more than a commodity. I was hooked!"
The pair, along with a handful of part-time employees harvest, clean, measure, package and mail seeds during the winter months. Right now, it's the growing season which is actually their "quiet time" spent weeding. Tomatoes, peppers, eggplants and squash grow in the field gardens along with beans, peas, onions and leeks. Popular herbs such as basil, dill and cilantro grow near zinnias, sunflowers and cosmos. Grown to thrive in Zone 5 or lower, selection is a key part of the business.
Take carrots, a biennial crop, for instance. Kim and Aaron will grow carrots the first year, dig them out, and literally taste them. "You know how some carrots can taste like turpentine and others are sweet and delicious? Well, we save the sweet and delicious ones and collect seeds from them because they give the best carrots." Over years of careful, tested selection, Hawthorn seeds develop into specialty varieties.
"We select for eating quality versus commercial quality," explains Aaron. "Large seed companies might choose carrots that grow strong tops versus taste because they have to think about mechanical harvesting."
By growing carrots with diverse traits, they also are also expanding the genetic pool of carrot seeds. This is becoming critically important as international companies such as Monsanto, DuPont and Sygenta own over half of the worldwide proprietary seed market. The food system needs to be decentralized to protect genetic diversity and encourage food sovereignty, they believe. Small seed companies such as Hawthorn, and individual growers such as you and I, need to play a role by crossbreeding and collecting our own seeds.
Kim gets quite passionate about this and is a popular speaker at gardening groups, advocating the collection and sharing of seeds from the garden. Some plants that are wind or insect pollinated may throw a surprise or two but that's half the fun.
Understanding how each plant pollinates is part of the seed-grower's acumen. Broccoli, for instance, is an insect pollinated crop. If you grow a row of green broccoli beside purple broccoli, the seeds from each will produce some funky plants! Broccoli varieties need to be separated by a mile while corn, a wind-pollinated crop, needs even more distance. Distance is also part of the reason Hawthorn Seeds needs contract growers for some seed production.
However, there are times when Kim and Aaron encourage cross-pollination such as with the experimental pumpkins they are growing in the corner of the field. With the goal of creating a large, edible pumpkin they have planted Dill's Atlantic pumpkins (the kind that win for largest pumpkin) with another tasty maximus variety. They also cross watermelon varieties to develop a sweet, early-ripening variety that can grow to maturity in our short season.
There is a concept called landrace gardening which is a traditional method of growing food where next year's seeds are chosen from this year's "survival of the fittest." Landrace varieties evolve and thrive in that region. Landrace varieties are genetically variable so that as conditions change from year to year the population can adapt to the changes. It may mean a lack of uniformity in fruit shape or size, but these plants seem to have exceptional vigour.
"We planted a 200-foot row of lofthouse landrace moschata (a butternut squash) and they fairly LEAPT out of the ground," says Kim.
In her thinking, adaptation is more important than top yield. "With commercial seeds you often have the chance to have top yields ... or nothing."
"We choose adaptation over yield which is another way of saying food security over yield," explains Aaron. "We want our seeds to be able to feed people no matter what comes with climate change."
Hawthorn Seeds is part of a breeding club with three other organic seed companies and also works with Cornell University to develop new seed varieties.
Currently, Kim does not patent any varieties. She provides open-pollinated seeds. "I'm not making a case against hybrid seeds or Plant Variability Protection (PVP) patents to protect developers who researched these plants, but we focus on seeds grown in the public domain."
Accordingly, she actively donates seeds to seed libraries and children's gardens to promote "seed savvy" smarts.
One of the places she donates seeds to is the Wingham Community Garden. Phil Beard helps organize the garden and says he often turns to her for direction at the garden.
"Kim provides me with advice and seeds for varieties of vegetables to grow at the Wingham Community Garden. Everything we grow goes to the North Huron Food Share. I am learning a lot from Kim about growing resilient, nutritious and productive vegetables! However without irrigation, it would be a pretty poor crop. Rainfall is getting more sporadic over the summers now."
Beard says we need to identify vegetables and specific varities of each that are adapted to the region they are growing in and that will be able to withstand hotter, drier summers and more variable rainfall. "My understanding is that Kim is breeding and growing vegetable varieties as much for resiliency to a rapidly changing climate as she is for production and looks."
Both Kim and Aaron believe education for both adults and children is vital to the cycle of life. "We've just seen how fine the strands of our food system are," says Aaron, referencing the stockpiling and fear-buying in the spring. "Things that were broken before are massively broken now...we became too complacent."
Gardening grows food, creates security and creates self-reliance. Working in the soil is free therapy, homegrown food is fresh and healthy, and there is satisfaction in completing a cycle when you plant, harvest and then collect seed for next year's garden.
"So go ask your grandparents how to grow vegetables and learn how to can. They are the people who know. Gardening can pull two generations together and erase the chasm between ages," says Aaron.
At the very least, one should read the seed packets. They provide direct instructions on how to plant the seeds and "good luck" say Kim and Aaron. These might be crazy times but gardening is a good time. ◊