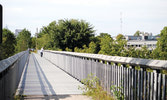 River Flats Park provides scenic Maitland-side walks

Like many Ontario towns, Wingham owes its existence to a river. Back in the spring of 1858 Edward Farley floated down the river from the now-vanished village of Bodmin to what is now the location of Wingham where he cleared land and build a log cabin.
The river became a source of power for early industries but times changed. In 1983 when the dam failed that had backed up the water to power the Howson's flour mill, it was not repaired (the mill had burned decades earlier) and nature reclaimed the river flats.
In 1991, a committee set out to turn the area into an ecological park. Today the trees and shrubs they planted have matured and the trails provide a pleasant walk for residents of the town and visitors alike.
You can access the trail from the south end by going west on John Street until you reach William Street and using the parking lot at the playground and splash pad there or you can enter in the north end of town on Josephine Street (Wingham's main street) through the big wooden arch on the west side of the street and park in the lot there. This entrance leads to the spectacular lookout on the 150-metre-long former CN Rail bridge which was saved when the railway wanted to demolish it in 1995.