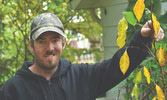 By Lisa Boonstoppel-Pot
Walking with Mike Ward through his native garden in Clinton, is to learn which native plants attract native butterflies. He is enthralled with lepidopteran species and native plants in equal measure, and has started the popular Huron County Native Plant Garden site on Facebook as well as being a regular contributor to Ontario Native Plants.
"There's cup plant (Silphium perfoliatum)," he says, pointing to the tall, yellow-flowered perennial in the backyard. "Insects like to drink out of the water that collects between the leaves and the stem." Holding onto a stem of spicebush (Lindera benzoin), Ward tells me he grows this shrub to attract the spicebush swallowtail butterfly. There are milkweeds to attract monarchs and pearly everlasting (Anaphalis margaritacea) for American lady (Vanessa virginiensis) and Painted lady (Vanessa cardui) butterflies. There is also common rue (Ruta graveolens) which is not a native but he can't resist planting it because it does attract swallowtail butterflies.
Not a purist but working hard to create gardens that are 80 per cent native, Ward says he has been gardening his whole life. He moved to Clinton from the Staffa area when he found a job as labourer in Seaforth and is now employed at Stackpole International in Stratford. He has always admired butterflies and one year, he raised 30 monarchs by col-lecting milkweed leaves. The process was transformational for the caterpillars and Ward, who decided he wanted to raise native plants to attract butterflies, protect Ontario's native plant diversity and promote use of natives in residential gardens.
He has signs in his garden proclaiming his place as Monarch Way-station 14070 and a native plant site, via the Canadian Wildlife Federation.
"I've seen the decline in pollinators and the destruction of native habitat everywhere. If I can help a little bit with my native gardens, then I will," says Ward who is interview-shy but keen to promote native species.
When encouraging fellow gardeners to try natives, you often have to "trick" them, he says. If you say a plant is native, they are worried it will be weedy. However, if you explain it's a flower that attracts butterflies, they are often willing to try it.
"I gave my older neighbour a swamp milkweed to attract monarchs and she just loves it," says Ward. Monarchs are very attracted to this plant which is better behaved than common milkweed, produces pretty pink flowers, and feeds monarch larvae ensuring you'll have monarch caterpillars and chrysalis on your property to enjoy.
Hummingbird moths are another lepidoptera Ward likes to attract by planting snowberry (Symph-oricarpos) shrubs. Adult hummingbird moths drink flower nectar from a wide variety of plants including bee balm and bergamot, red clover, lilac, phlox, snowberry, cranberry, blueberry, vetch and thistles. Young (larvae/caterpillars) eat the leaves of honeysuckle (Lonicera spp.), snowberry (Symphoricarpos spp.), hawthorns (Crataegus spp.), cherries and plums (Prunus spp.)
Ward kindly shared three cuttings from his snowberry shrub which I'm trying to get rooted to plant in my own gardens this coming spring.
As he looks around his garden, Ward says his prized plants are:
• Common hop tree to attract giant swallowtail butterflies
• Common rue, for the same reason
• Purple coneflower (native species, not cultivars) for attracting bees and general attractiveness
• Jack-in-the-pulpit for its "cool" factor
• Trilliums (for spring beauty). Trilliums are pollinated by Hymenoptera insects, including honey bees, bumblebees, and wasps.
To start a native plant garden, Ward recommends doing your research and trying these easy-to-grow natives:
• Purple coneflowers (Echinacea purpurea)
• Swamp milkweed (Asclepias incarnata)
• Anise hyssop (Agastache foeniculum)
• Meadow rue (Thalictrum family)
As to his gardens, he still hopes to add Culver's root, ironweed and Virginia bower. He's not done collecting yet! ◊