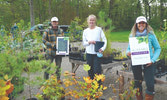 By Lisa Boonstoppel-Pot
There is a shift in thinking about how Ontario gardeners garden. Instead of planting ornamentals from Europe, Asia and Africa, gardeners and nature-enthusiasts are thinking about what plants serve our own native pollinators.
"I see it every day," says Jessica Smeekens, native-gardening purist and owner of Auxsable Forestry near Grand Bend which has three business streams: forest management, native plant landscaping for residences, and tree planting. "However, we still don't have a strong Canadian heritage of gardening. We are an immigrant country and our gardens reflect that."
She says you won't likely find Canadian plants in an Asian garden because they have a distinctive gardening culture. It's time Canadians, and Ontario gardeners, created one. "We need to create patriotic pride in our Canadian plants and create a culture of Canadian gardening," believes Smeekens.
She's so passionate about the environment and the need to sustain it that she freely admits when her Dutch father plants tulips, she pulls them out. "I just can't do it (grow imports)," she laughs.
It is very rare to find a truly native garden, where all the plants grown are Ontario natives. Not imported. Not cultivars. Just plants grown from native stock in Ontario by horticultural or conservation experts.
Having just planted a native garden myself, I listed some of the plants I've installed.
"You've been greenwashed!" she exclaimed. Turns out I had planted scabiosa because it said "native" on the tag. However scabiosa, otherwise known as pincushion flower, is native to Africa and Europe. So how did native come to be on the tag?
"Well, companies are starting to see the shift towards planting natives for our pollinators so they are trying to make money off of it without the integrity to ensure they are true, Ontario natives," explains Smeekens.
There are companies which do, including Smeekens and Verbinnen's Nursery (wholesalers) who provided many of the native plants at the recent Friends of the Pinery Native Plant Sale. Native trees, shrubs and perennials were on offer in outside tents, with a distance-protocol, for native plant enthusiasts to pick up for fall planting.
"The money goes to Friends of the Pinery which works in close relationship with naturalists to improve habitat for skinks, protect the delicate ecosystem and make boardwalks to keep people off the dunes," explained Friends of the Pinery member, Susan McAlpine. They've also been involved in a three-year study on bats.
"I find people are really interested in learning to grow natives," said McAlpine. Although she doesn't grow many herself, she directed me to another booth where Ginny Loeb sat shivering in her jacket and mitts. Loeb inherited her mother's house when she died and learned her mother had created a native garden of which Loeb knew very little. "It was growing in prairie meadow conditions (hot, dry and sandy) with Carolinian species," explains Loeb.
Key to helping the garden (and any garden) thrive is to understand what vegetation is native to the area. Ontario, much less Canada, is so vast that certain plants only grow in certain areas. Plants that thrive in southern Ontario's Oak savanna or Carolinian landscape may not fare so well in Bruce and Grey's Great Lakes/St. Lawrence vegetation group.
Loeb found that a combination of native grasses and prairie meadow perennials works very well in her location. Specifically, little bluestem grass, Indian grass, switchgrass, asters, tall coreopsis and black-eyed susans.
"It's a challenge to get good information and good native plant stock," admits Loeb. Having done some research and gained understanding how pollinators have evolved to feed on certain plants, even planting cultivars can disrupt the natural biological processes. Most greenhouses sell cultivars (a plant variety that has been produced in cultivation by selective breeding). Her goal is to return to pure natives and create a garden that is both wild, but pleasing to the neighbours. "It can be done. We can have the best of both worlds."
Smeekens is in full agreement. "Native gardens can be absolutely beautiful," she says. She shares Loeb's understanding about the need for natives.
"Relationships between native plants and their insects have developed over thousands upon thousands of years and it's connected to the mouthparts of insects and how insects observe colours radiating from the plants," explains Smeekens. "The more you change a plant, the less interesting to insects it will be."
There are generalist plants and insects that will feed on anything. Butterfly bush is an example and Smeekens just sighs when she talks about its popularity. "The plant we have the hardest time repealing is the butterfly bush. It is covered with butterflies and insects but it does not provide the appropriate proteins at the appropriate time of year. As insects flock to it, the plants they need to pollinate are declining because they do not get pollinated. I compare it to McDonalds. Anyone coming to Canada would see how busy McDonalds is and think it's the best food to eat in Canada. But is that true? It's not. The best way to feed our insects is to offer a higher diversity of native plants."
While Smeekens is an avid-environmentalist and very vocal about protecting our native biodiversity, she also gives kudos to anyone trying to grow natives, even if they add just a few to their gardens. "Anyone who thinks about sustainability and stops abusing our resources is to be credited," she says. "I am a purist because I want to lead by example."
She prefers green and silvers in her own gardens. This includes ferns of which there are many Ontario natives for all sorts of conditions. For native flowers, she thinks cardinal flower, obedient plant and blue lobelia are "fun and amazing flowers." Canada yews (produce red berries) and common juniper (produce blue berries) are also high on her list.
Growing native also helps her business, which has grown from one person to five staff for 10 months of the year. "When I started this company, everyone in my life thought I was crazy. We are now in our fifth year and people want to receive our information." For ideas on replacing imported ornamentals with native Ontario species, see the sidebar for Smeeken's recommendations. ◊