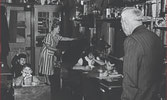 "Myrrh" was written by Fred Sloman (now deceased) of Clinton, and is submitted to The Rural Voice by Toby Sloman Rainey, the youngest daughter of Fred and Cela Sloman, who still lives in Clinton.
The story was first published in December, 1929 by The Canadian National Magazine which is now discontinued. At the time it was considered the top market for distinguished fiction in Canada.
"Myrrh" was one of the earliest stories written by Fred Sloman. He began his School Car teaching in 1926. The story captures some of Sloman's experiences after the Ontario Department of Education assigned him to teach children along the route from Capreol to Foleyet in Northern Ontario. The people in that area were usually immigrants trying to make a new life. They were desperate to earn and save enough money to bring their families from Europe while struggling to learn a new language at the same time. They worked for the railway, and they were miners, loggers and trappers.
When the "School Car" was retired in 1967 it was purchased by the Town of Clinton and converted into a popular museum, which now stands in Sloman Park in Clinton
By Fred Sloman
There used to be a good story about Christmas. It was something about princes coming by starlight carrying gold and frankincense for a child. I understand it is told yet by radio to a few mothers who can sit by a fireplace under a rose-silk lamp.
Perhaps the old folk-tale will be printed in a magazine for December 25. I can't recall it for my neighbor is an atheist and believes there is no God.
He is Annie's neighbor too.
We live in that county which is called Stark Reality. It is east of another county and beyond a dark rock from the county where you have your home. Not many voters live here and they never vote. It is a land of boulders and of tall pine trees that were burnt to ghost things 20 years ago. There is no road, for people who have motor cars do not care to come in. But there is a trail through a swamp. There is a school on the hill but the wind has made it crooked. There isn't any house where people can come together to laugh. Half a mile away on the next rock is the shack of the bitter man who believes there is no God. He went to college once. Three miles past him through the swale is where Annie lives. She lives with five sisters … or six, counting the grown one who married her brother. Annie is eleven.
Annie and 17 others came to the crooked school that is in the middle of the county of Stark Reality. They were dirty and things crawled on them. At recess they played Mud-Push. It was very hard to teach them six times seven for nobody but mothers and God loves children who are not washed.
These had no bright red ball to toss about. As each pushed each down in the slushs and mud they did not laugh right. They could not join hands and go ring-around-a-rosie. They could not chant London Bridge. They had not learned to play. They were children whose fathers's seed had fallen on stony ground. Because it had no root it withered early, and Annie's sister married when she was just barely 14.
The Minister of Education told me to tell them to sing "O Canada … From East to Western Sea…"
Oh Canada!
These did not live in Canada. They lived in the County of Stark Reality with a swale, walls of gray hard rock and a thousand thousand burnt tree trunks. It is bounded north and east and south and west by Canada.
Annie's hair is blotched white in places and is very thin. It is tied in little tails… five of them… with bits of white rag.
The Minister of Education told me to teach Annie that six times seven is forty-two or forty-three or something. I am doing that. The Minister said it was important for unless Annie or anybody else knows that six times seven is forty-two or forty-three they have little chance of ever helping in our nation's trade and commerce. I told Annie that.
But the Minister of Education made a mistake. He shouldn't have sent me to teach Arithmetic. He should have sent someone to teach a child. Annie should have been taught that there are children in the world who have rosy faces, and that there are blankets white as snow, and that there are merry-go-rounds and that Bobby Shafto went to sea.
The Minister of Education told me to write in a book how old Annie was and when she was born. That was difficult. Annie had no birthday.
* * *
The school master swept the mud from the schoolroom floor. He had asked the children to find their ages and their birthday at home and bring it on the morrow. He paused at the window and watched them play mud-push until they disappeared in the burnt trees to the east and to the north. They were bent frail things with shoulders slumped. They looked like little animals who watched the earth. If they looked for a moment to the red in the sky their feet would bruise on the uneven road.
Presently there was no sound from the gray rock or the dead bush or from the sky. It hurt.
It hurt so that the schoolmaster wanted to speak, to hear a sound. There were no words … starved kids, without fairies … kids who had yet to learn to play.
The schoolmaster picked a broken chalk from the floor. He wrote on the wall to keep from thinking of the stillness. A dead soldier wrote for him… "We are the dead… if ye break faith…" That was senseless. He tried to think of the words for a tune he had once heard at the Gaiety. There were none. He went back to the window. Annie was just topping the hill by the atheist's shack. She looked very much like the dead trees.
The atheist believes there is no God … but supposing there were, wouldn't it be good if He were like the one of the old folk-tale where there was a star and some children some frankincense? Wouldn't it be good if He should step out of a sunset to children in Stark Reality and smile and say: –
"Come, ye and play with me a while."
He would not ask them six times seven.
And not only living-dead Annie would hear. Stockbrokers and engineers, and merchants and mothers who can't find their children at twilight would be glad …
"Come ye, and play with me a while."
A morning came, a clear frosty morn-mud road to lumps of iron that bent the feet this way and that. It was December the Thirteenth.
Annie took off her father's sweater and bent over the roaring stove. Above her stockings as she bent there was just blue skin. Where a broken button let her dress open at the back there was just blue skin.
We stood around the stove that day to say six times seven and to read a lesson. There did not seem any laugh on any page. We tried to make a story but Ridinghood who lived in a pretty village… but a village we did not comprehend… it had too many houses.
When we were warm at ten o'clock we took our seats. Little Gubby and big Ollich and all the rest copied words out of a book. If they hadn't copied work to take home their fathers would know they were not learning anything and would keep them at home so as not to waste their time. That's why they wrote empty words. The lesson was really about "Who has seen the wind"… it is a song and in schools south of the county of Stark Reality, that lesson makes kiddies see winds ripping lakes in Fairyland, and making cheeks rosy on slopes in Maine and carrying golden galleons around The Horn.
Our winds just make flesh blue where stockings don't come much about the knee.
The Minister of Education wanted names and ages in a book.
He wanted it for The Great Statistician.
Some had brought the date of birth on a margin of paper. Some had remembered it. Two had forgotten to ask it at home. The teacher wrote them down as best he could.
When it came Annie's turn, the child said "December 13."
The teacher thought … she is a frightened, frozen hungry thing. She is confused. She is mixed with to-day by the calendar. She is afraid she will be hit with a heavy stick … one is not like that on one's birthday and today was December 13.
The teacher pretended to write and passed to the next child. He laughed with this one and that. He fixed the fire and made a gay picture on the wall.
Presently he asked again, "when did you say your birthday came, Annie?"
The child said, "December 13".
There was no spark of light in the sick blue eyes. There was no flicker of consciousness that this day rounded out the eleventh year of happy childhood. This was just one of five girls who came one after another, or one of six if you counted the sister who was married to her brother. Annie would be like her mother. In time there would be no flicker of consciousness that a thirteenth of December had rounded our a fortieth year.
The teacher said, "Why Annie, to-day must be your birthday."
The child just dully answered, "Is it?"
The schoolmaster swung his big chair in front of Annie and looked deep into the sick blue eyes.
Annie, do you know that the King of all those red places on the map has ten thousand thousand children and every single one of them has a birthday. Some have birthdays in the Spring when there are blue flowers and some have birthdays in the Fall when there are brown flowers and rich gold leaves. Some have birthdays in the winter when the fairies make little light to shine in every bit of snow. Even the King in England has a birthday and so have old men and men who have automobiles, and women, and babies and people who are in jail. If the King in England knew that even one girl who lived in the bush had no birthday he would be very angry for 10,000 people in Winnipeg and Elora and Hamilton and Montreal and all the places of the map promised him faithfully that they would see that no girl was missed.
But of course a few might be missed when there are so many.
The best time of all to have a birthday is in December, for on some day or other in that month the best birthday of all was given. It was for a Baby and he was born in a shack in a far far land. The King was so glad for that birthday that even the stars shone brighter and away over the bush the north lights made a better green and red and gold.
An that night, fairies in the air came close and sang a song for little ones… "Kyrie, Kyrie, Kyrie," they sang.
And that night mothers all over the world wakened and leaned over and touched their own little ones on the hair… softly, softly… just like that…
And that night three Princes heard about it and they came by starlight and they brought presents… they brought Gold and Frankincense, and Myrrh…
"Myrrh…" said little Annie, her little lips surprised into repeating the unfamiliar word.
Gold, frankincense and myrrh… that's why to this day mothers in Toronto and in Liskeard go in on birthdays and waken their little girls with a kiss and give them a bright gift. They laugh with them, and they clap their hands and have a dancing feeling in their hearts. They go into the kitchen and they make them a dandy cake with candy on it and on the candy they light little candles, one for every year so that every year birthdays are brighter and brighter. Some people put on eleven candles.
In the teacher's house across the yard there was just a bed and a stove and some blue books that told how to teach six times seven.
It took about seven minutes by the clock to throw things into a boot-box. There was the bright silver paper from a chocolate bar, a new pair of shoe laces, a broken fountain pen, a brass padlock, a pencil almost whole, some nails, a soda biscuit and a khaki handkerchief. On top of it, lying loose was a yard of bright green silk ribbon.
A red tissue paper was wrapped around and tied and the whole loosely bundled in a newspaper. The value of the gift was 17 cents.
It was dropped on the desk before the open-mouthed  Annie. The newspaper fell back and showed the red box.
"You see, Annie, my Fairy's wing hurts today. She was too tired to fly to the King or to the Broker, but I coaxed her and she sent this."
The class took their arithmetic and their geography and the teacher showed them Madagascar and the river Nile on the big map. Annie sat with arms hanging limp on each side and staring past the red box and the soiled newspaper. We asked her "Six times seven?"
Her ear caught her name for she turned a little, looked vacantly and her little lips tried the unfamiliar word, "Myrrh".
In the burnt bush on the thirteenth of December it gets dusk soon after four o'clock. The little animal children do not loiter for the three miles of swamp is a rough path. It took Annie an interminable time to button and re-button her father's old sweater. Finally she went to the door and looked north and looked east but the road was clear. She came back and said brightly: "Oh, I forgot my box!"
She lied.
From the school window she looked very much less than the dead trees. She clasped the red box with both arms. She would run a few steps, then stop. She would put the box to her ear, to her lips. She would shake it a little and then run on.
She was lost in the swale and then came on the little knoll beyond. She sat down and seemed to break the string. If she did, the first thing that would break upon her hungry little eyes would be a yard of soft bright green silk ribbon. I only know she jumped, clasped her hands over her head, and danced and then grabbed paper and box and ran like a deer over the rise… away into the dark, past her neighbour who believes there is no God.
The teacher melted sugar and whitened it with flour and spread it over a half loaf of gingerbread. He took frozen wintergreen berries from the dead bush and set them like a star. He pared three common candles to Christmas size and set them in place for Annie's birthday cake.
It was late at night when he got through the dark trails to the shack. Stars were over it… not bright.
Annie was lying on the other bed covered with a dark rag. Tight to her face she hugged a broken shoe box and a torn red paper that covered a tinsel and a broken lock. Bright green silk ribbon was tangled in her little fingers.
The light on her face disturbed her. She stirred in her sleep and smiled, and murmured, "Myrrh".
She was dreaming. ◊