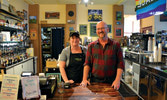 It's a great place to sit and chat. The walls are full of interesting photos and paraphernalia, cozy red benches flanking homey, old-fashioned formica tables and the rich smell of coffee lingers in the air.
So sit and chat is what owner Shawn Ankenmann and I do at Highland Grounds, his coffee shop in downtown Flesherton.
We're here to discuss why an ordained United Church minister has opened a coffee shop in a rural community. Is this his new pulpit?
Absolutely not, says Shawn, though he admits "I've had more conversations about church and spirituality here than I ever had in a church office."
Which sparks a whole discussion on what church is and is a coffee shop any different than a church?
To understand where Shawn's transition from minister to barista began, we go back to 1993 when he was ordained a United Church minister. He pastored in British Columbia and then, curious about the church connection to rural issues, he started his Masters of Rural Development.
"I had ideas about how rural churches could utilize their capital to partner with communities," remembers Shawn. "By capital, I don't just mean money. I mean knowledge, assets and people."
For instance, there is a noted School of Music in Brandon, Manitoba. There is also a church with a very nice grand piano. Could the two not combine to share resources and meet needs?
Looking for pairings became a way of seeing the world for Shawn. When life took a turn with a divorce, a fire and a firing, he returned to Ontario to pastor the Flesherton United and Eugenia United Churches in the Grey Highlands. With a goal to become a consultant to rural churches on how to reach out to communities in new ways, Shawn looked around Flesherton. He saw the town had wonderful restaurants and small shops but did not have a coffeeshop where people could gather and purchase fair trade coffee.
"Coffee shops are specific venues; a place where you can have a coffee, a chat or open your laptop and get some stuff done," says Shawn.
The restaurant opened in 2013 with Shawn admitting it was a challenging time. "We had some deep, dark days financially," he admits. "But five years on, we are doing okay."
Now, nearing the end of his role as a minister and potentially losing the reverend status since he will not officially be leading a parish, Shawn has many thoughts about what church really is.
First off, the United Church is going through a massive restructuring. As part of that process, Shawn is hoping the presbytery will continue to honour his title of reverend even though he will be moving from two-third time ministry to full-time coffee shop proprietor. He would like serving at a coffee shop to be seen as a chaplaincy. The idea isn't without precedence. Shawn points out that in Vancouver, a church sold its building and opened a coffeeshop as a social enterprise/street ministry. In Calgary, a church put a coffee shop in its building.
The thing is, some church congregations are aging, dwindling, becoming irrelevant in their communities. "Worship services are not speaking to what people are ... structured worship is not what people are looking for," says Shawn.
People still want to discuss spirituality but may not want to sit in a church service.
In his own church, Shawn saw that when the congregation hosted a meal, church would be full. "The lesson there was that meeting over a meal is still a form of church."
Ultimately, Shawn came to see that church is not just Sunday morning worship. Church can be a coffee shop.
Most people who come to the coffee shop know he is a minister. Some don't. It doesn't matter to Shawn.
"The conversation changes when they find out," he admits. "People have perceptions of how ministers are."
Shawn may not be your typical minister.
"Growing up, I had a pastor who told me to have fun with the role and recognize that I was a real person," remembers Shawn. "I feel that in here (the coffee shop) people can approach me and we have a conversation."
Conversion is not the goal.
"I believe in looking after the person; caring for the person," says Shawn. His intent is to share faith, not seek to convert.
He thinks of a gentleman who comes in who has issues with his extended family. "He is not a Christian person but he comes to talk with intent," says Shawn.
"In caring, hope is created and with hope, minds open up. Everyone is a child of God and loved," says Shawn. "This IS ministry. It's just a different form."
Another time he had nine clergymen from different denominations come in for coffee and a chat. "That was cool," remembers Shawn.
He welcomes all. A pride flag hangs right above the counter indicating everyone is welcome to come and have a cup of coffee.
"We had a lesbian couple come here on their first date," remembers Shawn. "It is safe here. Everyone can come." He wants Highland Grounds to be a place where people connect.
I see it in action as a man with Down's Syndrome comes in for his cup of joe. There is a handshake, a joke, laughter and a palpable sense of camaraderie and connection.
Part of Shawn's call as a Christian is to care for his neighbours, near and far away. Selling fair trade coffee is an important aspect of Shawn's business and ministry.
"It's all part of it ... that we are actually doing good just by drinking the coffee," says Shawn. One of the product lines he carries is Level Ground, a company based in British Columbia. Level Ground trades fairly and directly with small-scale farmers in developing countries with the vision to alleviate poverty.
Helping Shawn achieve his vision, create community and very importantly, keep the books in order, is Shawn's life partner, Renee. An accountant, she now makes the soups and bakes the treats served over the counter.
"This is far less stress and way more gratifying," says Renee. When clientele come in who recognize her from her successful business days, they look at her curiously. "I assure them there was no mental breakdown or anything. I just enjoy the simplicity of this."
She watches how people who would never go to church come to the coffee shop to talk to Shawn. "They just need someone to talk to. It happens all the time ... everyday," she says.
"It's like having a family that is not your family," she says.
Ultimately, Shawn's life goal is about "living the welcome." Welcome is a word written on most church signs but for many reasons, people don't always feel welcome at church. Shawn's goal was that this coffee shop would truly manifest the word welcome.
"It has become what I have envisioned it to be," says Shawn. "That is exciting!!"
As I leave the restaurant, I comment on the big, blue, bridge sign honouring his father, an OPP officer.
Shawn has one last story. He says when his aunt saw the sign, she told him it was always his mom and dad's dream to open a coffee shop. They never did. "I didn't know that about my parents but I can tell you that God works in mysterious ways!" ◊