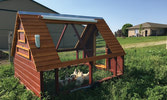 Research chicken tractors and you'll find a myriad of designs and contraptions which transport chickens across a grassy field to devour fresh greens and protein-rich insects.
It's an ingenious concept and I have long yearned for such a handy device to pull around the horse pasture. Trying to be cheap, I had been using a dog kennel with a black tarp covering to house my layers. A feeder was suspended from baler twine and a TSC layer box was installed inside. A thick gnarled stick served as a steady perch.
It did work. It was just clumsy and not very strong. I was lucky the first two years that no animal tried to sneak in and kill my chickens. This year, a wily weasel, fox or raccoon tried to pull two chickens out of it. White feathers dotted the grass and one chicken was left with a bald wing. Each morning I worried what I might find.
Then came that freaky wind storm in the spring. It picked up my dog kennel/chicken tractor and tossed it about, breaking the walls and cracking the frame. The chickens survived but didn't lay for a week.
I needed a legit chicken tractor and Arcadia Custom Outdoor Living, aka, Terry and Glen, decided mine would be the prototype for their own design. I told them I'd like it to contain waterers and feeders, nesting boxes, be solid enough to deter predators but light enough to move. It would be great if I could pick eggs from the outside. Oh...and I'd like to SEE my chickens. They don't just provide me with healthy eggs, I like to watch them when I get a chance. A good door would be great too. And could it be pretty? Please?
Normally, Terry and Glen are busy building cabins and bunkies but they like designing. When I visited the shop, I watched their minds churning as they planned on building the best chicken tractor ever.
When completed and delivered, I realized they had built a deluxe model! It was a red and brown A-frame, gorgeous, with heavy duty white tarp on the roof that can be rolled down for shade or bad weather. The designer/builders had included features like PVC pipe waterers and feeders which poke out of the roofline so I can refill without having to enter the chicken's space.
Same with the eggs. A handy back door opens to the laying boxes allowing me to pick fresh eggs without risking a poop slip. This is my daughters' favourite feature as they weren't fans of slimy excrement on their flip flops.
The chicken tractor is heavy but moves easily on solid wheels with a handles on each side in what Terry calls "cantilevered wheel axle assemblies." Two handles at the front make it easy to pull.
Best of all, the chickens are content. They figured out where their supplemental layer feed was in minutes. The waterers took about a day. They sleep on their red roost at night and lay five large, clean eggs during the day. They are safe and protected yet shiny and healthy from green grass, good light and excellent ventilation.
I am so pleased with the chicken tractor and the whole concept of using a mobile housing solution to feed the chickens. I have to move the tractor daily because they wait for me in the morning... eager for their new patch of greens.
They LOVE kitchen and garden scraps. Leftover oatmeal, or outdated yogurt, milk, garden weeds and leftover bread are favourites. I have a friend who runs a chicken tractor through her sheep field and the chickens hunt the bugs found in livestock manure.
I have six layers and they provide more than enough eggs for my family. A commercial chicken farmer could not build a chicken tractor large enough to make a living this way. There, are, however, chicken tractors that can house 25-75 birds.
I just think this is a concept that could work anywhere. Certainly any landowner can use a chicken tractor to have access to fresh eggs. Families that live in towns that allow backyard chickens could move a chicken tractor around their lawn, fertilizing their grass along the way. It's a wonderful way to feel farmerish and less removed from the growing and raising of our own food.
Thinking further to countries or communities that struggle with poverty, chicken tractors (or stationary chicken coops) can house enough laying hens or meat chickens to provide a healthy food source for little investment.
As the number of chickens increase, so does the potential for a supplemental income by selling eggs and chickens.
My purpose in keeping layers is threefold: to watch chickens do what they do – a simple but satisfying pleasure. Secondly, to have life-sustainable, daily chores for young children which, thirdly, leads to a handful of "warm bumeggs" as my son calls them. We crack these into a hot frying pan, the yolks dark orange and boldly upright, full of vitamins and proteins from the chicken's grass-rich, sunshine-filled, fresh-air lifestyle right in my backyard. ◊