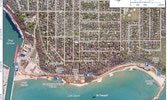 Boardwalk a big part of Goderich's lakefront
For thousands of visitors and county residents alike, Goderich's lakeside board walk has become a pleasant way to get some exercise and enjoy the view of the lake, cooling summer breezes and people watching, all at the same time.
Locals, from the far corners of the county can often meet their neighbours as they hike the board walk from the harbour beach all the way south to Rotary Cove. As they walk they'll also see families enjoying a picnic, children enjoying the playgrounds at either end of the board walk or climbing on the rocks that have been imported to protect the beach from eroding waves or just sitting, enjoying the sight and sound of waves crashing on the shore.
The walk is particularly popular as Ontario's west coast's spectacular sunset approaches and people take the time to enjoy the sun dipping, leaving a fiery trail across the water before sliding below the horizon leaving the sky tinged red and orange in the afterglow.