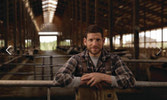 Finding employees to fill positions on dairy farms and then keeping them has been a struggle in today's labour market. So how do two successful dairy farms manage it?
It comes down to recruitment, relationship, good benefits and finding a role an employees does well at said Ben Loewith, manager at Joe Loewith and Sons Ltd., near Lyndon, Ontario and Lloyd Holterman of Rosy Lane Holsteins in the state of Wisconsin. Both men were featured speakers on a Farm Labour Management and Engagement Panel at Dairy Day during Grey Bruce Farmer's Week held in January.
Mark Ferguson, a Farm Business Specialist with OMAFRA was also part of the panel. The panel was facilitated by Marie Paibomesai, a dairy specialist with OMAFRA.
Loewith said their family farm has been employing non-family employees for 50 years and they recently hired two workers from the Philipines to milk 50 hours per week. They employ four full-time workers plus 16 part-time (less than 30 hours per week). The family and employees milk 480 cows three times a day in a double-16 parallel parlour.
Rosy Lane has two full-time, non-family managers and multiple part-time employees to milk 950 cattle in a double-12 parlour, three times a day.
The first task when hiring is to find employees. How do you recruit?
Loewith: "In my experience, the best people come from getting the word out with your present employees. They tend to come pre-vetted, then. We find the quality of applicants tends to be much better and they also know what the expectations of the job are before they come to the interview. I still always interview so that I have control over the process."
Holterman: "I think the best recruitment is your own farm. Neat and organized (attracts) employees. Plus, we have all our employees wear Rosy Lane shirts and we hear, from people in town, that our employees are good. Also, we pay well, give our employees a chance and offer opportunity for advancement."
What is involved in the interview process?
Loewith: "First we have a phone call to talk about the bare bones of the operation. Then we ask for a résumé. When we do the interview, it helps to have two people present. This way I can ask questions and the other takes notes. I have a list of things to cover in the interview and I ask open-ended questions, such as 'Tell me what happened at your last job when you got frustrated.'"
Holterman: "We interview each person more than once. We look for solid people and not ones who are moving from a long way away with baggage. We hire slow and fire fast. It sounds bad but if the job is not for them and they do not perform or do not like it, we let them move on with dignity."
Do you offer a trial to see how they do?
Loewith: "I think you have three months to let someone go. After their first shift, I will sit with them and ask how they found it. They are often worried that they are too slow and I always say I would be shocked if they were not slow at first. In the beginning I just teach them three things – how to strip out cows, line up the milker and attach it. Just three things. If you throw too much at them, they will not remember.
Holterman: "What's important is to see if they like it. If they don't like the job, they will not do their best. I don't hire people from other farms because they have bad habits and we expect perfection from our milkers. So I don't like people to touch a cow until they are trained. They spend a lot of time with a mentor and Jordan (manager) will not let guys into the parlour for two weeks."
Ferguson: "You can have new recruits come to the farm and do a little assessment beforehand as well. It is a good idea to verify if they have familiarity with farming. Part of recruiting for a busines is assessing if they can do the job and will they be a good team member for the organization. Having them work a few hours allows them to see what the job is like and helps set their expectations."
What are your onboarding processes?
Loewith: "Most of my hires work in the milking parlour. When I train someone there are four people in the parlour. The employee's job is to watch how I clean cows, why I do it and how I do it. This goes on for an hour and then he does it for an hour while I watch his technique. It is mind-numbing and boring training people but it is the best time spent to make sure they get the basics right."
Holterman: We spend a lot of onboarding time talking about safety. Not only does it save people from missing work at the farm but it also sets an expectation of doing quality work and not taking chances. It sets the tone for the operation – we do quality work and we do it safely.
Do you have documentation? How do you promote the culture of the farm?
Loewith: "When we hire, we go through the mission statement. We go through it systematically. Also, they go through Workplace Hazardous Material Information System (WHMIS) training before they start milking. There is also a sexual harassment/religion/ethnicity document they have to sign off on. As well as an animal welfare document."
Holterman: "Every one of our employees has to sign and read the policy and employee manual ... in their own language. Communication is vital so that expectations and lines are clear. We also have policies because there is no room for racism or sexism."
Loewith: "I wanted to add that this year, we had a potluck so that everyone could try each other's food. We had one worker from India. We found it really humanizes everybody even when you cannot understand each other's language."
Holterman: "That's great. Doing things like that puts out messages to the broader community and can help you find new employees. It helps people be happier at work and perform the best they can. At the end of the day, your farm gets recognized as a good place to work."
Is there are difference between male and female when hiring milkers?
Loewith: "If you have so many applicants applying that you can choose, wow. We are happy just to have applicants! We do find most of our applicants are women because it's a part-time job. Particularly adult women. The only difference I see is that men have an easier time working with someone they do not like. But with females, I find that they will find a flaw with someone professionally when they do not like someone personally."
Holterman: "We are equal opportunity employers but I will say when a person zeroes in on something they enjoy, they will do better. We have some people who are happier fixing things and they tolerate milking cows. In the calf barn, we have mostly women right now."
How about staff meetings and checking progress?
Loewith: "We don't have formal meetings with the milkers because with so many part-time staff, it's hard to get their schedules to jive. I do constantly talk to more senior members to ask how a new hire is working out. I also watch our computer software to check for reattaches, and low flow rates and I look for patterns where the numbers are different than anyone else's. If their flow rate is lower than everyone else, then I will have a chat with them. For the full-time staff, we have a yearly review. Individually, I talk about where they did well, where they can improve and we talk about salary. I actually make a list of where they can improve and then give it to them a day before the meeting. I do that because they either nod or get defensive and it's not a 'gotcha' meeting."
Holterman: "A staff meeting should be part celebration. We achieved a productiob level of 45 litres per cow so we stopped to tell everyone that this was great, thank you and keep up the good work. As to meetings, they happen quite often for safety. Manager Tim has a safety meeting with everybody who drives a truck to remind them to be nice to the neighbours by slowing down and waving. We have time for that. We do not have time for accidents. We want our neighbours to know we are respectful."
In rural Ontario, not too many people are looking for a job. When do you call it reviewing or when do you call it nitpicking?
Loewith: "Sometimes we get donuts from vendors and they are in the lunch room. Sometimes chocolate melts off the donuts. My Uncle suggested we tell the employees to eat the glazed donuts because they melt. Then eat the other donuts. I asked him, 'Do you think it's possible we are micro-managing the staff?' When there is an issue, I hardly ever mention it unless it happens more than once. Stuff happens. If it's a chronic issue, I will mention it. Bear in mind there is huge difference between process and outcome. If all the claws get washed, who cares how they do it."
Holterman: "You have to pick your battles. If we get higher somatic cell counts, for example, we will tell it to everyone. We are careful not to point the finger. But if it affects the farm, it affects the ability to make profits and share the wealth. We find that a culture of excellence seeps through people and those who cannot handle that culture stay behind. Also, the value of a standard operating procedure (SOP) is that it puts the pressure on management (to manage)."
How do you retain employees? What is the number one reward and challenge to manage farm labour?
Loewith: "Our number one challenge is that a part-time workforce is transient by nature. Students come and go. We pay our full-time staff to work 70 hours a week and they get $75,000 for that. We have just hired someone with experience and they get $18 per hour which is rising to more than $20 this month. The best thing we do to maintain staff is to find something to celebrate each year. One year we got a food truck to come in because we did not lose a single heifer calf in hutches that year. It was a free food truck. People like to work for a successful operation. Find something to celebrate."
Holterman: "The key to retention, in my view, is making people feel appreciated. Never mistake intelli-gence with education. We hired Julio from Mexico and he is the best cow guy we ever had. He checks all the cows and does all the breeding with only a highschool education. Because Julio is doing higher-level work, we pay him a lot more. We pay Julio like he is a king. So have confidence in people and move them up. Teach them how to do ultrasound and how to breed."
Ferguson: "This is nothing new but take into consideration that a good wage makes employees feel valued and appreciated at work." ◊