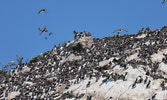 By Kate Proctor
It is good, every once in a while, to take a road trip if you are able. It gives a very real reminder of just how vast Canada is. You can easily drive for over 20 hours and never leave Ontario! Not only are the distances huge, but there is such a variation in landscape, topography, and even what goes on in various places. You don't have to drive far to go from the beach, to fertile farmland, to the city, to rocks and trees.
This summer, we were able to take an amazing road trip – one dreamed of for many years – to Newfoundland. Between the drive to get there and driving around on the island, we put over 8,000 kilometres on my vehicle.
As we drove, I came up with a few "Kate's Rules for a Happy Road Trip". The first one being, take a paper map. While we had a map of Newfoundland, I was a bit focused on that and neglected to think about our route to get there, which took us through Ontario, Quebec, New Brunswick, and Nova Scotia.
I have to admit – I love my guidance system. It is so great to be able to type in your address and have it automatically calculate the distance and the time it takes to get there. I used it extensively when planning the trip – to try and make sure that our daily drives were manageable and that we had a place to stay for each night that we were on the road. It is also great if you are driving by yourself and can't read a map and drive at the same time.
Usually, Apple Maps is very good and takes me exactly where I want to go. It will even reroute around, or at least let me know about, road construction. However, on this trip, it failed on a couple of occasions and we kind of became those people we all roll our eyes about who follow their GPS systems into lakes or wilderness areas.
In one case, we found ourselves in the middle of nowhere in Quebec. True, there was construction. But there was only one way to our destination – and that was through it. But the Apple Map app took us off our route – twice! It was quite insistent that it knew better and we had to get off the Trans Canada Highway (TCH). We were highly suspicious – but we thought maybe we were being directed down a small parallel road and would eventually end up back on the TCH after we passed the construction area. We followed the directions, going down smaller and smaller roads until we came face to face with a sign indicating the way forward was an ATV trail. "For 16 kilometers, continue straight!" the voice from the app chirped optimistically.
We were preparing to turn around, when someone in a beat-up Toyota Echo pulled up alongside us, and asked in very broken English, where we were headed. Through sign language and a few words we could both understand – he directed us back the way we had come. But obviously doubting our abilities to navigate that, he gave up and just led us back to the TCH. We had a good laugh about the whole situation – and appreciated the friendly soul in the middle of the Quebec bush who cared enough to help us out. At our next opportunity, we picked up paper maps for both New Brunswick and Nova Scotia.
Once in Newfoundland, we came across the statistic that tourists from Ontario make up over 80 per cent of the tourists who come there. I can't remember the exact number – but it made me feel like I must be one of the few Ontarians who had never been there. Since I really had no idea about the island at all, I used the Newfoundland government's very handy website, located at https://www.newfoundlandlabrador.com/ to help with trip planning. It provided several different itineraries, recommended places to stay, and had contact information for them. It gave us a good starting point, and we travelled every day of our stay, with the idea that we could at least see a lot of the island and have a better idea of where we might like to spend more time if we ever get the chance to come back.
This strategy did give us a very good overview of the island – we travelled from the ferry terminal in Port Aux Basques, through Gros Morne National Park, to the northern tip of the island at L'Anse Aux Meadows, then back south and east, eventually ending up in St. John's, before heading back to Port Aux Basques to catch the ferry home. Every day brought a new adventure and every small town we stopped in seemed very different from the last.
On our way to St. John's, we ventured off the TCH and stayed several nights on one of the many "fingers" of land that head off the island. We saw the sights that Newfoundland is famous for – whales, icebergs, and puffins, but we also saw things that were off the main track. I was surprised at how easy it was to find ourselves in places where there were no other tourists at all. In spite of all we saw and learned, we occasionally met up with other travelers who told us of things they had seen and experienced – and we realized we had barely scratched the surface.
Our trip to Newfoundland was an amazing experience — I am extremely grateful for the time we had there and the things we learned. I think our list of things we want to do if we go back is longer than the list of things we felt we had adequately explored. ◊