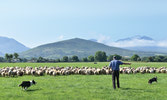 By Lisa Boonstoppel-Pot
It's a "good, healthy life" raising sheep in the Gap of Dunloe in County Kerry, Ireland says sheep farmer Mike Denelly.
Said to be one of the most famous tourist destinations in Ireland, the Gap of Dunloe is a narrow mountain pass that separates the MacGillycuddy's Reeks mountain range in the west, from the Purple Mountain Group range in the east. It's a stunning piece of green gorgeousness and Michael Dennely of the Gap has rights to graze his sheep on the mountainside. Like his father and his father before him, Dennely is a sheep farmer whose son will take over that right along with the family farm in the future. They currently farm together, grazing 400 sheep for market and breeding stock, though the son works full-time off the farm in a factory.
I had the pleasure of meeting Dennely because my partner, Jason, and I stayed in the farm's former sheep shearing shed which has been transformed into a vacation cottage for travellers. It's Dennely's daughter-in-law who runs the rental business and she set up this interview with Dennely and his sheepdogs Rose and Rover, who are eager to work.
We talked in the pasture and while I love the fast, lilting accent of the County Kerry farmer (speedy compared to the distinctive Donegal accent we'd heard earlier in the week) I have to admit I was getting a bit lost between the "don't you know" and "all rights." However, Dennely is patient and kind as I get used to his manner of speaking.
Dennely has been breeding Scottish Blackface sheep to Suffold and Texel breeds for over 50 years now. The ewes are brought down from the mountain for lambing in the shed then allowed to graze on the low farm pastures, worth an estimated 20,000 euros an acre. He has good land (about 70 acres) and most of his neighbours are dairy farmers but Dennely didn't want to milk cows. He did raise beef cows for 20 years but says his heart is with sheep. After weaning, the ewes are returned to the mountain pastures where they spend the winter.
We've seen sheep on every mountain as we've travelled around the country from Dublin to Donegal, Galway and down to County Kerry, Cork and Wicklow. We met a mountaineer in a seafood restaurant (delicious seafood chowder) who believes the mountains are overgrazed. Dennely says that was true in the 1980s. Then the government changed the subsidy structure from a payment per ewe to one "per acre." Sheep farming instantly became less profitable and sheep numbers declined. Dennely believes the mountains are now undergrazed, leading to a profusion of fern and shrub growth. As this vegetation dies down and dries in March and April, it increases the risk of wildfires.
This issue has probably been long debated between farmers and conservationists. As a tourist, seeing sheep graze high up in the peaks of Slieve League and the Gap of Dunloe is incredibly picturesque.
The price for lamb is pretty good in Ireland but wool is worth nothing, says Dennely. "It doesn't even cover the cost of the shearing," saying it costs 2.50 euros per ewe and he makes 50 to 60 cents from that wool. "We shear for animal welfare purposes."
There are no wolves left in Ireland so the only predator he worries about is foxes but they aren't a major concern. He loses maybe five to six lambs a year due to predation.
The grass is lush and abundant in County Kerry but Dennely supplements with "sheep nuts" to provide energy and minerals. All the ewes are vaccinated, with fluke and worms being the biggest concerns.
Like many farmers, Dennely loves his job and his life. He says he has a lot of job satisfaction and likes being his own boss. Some of his grandchildren live close by and they come to see the lambing to begin their connection with this generational farm.
With the Gap of Dunloe being close by, there are many tour buses driving the local roads. Does he mind? "No, I think it's great for the local economy. I like to see the profits being reinvested here," he said.
As a farmer myself, it was a real thrill to meet with Dennely. In fact, it was one of the highlights of our vacation. We got a real show watching the border collie Rose herd the sheep. Rover was run over by a car so he stays behind while young Rose listens as Dennely calls "over there Rose" and brings the flock to the gate. We admire her devotion to Dennely and her keen sense of duty and eagerness to work. We thought she was very skilled and Dennely said she was a good dog "but not for the show." In the past, he brought home the red ribbon in the sheepdog trials. We were also impressed with the curly horned rams he had in a special pasture for sale as breeding stock.
"I would not change anything," said Dennely when asked about his life as a farmer in the Gap of Dunloe. He stands with the sheep before him and the mountain range behind him on his farm, an area so beautiful, people travel here from around the world. The guest book in the sheep shed has names from all over Europe, Asia, Australia and North America. He realizes it though. He knows he's blessed. Dennelly looks out over his sheep, his old cap flecked with manure. "Dublin," he says, shaking his head. "Wouldn't want to live there. This here is a good, healthy life." ◊