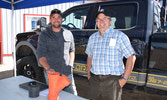 By Lisa Boonstoppel-Pot
When the goal is to make sure crops maximize the nutrients manure fertilizers and biosolids offer, farmers should be asking themselves three specific questions:
1) What organic amendment should I choose?
2) What is the purpose of it?
3) How do I manage it?
Speakers at the Agronomics of Better Management Practices (BMPs) event held at Highland Custom Farming at Proton Station, tried to answer those three questions with four rotating stations including topics such as organic amendments, drainage and budgeting for soil health.
With fall approaching and cover crops planted, what soil amendment is the best choice?
"Now would be the time to spread solid cow manure or biosolid pellets," advised Christine Brown, the Sustainability Specialist for the Field Crops Unit of OMAFRA. "The breakdown of nitrogen is slower and you want a slower breakdown this time of year so that it will be available to next spring's crop."
Armed with charts listing all the percentages of such nutrients as nitrogen, carbon, phosphorous, potassium, sulphur and others, farmers attending the event could compare the benefits each type of organic amendment offers.
When a crop needs phosphorous and potassium, the amendments were ranked as:
• Biosolid pellets: 1.84 per cent phosphorous (P), 0.18 per cent potassium (K)
• Solid beef manure: 0.51 P and 0.74 K
• Liquid beef manure: 0.26 P and 0.39 K
• LysteGro: 0.35 per cent P and 0.25 per cent K.
• Anaerobic digestate: 0.25 P and 0.29 per cent K.
Farmers who choose to spread biosolid pellets, anaerobic digestate and LysteGro aren't required to follow a Nutrient Management Plan but should watch their soil's pH levels with certain amendments. Anaerobic digestate has a pH level of 8.22 percent and LysteGro 8.05 per cent compared to biosolid pellets at 6.7 per cent.
Choosing the amendment to fit the purpose is key.
The final question of "how do I manage it" includes the process of how to apply it.
Mike Cowborough of Agronomy Advantage said injection helps retain the value of the nutrients to where crops can best access it (their roots). Injection also reduces odours. However, it's also more costly, requiring more time and expensive equipment.
Whatever addition is chosen to fertilize crops, farmers can double the value by growing cover crops ­– the applied nutrients feed the micro organisms and build a bigger root mass on the plant, creating more biomass, added Brown.
Compaction has always been a concern and is becoming increasingly worrisome with today's large equipment. "We can lose $50 per acre in crop yield just due to compaction," said Cowborough. "Switching to technology such as a dribble bar and row crop tires allows farmers to spread into an existing crop, reducing compaction (the soil is drier and more fit) and putting that manure under the canopy right to the roots."
Including wheat in the rotation gives farmers more time to spread labour and manure, said Brown. Learning to maximize workload also helps. "Some farmers are putting a seeder with their manure spreading to apply a cover crop as they spread manure," she said.
Composting solid manure can also make space for farmers to spread manure after the critical spring period.
"Composting decreases volume but does not decrease nutrients so we can stockpile it in a field until we have time to use it," said Brown.
What are BMPs
At the next station, Deb Campbell of Agronomy Advantage had farmers list the BMPs they use on their own farms as a method of exploring all the options they could pursue to increase yields and improve soil health.
Among the many listed were:
• Interseeding cover crops
• Strip tillage
• Crop rotation, including a five-year rotation with corn (noting that corn is not the primary crop grown in the Grey highlands)
• Winter cover crops with either crop termination or leaving green in the spring
• Fertility management (include fertilizer in profitability)
• Finding new tools to reduce soil compaction
Planting a cover crop after wheat has many benefits, said Campbell. In the Grey Highlands, where many grains are grown, planting rye after wheat inhibits the growth of weeds such as fleabane.
Cover crops can reduce fertilizer costs when compared to conventional methods of applying chemical fertilizers. "In Grey County, we still have lots of 60-acre farms with numerous fields and the overlap can be up to 10 per cent. Those extra seed and fertilizer costs are not profitable and contravene BMPs," said Campbell.
Cover crops also reduce erosion, protect water quality, conserve soil moisture and improve drainage.
"The improved drainage is something I really underestimated," said Campbell. "If say, you have an oat stand after wheat, you can terminate it in the fall, leave it, then plant corn in the spring. Well, those oats are now acting as a drainage system (the natural porosity of root channels) that are allowing you to plant 36 hours earlier in some cases."
Having even one or two days earlier planting date can make a big difference in yield.
Campbell said planting days matter and it really is important to have crops planted before May 15th. When asked what she prefers: cover crop termination in fall or planting green, Campbell said fall termination.
"Residual strips of winter wheat can be a real hindrance. Cover crops still green in the spring can delay planting in many cases," she said.
The Dirt on Drainage
Drainage is getting fancy these days said Brent Weigel of Weigel Drainage Ltd. based in Mildmay.
New systems are incorporating contour drainage and hybrid contour systems with varying distances between tiles for flatland and hills.
"Hills don't need as much tile as hollows. Sometimes, hills don't need any tiles," said Weigel. Offering different spacing between tiles leads to an even, better dry across the whole farm, he said.
Added to contoured drainage are control gates which allows farmers to hold back water in the system after planting. Holding back water throughout the growing season (as needed) keeps moisture available for root systems.
Another option is designing a system that creates both drainage and irrigation options. With this system, a retaining pond is created, allowing farmers to pump up water through the system via control gates.
Prior to that, farmers should do a risk assessment for drought in each field's landscape, suggested Ian McDonald, the Applied Research Coordinator for the Field Crops Unit of OMAFRA.
Slopes can make things costly because the more slope a field has, the most control gates are required to manage water retention or water flow.
"We don't use them a lot," admitted Weigel. "They are costly." One eight-foot control structure can cost $2,000. Also, control gates require a lot of management and manual labour to open and close them as needed.
"We installed a few on our farm and had much of it paid through a UNESCO Biosphere grant," said Weigel.
Issues with all kinds of drainage include roots in tiles. Roots searching for water can grow into the tile and create mats in the bottom of the tile. Once it rains, the water will ball these roots up like a bale of hay. These balls can then catch where the tiles form a T or in dips in the tiles.
Contractors can use Y systems instead of T systems. "These allow the water and those balls to pass through the tile easier," said Weigel. "Just make sure your mains are big enough to allow the trash to go through it."
Most of the time now, contractors don't make use of municipal systems when designing a tile drainage system. "It might be more expensive to create our own mains but a lot of municipal drains cannot handle surface water. Also, designing your own is still cheaper than hiring an engineer," said Weigel.
The real goal, of course, is that the soil itself can handle the water and hold it, rather than flowing as surface water or rushing out of tiles.
"Our soils are really struggling because of compaction ... that lack of patience for farmers to get on the field. That really affects the infiltration rate," said McDonald.
He added that as equipment gets larger and heavier, and springs get wetter, that everyone involved with soil health has a lot to learn.
As the workshops drew to a close, everyone was invited to check out one of the Highland Custom Farming planters on the farm. Depending on what modifications are being used, a similar machine can cost between $150,000 to $250,000. And that wasn't even the largest planter owned by the company!
This 24-row planter could plant soybeans, edible beans, canola, corn ... basically whatever you want said owner Wayne Metzger.
Designed with a custom built bar by Clifford Precision, the machine also had section control, variable rate control, dry inoculant boxes, spike wheels (to crumble soil in no-till planting), drag chains (to level soil off and make sure the seed is covered), row cleaning coulters and twin-row planting with 10-and-20 inch spacing.
The day gave attendees a chance to explore equipment, hear advice on how to implement BMPs and ask questions to learn how best to crop their own farms.
This Agronomics of BMP workshop was the fourth in a series of Coffee, Crops and Donuts events offered by the Saugeen Valley Conservation Authority in partnership with the Grey County Soil and Crop Improvement Association. ◊