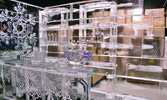 Iceculture gives Hensall one cool attraction
For nearly 30 years, Iceculture in Hensall has been functioning as one of the province's most unique businesses. Now, with a shift of focus, it has become one of Huron County's most unique – and sought-after – tourist destinations.
Iceculture specializes in state-of-the-art, crystal-clear ice sculptures that have graced locations all over the world for some of the world's most high-profile clients.
It began with punch bowls made of ice, but then Iceculture expanded to create designer ice sculptures of all shapes and sizes; developing a stellar reputation along the way.
In recent years, however, Iceculture has shifted its focus more to tours after demand for a behind-the-scenes look at the operation continued to grow. Now, tours are the majority of Iceculture's business.
The 90-minute guided tour includes the manufacturing plant, freezer studio and the Iceculture Experience video presentation. You can watch computerized ice carving equipment cut and shape blocks into sculptures and see skilled carvers work with chain saws and hand power tools to create stunning ice sculptures.
For more information on the company, or to book a tour, visit its website at
www.iceculture.com
.