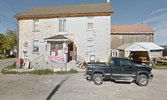 The scoop about Holyrood General Store
Stepping into Holyrood General Store (five miles north of Lucknow on Bruce County Road 1) is like stepping back in time, and a lot of people have made the trip in recent years.
Allan and Lucy Miller have run the store for 30 years now and they serve several types of customers. Bringing the great numbers in during the summer are their generous two-scoop ice cream cones. Last year they emptied 1,834 tubs of ice cream. At 23 two-scoop cones per tub, that's more than 40,000 cones.
Their biggest day ever was Victoria Day, 2015 when they scooped 757 cones.
Holyrood is also the centre of the Old Order Mennonite colony north of Lucknow and since the Mennonites, travelling by horse and buggy, can't travel long distances to shop, they turn first to the Millers. The store stocks much larger packages of staples like staples like flour and oatmeal for the big families.
The store also serves as the local post office, sells fishing licences and just about anything else. One customer said: "If they don't have it, you don't need it."