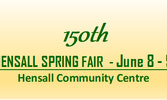 Hensall holds its 150th Spring Fair, June 8-9

On June 8-9, Hensall will be the place to be as the community will be hosting its 150th annual Spring Fair. The theme of this year's fair is "It's 'Bean' 150 Years!" .

For the full schedule of events click here to join them on Facebook.