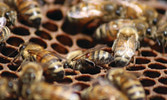 Beekeeping in Ontario has experienced a surge in popularity over the past 10 years, with the number of registered beekeepers in Ontario growing by almost 40 per cent since 2008. No one is quite sure where to attribute the cause of this increased popularity. Some have suggested it may be due to increased public awareness of the declining pollinator populations; others suggesting it's due to a resurgence of back-to-nature trends. Despite the lack of a definitive source, the increased attention is felt by the industry and academic world alike.
"This facility has been open since 1982," says Paul Kelly of the University of Guelph's Honey Bee Research Centre, where Kelly works as the research and apiary manager. "Yet we've been getting a lot more recognition and attention in recent years."
Likewise, the agriculture industry has felt similar effects from the increased popularity. In response, the 2020 Guelph Organic Conference, hosted at the University, dedicated an entire day's worth of workshops to information and issues concerning beekeeping.
Rick Pacini, one of the beekeeping workshop speakers at the Guelph Organic Conference, suggested that it is simply a great hobby to have. "This is one of those times where you can have your cake (or in this case honey) and eat it too," he touts. He points out that any work you put into your hives not only benefits the bees and the plants, but also benefits you by boosting honey production.
Pacini himself has fallen in love with the hobby of beekeeping. Over the past five years, he has grown his beekeeping enterprise from two hives in the backyard of his Toronto home into over 40 hives located on multiple lots. He also points out that in this hobby, the trickiest part of the work – converting nectar into honey – is done for us.
"Honey bees have been making honey for thousands of years," quips Pacini to those attending the conference. "It's arrogant to think we are the ones who need to direct these bees what to do. I just need to give them the right habitat and do my best to help them with pest management."
Unfortunately for beekeepers, this still represents a significant amount of labour. Kelly cautioned about the amount of work the hobby entails. "It seems like a simple transaction – buy some bees, set up a hive, take some honey and leave some for bees," he says. However, he warned that it takes a lot of work and excellent management techniques to keep these bees alive.
"On average, a honey bee hive in the wild is only able to stay alive for two years", he says, citing high pest loads as the main cause for hive death in both wild and farmed bees. One pest, the varroa destructor, are particularly detrimental for beekeepers due to their ability to decimate entire hives.
"These mites puncture both the pupae and the adults to draw out nutrition from the bee," Kelly explains. Historically, it was thought that these mites were feeding on the bee's blood, but recent research shows that these mites are actually feeding on a honeybee organ called the fat body.
"These fat bodies are not only how the bee stores its energy, but it also impacts the bee's immune system – so it's absolutely the worst thing these mites could be eating," emphasizes Kelly. Not only does the mite deplete these vital food storages, but the entry wound created by the mite also serves as a vector point for other viruses and pathogens to enter the bee's body. Additionally, losing this fat body tissue impairs both the bee's ability to mount an immune response and detoxify pesticides. "These mites have a triple-threat attack on the bees," says Kelly.
This is a problem that every beekeeper will need to prepare and manage for, due to the pervasiveness of the mite in Ontario hives. "Almost every hive will have a varroa presence," Kelly says. Unfortunately for the beekeepers, they are not easy to spot. They are relatively inconspicuous in colour and their small size makes then hard to spot by the human eye. Kelly warned against being complacent about preventative treatments just because a mite infestation isn't easily visible. Since these mites can grow exponentially within a hive, even just a small number of unnoticed mites left unchecked in the spring can quickly grow to a dangerous level that jeopardizes the survival of a hive.
These sentiments from Kelly were echoed by Pacini at the Organic conference. "If you don't keep your mite population numbers down, your hive will most likely be dead or abandoned in a year or two," says Pacini of the mites. "These pests are the biggest challenge we face in beekeeping. So learn about your bees, but spend more time learning about pests."
Due to the large negative effect that varroa mites can have on apiaries, the Honey Bee Research Centre's goals largely focus on bee health and pest management. Their long-term goal involves breeding lines of bees that are naturally resistant to pests, so the bees will be able to fight off the pest themselves. However, this goal is years away from fruition. The centre's short-term research goals include developing products and treatments for beekeepers to help with pest management. They have recently developed a formula and application method for a product derived from the essential oils of the thyme plant to help reduce the pest load in honeybees. Kelly says they are working with the Ontario Beekeepers Association to get the product registered, though he cautions it will still take a while until it's available to the public.
The University of Guelph isn't the only one looking to plants as a natural source for products to combat pests. Plants produce biologically active compounds, also known as phytochemicals, which the plant uses as a defence mechanism against predators and pathogens. Because of the co-evolution between bees and plants, some bees can tolerate and even benefit from the ingestion of phytochemicals as they consume pollen and nectar.
This was the focus of Fran Freeman's workshop at the Guelph Organic Conference, which highlighted research that focused on these plant-sourced phytochemicals, their beneficial properties and how they could potentially be used to support bee health. This is of special interest for Freeman, who manages the apiaries at Humber College and the Humber Arboretum, and whose business "sticky bees urban honey'focuses on honey production from sustainable and natural sources.
Freeman suggested that research indicates bees can "self-medicate" by sourcing pollen and nectar from plants producing specific phytochemicals that will help the bee fight against both pests and pathogens. For example, a study involving feeding phytochemicals to bees found that the treated bees exhibited reduced levels of the Deformed wing virus. The study's author proposed that flowers could serve as "seasonally varied, serially consumed pollinator medicine." While plant phytochemicals are certainly known to have a variety of antibacterial, antifungal and/or antiviral properties, the relationship between bee health and phytochemicals is still not widely understood.
However, for those wanting to capture the potential benefits of plant phytochemicals, Freeman had many suggestions for types of flowers and trees to plant. What she stressed the most was the importance of plant diversity. "It isn't a matter having a specific, magical plant present for the bees. It's the diversity that is really important." She suggested that this diversity could allow for phytochemicals from different plants to work synergistically together, as well as the additional benefit of having different plants flowering at different times to ensure a continual source of blooms.
Freeman provided an extensive list of valuable plants to have surrounding your hives, including sunflowers, white clover, goldenrod, sumac, berry bushes and witch-hazel. Medicinal herbs also topped her list of recommendations, such as thyme, catnip and oregano. She recommended planting these herbs in larger swaths, as having only a few plants may not suffice to attract the bees.
She particularly recommended planting plants from the borage family, which can become crucially important in the dearth period. A dearth period is a time when there is a lack of nectar flow, such as in the hot summers when plants are dry. Borage flowers are an excellent plant to help sustain the bees over this period since they produce lots of nectar, as well as being adaptable to a wide range of growing conditions. Freeman recommended planting borage plants about three weeks apart, so the plants produce flowers sequentially for a continual source of blooms.
Although Freeman's recom-mendations are based on a more urban approach to beekeeping, many of these plants are important to rural beekeepers as well. Most of these plants, including the goldenrod, sumac and berry bushes, are commonly found on the borders of farmlands – and it is within these peripheral areas that bees flourish.
"Despite what people may think, bees actually do very well in rural areas," Kelly said when asked about beekeeping from a rural perspective. "Look at the fringes of your farmlands, or areas of land that are less profitable, or not workable - fence lines, ditches, bush lots and wet areas – and consider planting or naturalizing these areas for bees." He, too, encourages diversity when planting, to provide not only a variety of nutrients and metabolites for the bees, but also to ensure a range of flowering seasons. He also comments that these areas, once naturalized, will naturally promote the growth of a variety of plants that are great for bees.
However, he did caution that not all agricultural situations are ideal for bee colonies. Areas such as large cash-crop enterprises of wheat, corn and soybeans, that tend to have fields planted right up to the roads with minimal spaces between, are not the ideal habitat for bees. "Unfort-unately, these three big crops are not really utilized by honeybees," says Kelly, "and they don't really succeed in these areas."
Whether rural or urban, the best piece of advice Kelly can give to those wanting to start out in beekeeping would be to educate themselves. While there is a large amount of online resources available, he recommends a more practical approach to learning. "Nothing beats a hands-on beekeeping course from a qualified instructor," he says, while putting emphasis on the qualified part. "Due to the recent popularity of the hobby, there are a lot of people out there who will want to teach you about bees – so just make sure they are qualified."
Thankfully, the Honey Bee Research Centre is doing its part to contribute quality informational resources for those interested in beekeeping. They have created a series of YouTube videos based on a wide range of beekeeping topics that are helpful, concise and factual. They are based on years of real-world experience and scientific evidence. These videos have reached audiences worldwide, with the most-watched video boasting over 600,000 views. For those interested in learning more, the videos are online at the Honey Bee Research Centre webpage: https://honeybee.uoguelph.ca/ ◊