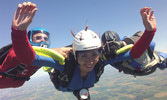 Parachuting Centre offers spectacular adventures
There are few things more exciting for tourists than the opportunity to soar among the clouds and becoming airborne.
Fortunately for southwestern Ontario, the Grand Bend Sport Parachuting company offers just that opportunity for skydivers of every level.
The centre was started in 1982 by instructor Bob Wright and offers a variety of parachuting experiences covering beginner jumps with two instructors to help out to expert jumps.
Wright has been jumping for approximately 45 years and has completed 15,000 jumps. He has been training for approximately 40 years, helping 5,000 first-time jumpers leap into the wild blue yonder.
Mary Wright, Bob's counterpart, has been skydiving since 1994 and her first jump was in Grand Bend. Since catching the bug, she has jumped nearly 5,000 times and helped more than 2,000 first-time skydiver.
For more information, rates or gift cards, visit Grand Bend Sport Parachuting Centre online at