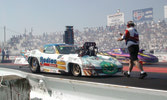 Speed-lovers have a busy summer ahead at Grand Bend Motorplex
Grand Bend Motorplex, one of Canada's premiere racing facilities, offers all sorts of high-octane excitement for speed fans throughout the summer.
Located a short drive from Grand Bend's main strip, the Motorplex offers races under the raceway, drag way and speedway banners, providing something for every kind of race fan.
The 19th annual MOPAR Canadian Nationals, Canada's largest drag race, is scheduled for August 3 to 5 at the Motorplex, featuring top fuel dragsters, nostalgia nitro funny cars and much more. Tickets are now available through the Motorplex's website at www.grandbendmotorplex.ca.
The raceway will feature the Canadian Superbike Championship, sponsored by MOPAR and featured on Canada's sports network TSN. The event is set for June 8-10.
The Speedway, Canada's premiere 1/2 scale circle track, offers an entire season of excitement, starting with practice and tech days in early May leading up to the final event, Championship Night, on August 25. The Fall Brawl Classic is also set for September 8, with a rain date of September 9 with all sorts of excitement including the Ontario Legends class and the Pro Mini Truck program.
For more information, more events, and specific classes, visit www.grandbendmotorplex.ca