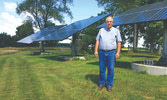 By Bob Reid
Trying to keep things like they were yesterday only puts you further behind tomorrow.
That is a philosophy lived by Southwest Oxford Mayor Dave Mayberry over a career in municipal politics spanning almost 30 years.
Perhaps that is why he is slightly uneasy with populist politicians elected in the past decade who believe they can maintain power by prolonging a lifestyle that favoured fossil fuels, careless use of energy and excessive creation of waste material.
This is done by politicians to please people they believe will get them re-elected – those uncomfortable with change – rather than provide progressive leadership. This has led to an erosion in leadership, said Mayberry.
"People will follow good leadership if you tell them why you are doing something."
Mayberry served as Oxford County Warden from 2014-2018, a county that has set a standard in creating a balance between three tenets of society – economy, environment and social responsibility.
"There has to be a balance. The Conservative (federal and provincial) governments tend to lean more heavily on the economy pillar," said Mayberry.
So far the Provincial Conservative government has not backed away from supporting waste reduction programs, he added cautiously.
In 2013 Oxford County appointed a 15-member committee – a cross-section of community members that excluded politicians – to create a sustainability program. That resulted in set goals of 100 per cent renewable energy use by 2050 while creating zero waste and eliminating poverty.
Oxford County imports half a billion dollars worth of energy annually. Eliminating that need would keep that amount of money within the community as part of a "circular economy," suggested Mayberry.
That program took a year and a half to formulate with the county now steadily implementing some of the recommendations. A Canadian first, ambulances are now hybrid vehicles with plans to convert to fully electric in two years; two snowplows have been converted to run on compressed natural gas; 20 per cent of municipal vehicles now run on natural gas; energy efficient social housing operating at net zero energy use has been established in Tillsonburg.
"If you can't do it (conserve energy) you can't ask other people to do it," said Mayberry.
When he and his wife Kathy moved from the home farm to another average size house a few years ago they calculated they were producing 21 tonnes of greenhouse gas with their vehicles and household operation. Over three years that figure was reduced to two tonnes by replacing an oil furnace with a heat pump, converting to smaller vehicles and all electric appliances/equipment, adding solar panels to power everything.
Under Mayberry's leadership the scheduled garbage pickup across the county went to a new pickup schedule of once every six working days from the previous five-day schedule. Many people told him there would be hundreds of complaints but there were only 14.
One truck for picking up both regular household garbage and recycling replaced two previously used dedicated trucks. Further plans call for electric powered garbage trucks.
"I don't care if you vote for me I will try and do what is right," stated Mayberry adding for good measure, "I enjoy everything that I do."
That includes currently chairing a committee charged with bringing fibre optics to the rural Oxford community and involvement with the Canadian Foodgrains Bank as a past coordinator for Ontario.
Now retired from full-time farming from both dairy and cash cropping, Mayberry, 66, describes himself as a "social conservative" but not in the political context.
Mayberry is a big fan of both electric and self-driving vehicles. An opportunity to ride in a Tesla autonomous vehicle in San Francisco impressed him to the point that he plans to purchase an autonomous vehicle in the near future for personal use.
He identified farms in Oxford County as requiring an average of 38 litres of diesel fuel per acre to operate, a number slightly elevated by the large number of livestock farms. The county can't do a lot about that because it doesn't make or mandate the machinery, said Mayberry who along with son Ian had converted the family farm to zero tillage.
At the same time he estimated that a week's worth of fuel burned by vehicles on Highway 401 running through the county would equal all the fuel used by Oxford County farms in a year.
The county is encouraging contractors to build the most efficient energy-use homes possible since heating and cooling homes represent one-third of total energy use.
"The material use is not significantly different, only more use of insulation."
The ever larger livestock barns going up in the county could all have solar panels for creating renewable energy, said Mayberry. The price of panels had dropped significantly making solar energy ever more competitive with nuclear power.
"It is unclear what the real price of energy is in Ontario," said Mayberry. The province should just set a realistic price and make it public so the solar industry knows the economics it has to operate under. Artificially lowering the price of energy doesn't encourage energy saving either. A realistic pricing would allow solar to fit in, said Mayberry.
A windmill farm has been established in Norwich Township so while in Germany, Mayberry was keen to observe the changes taking place there with wind-generated energy.
He was surprised to find that thousands of windmills first established are being taken down and replaced with bigger models.
"The Germans say the windmills should have been half as many but twice as big," said Mayberry. They produce more power with less noise created by slower moving blades.
Canadians can learn what does and doesn't work by observing what other countries have done, he added.
Also, German engineers have managed to make great strides in waste reduction through recycling. "If Germans can make a 100 per cent recyclable car, surely we can figure out a way to recycle cardboard cornflake boxes," said Mayberry. ◊