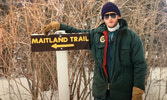 By Lisa Boonstoppel-Pot
It's fitting that we are meeting for Geoff King's "goodbye" story in the Robertson Tract near Auburn. Back in the day, when he first starting working with the Ministry of Natural Resources, King spent many hours in the forest pruning white pine plantations. Those plantations are now filled with tall, mature, thriving trees, not unlike King himself who is retiring after 35 years serving as a steward for forests, soils and watersheds with the Maitland Valley Conservation Authority.
It's clear from talking with King that he enjoyed those times working in the woods, but he says the most meaningful part of his career was working with landowners.
"My real interest was extension, that's what I enjoyed doing the most," says King, who is set to retire from his role as Stewardship Services Coordinator with the MVCA the first week of December.
Unfortunately, he fears the last 35 years have been better for soil preservation, forest health and water management than the next 35 will be. The drive for profits, climate change, invasive species and reduction in government funding are all contributing to his real apprehension for the health of the planet.
"I worry what the next 30 years will look like. When I started all those years ago, it (the environment) sure was in better shape," says King. "We had a lot of extension staff present from many other agencies and the funding was much easier to access to undertake better management practices (BMPs)."
Back when he started, climate change was not even an issue. "Nobody talked about it," says King.
During the intervening years the landscape of field and forest have dramatically changed. "Just look at what the Emerald Ash Borer has done," he says, referencing the insect that has devastated the ash tree population across southwestern Ontario and beyond. Beech trees are being hit by America Beech Bark Disease and Oak Wilt will have a huge impact on woodlots and an additional impact on climate change. "We are losing more trees than we are planting to help combat climate change," says King.
Add to that the damage of invasive species such as Garlic Mustard, Giant Hogweed, European Buckthorn, Japanese Knotweed, Phragmites, Zebra Mussels and the Round Goby and King fears for the survival of native species. "The list of invasive species just keeps growing," he says.
While tree diseases and invasive species are one kind of threat, large-scale agriculture and a lack of government support for landowners trying to improve their soil and water conservation is another worry.
"In farming today, there is less cattle and more intensive row crop production," says King. The high cost of land and expense of crop inputs has led to more marginal lands and flood-prone valley lands being worked. Wetlands have been drained and buffers between fields and watercourses have been removed. These changes concern him greatly.
It's why he has enjoyed working with farmers. Although there is some suspicion from landowners in regards to MVCA's role in regulating farm and land practices in relation to protecting waterways, King says his focus on stewardship services allowed him to meet, talk and explain why the regulations were in place.
He recalls working with one landowner on a drain that was to narrow to handle water flow and being able to explain from a safety and erosion standpoint why action was necessary. A new culvert was installed with the aid of funding and the right permits. "When I left he was quite happy and in the long run, the project was cheaper than if it had been ignored."
Much of King's work focused on outreach and education to assist landowners with the development, design and funding for installing rural storm water management systems. These could include grassed waterways, berms and wetlands. King also helped farmers do the paperwork and access funding to create windbreaks, buffer strips and reforest marginal lands.
In a watershed that contains over 470,000 acres of prime agricultural land that is worth over 4.7 billion dollars, it's a wise investment to build and maintain municipal drains, says King. Of those 470,000 acres, 50,000 of them are considered marginal farmland that would be better reverted back to wetlands, forests and meadows, he believes.
During his career, King is particularly proud of three projects he and the MVCA have been part of:
1) The Scott Municipal Drain in North Huron, 2005: Involving 400 acres, the project used a systems-approach to improve agricultural drainage, reduce future maintenance and improve the health of the river to the point that trout returned to the river. "It was a win-win all around," believes King.
2) The Garvey-Glen Priority Watershed Project in Ashfield-Colborne-Wawanosh, 2010: This project is currently on hold until new funding can be found but for eight years, over 40 farmers were involved in improving soil health, protecting water quality and reducing storm water run off. The Healthy Lake Huron Collaborative was also part of this project. Farmers involved opted to plant cover crops, reduce tillage and incorporate nutrient management strategies. The result was a reduction in soil and nutrients being washed off the land and improved water quality.
3) Middle Maitland Headwaters Project, North Perth, 2015: This ongoing, multi-year project focused on restoring the health of the Middle Maitland River upstream of Listowel with over 20,000 acres involved. The goal is to restore over 2,000 acres of floodplain by planting stream buffers with native trees, shrubs and wildflowers; restoring floodplain and river valley slopes with natural vegetation or permanent pasture; educating the community on the need for tree cover to improve the water quality on this stretch of the Maitland River.
As he looks back over what he has learned as a Stewardship Coordinator, King says it's always wiser to look at the bigger picture. Individual farm projects are good but to really effect change, projects need to focus on the entire watershed.
Partnerships are very effective. In the Garvey Glen, once MVCA established a positive relationship with a community leader, more farmers followed suit and the project grew to incorporate 40 landowners and two cottage associations. Partnerships also need to develop at the government level. Federal, provincial and local agencies are more effective working together in order to bring resources to the table to improve water quality.
Trust is another factor. Over 35 years, King hopes he has earned the trust of landowners because it's vital for landowners who want to make change to protect the climate, but need the funding and technical expertise to do it.
Phil Beard, General Manager at the MVCA, says one of King's greatest contribution has been rebuilding MVCA's Watershed Stewardship Services which was decimated when provincial grants to conservation authorities were reduced in 1996. "He led the rebuilding of MVCA's watershed stewardship staffing and services over the past 20 years," says Beard. "He's just a great person to work with."
Pat and Jim Martin agree. Working with Geoff on the Garvey-Glen watershed, the pair say King was very passionate about his work, very personable and eager to help. "We have enjoyed working with him. He will be missed!"
During his full-time career with the MVCA, King has also served as the drainage superintendent of the Municipality for Central Huron. He plans to continue serving in this capacity believing he can continue to make lasting improvements for landowners and the environment in this role.
In 2010, King discovered he had cancer. Talking about it is emotional for him, because it had such a large impact on his family and how he views his life. "If it wasn't for my health, my passion for extension and working with landowners meant I would probably work many more years," says the 58-year-old. "I'm still young! I have lots of things I still want to do." One of his interests is raising bees and he would like to expand his small beekeeping operation. King has been experimenting growing shiitake mushrooms in logs and is keen on the project, surprised how easy it is to cultivate these fungi. He is also growing lavender with ideas on how to market the plant's many uses. He may yet establish a farm-gate business as his hobbies evolve once he has more time to dedicate to them.
Always a man with a great passion for the outdoors, he knew from working as a Junior Ranger in Hearst back in 1978, that he wanted to combine his interest in the environment with working with farmers, the stewards of the land. He has planted many trees himself, in partnership with his uncle, Bill Rivett, who owns the farmland around the recreational property King owns near Goderich. "You'd be hardpressed to find a more diverse woodlot than the one I've planted," states King with confidence, listing sycamores, oaks, hackberry, hickory tulip trees and other Carolinians forest species that he has planted over the years.
He has lived his life and his work protecting and trying to improve the land and waterways and feels pride in his accomplishments. Yet he approaches his retirement with mixed feelings. "I'm concerned that my job is not done. I have a lot of concern with the future that we are leaving for our children," says the father of two adult children.
There is much to be done and within the MVCA at least, King's role will be taken over by the new Stewardship Services Coordinator, Chris Van Esbroeck.
King doesn't rule out the possibility that he may work as an extension consultant in the future but first, he has a month to go in his current role and he plans to make the most of it. ◊