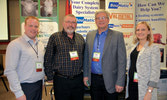 Whether selling bulls or quickly replacing a dairy herd with superior genetics, dairy farmers say genomics are a tool they use to increase profitability in their herds.
Three dairy farmers, with unique marketing goals, highlighted the pros and cons of using genomics during a dairy panel on January 3 at Grey Bruce Farmer's Week.
Wayne Wagler of Claynook Farms Ltd, near New Hamburg; Philip Armstong of Armstrong Manor Farms north of Brampton and Gary Markus of Markhill Holsteins near Ingersoll have specialized goals for their dairy farms. Wagler sells bulls and has a huge goal of one day having every dairy cow in the world linked to a Claynook bull. Armstrong and his partners cull any heifer with a Lifetime Profit Index (LPI) below 2800 to improve their herd and profit on cattle sales while Markus's goal is a herd transformation over the next four years using six high-end animals he recently purchased.
Each farmer uses genomics to reach these goals.
"We want to stay on the leading edge of genetics as we sell bulls worldwide," said Wagler, following a presentation by Lynsay Beavers of the Canadian Dairy Network. She said that 40,000 holstein females were genotyped in 2017 and that almost 70 per cent of semen is now used from genomic young sires.
"Use of genomics is not rising as quickly as we thought it would but it is being used," said Beavers. "Genomics is a herd management strategy where, in an environment where it's difficult to expand, it allows farmers to cull and raise only the heifers they want for replacements."
She teaches that by using genomics, breeders can double the genetic progress of their herd. Genomics "increases the reliability of genetic evaluation from 35 to 70 per cent LPI."
Testing is done by taking a hair and tissue sample and costs about $33 for a basic panel of information. Results are available in about three weeks. Beaver said when starting to use genomic testing, it's important to choose results based on your goals, to set a threshold, and don't forget the "real deal."
"If you have a heifer with a high index but she has a terrible bout of pneumonia, she will never live up to her genetic potential," said Beavers.
Wagler said Claynook Farms has been using genomic testing since inception. "It has been lucrative for us," he said. "We wanted to know if our cows had the stuff or not and if they didn't, we wanted to know what we had to buy."
"We don't test an animal that doesn't have the potential to create bulls for us," said Wagler of the family farm that now involves the third generation with three families in ownership. They crop 340 hectares, 183 tie stalls to milk in, keep 200 cows and retain 400 young cattle including 70 bulls.
Since using genomics, Wagler believes the herd has both better conformation and better conception rates. The Waglers test 80 per cent of their females to measure their value as bull dams while 70 per cent of males are tested for potential as artificial insemination (AI) bulls.
He would like to see better testing for recessive genes and haplogroups (scientists have identified nine haplogroups that appear to cause embryo loss or stillbirths when they exist in the homozygous state) to breed problems out of herds. "Some people are really concerned about inbreeding but I don't care. I say the higher the indexes the better to fix homozygous genes (having two identical alleles of a particular gene or genes) in our breed."
Wagler also thinks the range of accuracy needs to be tightened. Different countries use different indexing systems when measuring genetics – this can be confusing and makes it hard for farmers to compare animals. He believes there needs to be a long-term data collection and that farmers should be strongly encouraged to genetic test for the benefits of the entire industry. This is especially vital as understanding of epigenetics (the study of biological mechanisms that will switch genes on and off) grows, he said.
Armstrong said genomic testing has allowed his family to make more accurate culling decisions within their commercial dairy herd. Dairying is in the blood for the Armstrongs with Philip's son being the seventh generation farmer in the business. The partnership consists of Philip, Peter, Richard and Lucas Armstrong. They raise 300 replacements and milk 375 cows three times a day with cows averaging 42 kilograms of milk testing at 4.3 per cent butterfat and 3.5 per cent protein.
The family expanded in 2015 and has the capability to milk 400 cows. They started using sexed semen 11 years ago and had an immediate explosion in the heifer population. That required the farm to cull 25 to 30 per cent of their heifers. At that time, they relied on parental averages and indexes along with making use of East Gen reps to aid in visual selection. As the culling process increased production and improved conformation of the herd, Armstrong said they couldn't tell, visually, which were their best animals any more.
Using genomics, they started culling based on LPI and now cull almost exclusively based on genomic LPI. They only keep heifers that test higher than 2,800 GLPI (Genomic LPI) . "We know we get rid of a lot of good animals but we cannot raise everything."
The Armstrongs use genomic testing to focus on calving ability, herd health, herd life and daughters' calving ability. Graphing charts shown by Armstrong reveal a steady increase in herd life, genetic fat percentages and genetic protein percentages. Calving ability has had a less linear response.
Like Wagler, Armstrong believes when herds forgo classifications and genomic testing, that information is lost. "We have to think down the road to the next generation and help the industry overall," he said.
Markus and his brother Darryl grew up on a dairy farm known as Markvale Holsteins launching their own dairy farm, named Markridge Holsteins. Their budget for cattle was $1,500 per head. Both he and Darryl maintained full-time off-farm jobs. In 2014, after working through a succession plan, Markus bought out his brother and launched his own dairy farm corporation owned by himself and his wife, Hilary, near Ingersoll. They named it Markhill Holsteins. It is a 180 acre farm with 90 kgs. of quota for 140 holsteins: 75 milking or dry and 65 young stock. He relies on custom work for all the cropping and his only machine is a skid steer and an old tractor.
Still employed at Alta Genetics as a genetic consultant, Markus knows the value of a mission statement and creating a corporate structure. Hence, he chooses to be "the dumbest person in the room" as he plans to learn from the best and the brightest.
When he and Hillary established Markhill, Markus had a budget and created a herd buying animals from about 20 different farms. Five years later, he is ready to transform the herd using six high-end cow families. He'll use their genetics to repopulate the herd and use genomic testing to choose high-producing cattle that are healthy with excellent udders. His breeding philosophy is to choose two genomic bulls selected per proof round using the selection index of 60 per cent production (55 per cent protein kgs and five per cent fat kgs) 30 per cent health (20 per cent daughter fertility and 10 per cent herd life) and 10 per cent udders. He said 95 per cent of cows leave the herd because they aren't pregnant. Choosing high scores for fertility allow him to breed a more fertile herd naturally.
"Obviously, you have to have other management tools in place before genetics. Average daily gain, recording health events, etc...these all need to be in place. Genetics is the last thing to express in the management pyramid," said Markus. With those strategies in place, Markus believes genomic testing is helping increase animal values on his farm by $258 per head.
"Our top animals should always be the ones in the calf pens," said Markus.
During the question period, "big data" came up in the conversation. Wagler got very animated discussing the value and appropriation of data. "If we (as a dairy industry) don't collect our own data, then it will be the large companies that dictate to us," he said. Wagler said the industry needs a central, data organizer run by a "benevolent dictator" and funded by a check off on the milk cheques.
"If we don't, we will lose the veracity of the data and our control of it," said Wagler. However, even he does not test all females. Philips has chosen to as a matter of management protocol. However, the bottom 30 per cent of the Armstrong Manor herd is bred to beef. "I don't want to test these cows and I don't want those calves. I don't want to even look at them," said Philips. Markus focuses his genomic testing on the progeny coming from his six new cows with the goal of having 20 genetically superior offspring from each one of those purchased animals.
"If a barn has 100 stalls, the cow that gives the least amount of milk to that bulk tank has to go," he said. "In fact, I don't breed a cow over 180 days. I want to sell her when she is worth 60 cents a pound, not when I have to write a cheque."
Beaver interjected saying that it would be ideal if all dairy farms did genetic testing and added to the pool of genomic information. However, "we don't need 100 per cent of all herds to make genomics work." It is a cost that has to give value to the farmer. Programming is in the works, said Beaver, with milk recording agencies and the Canadian Dairy Network to add value to the testing to encourage more farmers to participate.
Markus concluded by urging farmers to have a plan. "You don't want to play the genomics game without a plan. You need to have a goal so that you know what you need to do and can measure what you are doing," he said. ◊