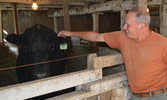 By Gary Kenny
What would compel a Bay Street actuary,  someone  who once managed a billion dollars of reserve liabilities, to abandon a secure, well-paying job with the potential for upward mobility for  the  precarious life of small-scale mixed farming?  
When asked why he chose laid-back, rural Grey County over the fast-paced, glitzy office tower milieu  of  cosmopolitan  Bay Street, Rob Campbell's response is not what an interviewer might expect. Yes, there was the eventual mention of what one might  anticipate:  a hankering for the simple things in life. But Rob's reasoning is peppered with actuarial terms like analytics, quantification, risk management, evaluation  and  perhaps  most  characteristic of  a  numbers guy, value.  
As an actuary, "I've always focussed on creating value,"  Rob  says. "Sometime around 2009 I realized economics is no longer creating value for humanity and is in fact systematically impoverishing humanity to create notional value for corporations." 
Rob also found that, increasingly, "Our current [capitalist] economic model's addiction to perpetual growth" was bumping up against its inherent limitations. According to that model, he says, if the potential for economic growth ever ends, then the whole economic system collapses, money loses all value, and corporations and banking systems go bankrupt."
It seemed prudent to try to minimize our need for money and dependence on corporations,  Rob  says of himself and Patricia, his wife. So they began to consider the options.
In her blog, aptly titled Bay Street to Barnyard, Patricia, who holds a PhD in world religions, elaborates on Rob's explanation. "It wasn't working," she says of their professional lives in Toronto. "Rob was feeling the pressures of working day-to-day in corporate culture, and I was learning that I had little chance of finding any academic work"  in Toronto.
In 2010, Patricia took a limited-term teaching contract in New Bruns-wick causing the two to live apart for two years. "Rob called me up once day," she says. He had six words: "I want to be a farmer." 
Those six words put fear into her heart, Patricia  adds.  Despite  his long-term interest  in food, food security and sustain-ability, Rob had no farming experience. He was used to sitting in front of a computer, not on a tractor. But Patricia, familiar with the depth of Rob's thoughtful conviction, bought into the idea. 
Rob  soon entered into a full-season internship  at  Everdale, the agricultural  organization near Hillsburgh  that  trains aspiring farmers. A  subsequent  internship  at Green Being Farm near Neustadt further deepened  Rob's  farming knowledge.
In the interim, Patricia landed a job teaching at the University of Waterloo. She and Rob decided it made sense to find a farm within reasonable commuting distance. Rob drew a series of concentric circles – he calls them donuts – around Waterloo, assessing the cost of farmland within each donut according to what the couple could afford. "Prices continued to be inflated until you got more than [90 minutes] out of Waterloo," he says. 
The Campbells decided that a two-hour commute was the maximum distance reasonable for Patricia, and so  "we shopped in  [that] donut," Rob says. Rob knew and liked central Grey County.  When Patricia visited the area, she fell in love with it, too.
The couple purchased a 100-acre property just north of Williamsford, 40 acres of which is workable. The property appealed to the Camp-bells because it has been farmed organically, so the usual three-year waiting period for organic certification could be waived.  
Rob, a student of how on-farm biodiversity is linked to and can enhance agricultural practices and make them more sustainable, also was attracted to the farm's natural biodiversity: a cold-water stream, a flood plain, a lowland cedar bush, an upland deciduous forest, lush fence lines and hedgerows, and lots of wildlife. Infrastructure – the barn and fencing in particular – needed some work but nothing daunting. A tractor and other equipment would need to be purchased. 
And so began Better Together Farm and the Campbells' adventures in real-time agriculture. Seven years on, they are managing a vibrant mixed-farm operation including a vegetable market garden, and pastured cattle, pigs and chickens. 
There have been a few challenges along the way Rob says, smiling drolly. But to the journalistic observer, each of those challenges  has been met with the determined, evaluative and keen analytical focus that someone with the acumen of an actuary would bring to farming's many vagaries.
Soil biology and health has become the Campbell's main focus. The farm's soil was depleted and tired, Rob says. The previous owners had worked at  rehabilitating  the soil using strategies including fallowing, cover cropping, and over-seeding with legumes. But fertility had continued to wane. 
Fortunately, detailed records have been kept of the various  soil rehabilitation efforts. "That saved me years," Rob says happily. "I could see that all the usual or easy rehabilitation efforts didn't work." While the sandy soil responds quickly to nutrient amendments, it doesn't retain them," he adds. Different strategies were needed.
When the Campbells, members of the National Farmers Union-Ontario attended a NFU annual convention,  the  theme of which was soil health, Rob says his  education  about soil began in earnest. He learned about cation exchange and the soil food web.
Soil health was also the focus of the Ecological Farmer's Organization of Ontario's annual conference held soon after. There Rob learned about humates, soil carbon, soil microbes, and the importance of a holistic approach to soil health. "I think this is when I started hearing about regenerative, as opposed to merely sustainable, agriculture," Rob adds.
Despite the challenges of the farm's sandy, infertile soil, Rob was optimistic. Central east Grey County is Niagara escarpment land and the parent material in the subsoil is rich with dolomitic limestone. That, Rob says, suggested to him that his soils could be productive for centuries with a biology that  could access the calcium.
The Campbell's initial plan was to grow and market vegetables. Part of their vision for the farm was to build local community, and market gardening is one way to achieve that goal. A soil profile was contracted "to quantify what we were working with," Rob says. On the advice of a soil consultant, compost was plowed into the plot designated for vegetable production at the rate of 10 tonnes per acre. Quips Rob, "When we added that much fertility the species and densities of perennial weeds  exploded and we have been fighting them ever since!" 
"You have got to manage weed pressure before you expand crop offerings or finesse your mix of varieties," Rob says. Using various weed-control strategies including  cover cropping combined with tarping appears to have eliminated the worst of the weed pressure, Rob hopes. 
The following year Rob seeded multi-cut red clover and  began  pasturing broiler chickens in the vegetable field as part of a crop rotation strategy and to enhance  soil fertility. Other fields were rented for hay production.  In the  meantime the Campbells took a  holistic  farm management course offered by Huron County farmers,  Tony and Fran McQuail. "We were introduced to holistic grazing and acquired some great tools for managing the farm and our lives as farmers in general," Rob says. 
"Our heads were filled with  new  ideas," Rob adds. "I realized that our sandy soils had to have perennial plants for regenerative agriculture, and that meant grazing ruminants on most of the farm. I had heard enough horror stories about goats to eliminate them straight off, and I was not fond of working sheep … so I laid the ground work for beef cattle." 
Local farmers offered their help. One selected three pregnant three-year-old cows for the Campbells to begin building a herd. "I asked for cows that had already had one or two calves," Rob Says. "Because, as I said to my farmer friend, when calving time comes, I want one of us [me or the cows] to know what is going on!" 
The following year , he  made additional investments to enhance the farm's soil health. "I was hearing different messages on what was required to start the [regenerative]  process in a depleted ecosystem: holistic grazing; nutrient loading;  and killing what you don't want, adding  the nutrients you do want, and then sowing desirable plants so as not to feed  weeds.
So, always open to calculated experiment, Rob began managing each of his three fields according to one of the three strategies. The underlying paradigm was always holistic, Rob says. "You need to get the chemistry mostly right to feed the biology, and then the biology  should access nutrients in the soil and subsoil" and make them available to plants. It is still too early to tell if any strategy completely succeeded, Rob says. The soil will be tested soon to see how things have changed. 
Local cattle farmers always smiled when they saw our three cow-calf pairs," Rob says, "but we were  right to start small." The pasture was so depleted that stocking density was only 10 percent of what the experts  said he should assume. Now, with more robust pasture land available the Campbells have expanded their herd. 
Rob and Patricia also introduced some pigs into their pasturing plans. But "never again" will he pasture pigs in fields, Rob says. While their manure, high in phosphorus, produced lush pasture grasses, compulsive rooting formed hummocks that are "spine-jarring" for a farmer on a tractor. It's easier to restrict the pigs to the fence lines, Rob adds. 
While Rob shoulders most of the outdoor work, it's clear that the farm is a joint enterprise. It's "better together," he and Patricia like to say, suggestive of the origin of their farm's name.  As committed as ever to when they started seven years ago, the couple has decided that four separate enterprises – vegetables, cattle, pigs and chickens, especially given the different channels of distribution and marketing – is onerous. They've downsized the market garden and number of meat chickens they raise to lighten the load.  
The Campbell's most important learning thus far? Growing only plants for humans to eat can never be sustainable, Rob believes. He bases his belief on holistic management's observation that an ecosystem is an unending process; a continuous biological movement from simplicity and instability, following a disturbance, to increasing, complex stability.
The problem, he continues, is that annuals comprise almost every plant that humans eat. That means that farmers have to periodically knock back the ecosystem to produce abundant annuals. There are lots of ways to make this more sustainable – permaculture, cover cropping (particularly with perennials like hay), and no-till – but sooner or later farmers always have to force nature out of her equilibrium to get her to grow something we can eat, Rob says
Conversely, perennial grasslands are a stable complex ecosystem, Rob adds. "We can mimic nature by managing grasslands with herds of ruminants like cattle to convert all that grass to something humans can eat, and even put a fraction of it into annual crops periodically."  
But ultimately, Rob adds, plants need animals (or  synthetic  fertilizers  to replace animal inputs) to close the nutrient cycle, and intensive communities of plants in a cropping system need more animals than wildlife can provide.
They applaud the ethics of vegetarianism – the Campbells were vegetarians themselves for 10 years – "but they are inconsistent with biology on this planet," Rob believes. If there were only one billion humans to feed, then we might not have to eat ruminants, he adds. "But we would still need to manage their population  which means harvesting them to keep the ecosystem in equilibrium." ◊