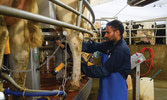 Weekend milking? The excuses were many. "I got to take the cat to the vet, my mother's sick, my grandmother is in the hospital, you name it," says Henk Pastink, a dairy farmer just west of Conn in Grey County.
"You do have family emergencies, and we understand that," adds Maria, his wife. "But when the same person has an emergency every weekend that becomes a problem."
Like many larger-scale farm operators in rural Ontario, the Pastinks were facing an age-old problem: getting the right help.
"We first found the hired help issue in the milking department. We milk at one in the morning and one in the afternoon," Maria explains. The Pastinks milk 600 cows and required three people for each three-hour milking shift.
"Half the time we were milking ourselves because somebody didn't show up," Henk says. "We could hire somebody but they could stay a month and then leave again."
Getting employees wasn't for lack of trying either.
"We were advertising all over on the internet," Henk says.
Their labour challenges were hardly unique.
There are more than 26,000 vacant jobs on the country's farms, resulting in an estimated $1.5 billion in losses, a 2014 study from the Canadian Agricultural Human Resource Council found.
"The issue is becoming more pronounced," says Debra Hauer, a project manager who worked on the study.
Already, about 50,000 foreign temporary workers are brought to Canada to fill seasonal jobs in the agriculture industry, particularly in the horticultural, fruit and vegetable sectors.
Still, there is not enough help.
Hauer points to demographic shifts in rural Canada: more people are moving to the city and families are getting smaller. She adds that agricultural jobs increasingly require people who can operate large, technology-laden machinery or have experience working with livestock.
"The people who farmers had traditionally drawn upon for those sorts of skills were their neighbours. And there is not so many people around anymore," Hauer explains.
The Ontario government recognizes agricultural labour shortages too. Last year, the provincial government expanded a programme that brings foreign workers onto farms for full-time positions. As many as 6,000 people from other countries are eligible to apply for work on farms or in construction jobs, where there is also a shortage.
Michelle McCann, a communication officer from the Ontario government, states farms need to qualify in one of the following agricultural categories for labour assistance: general farm worker, nursery and greenhouse worker or harvesting labourer.
"Applicants must meet the minimum work experience, education, valid certificate or licence, if applicable, and language criteria," McCann wrote in an e-mail.
The Pastinks stumbled upon the solution. A 24-year-old international student in Toronto answered one of their help wanted ads. Gurpreet Aulakh had just completed a course in sustainable agriculture at Fleming College and was allowed to legally work under his student visa for a year afterward.
In India, his family owned a 12-acre farm where they grew wheat and rice and milked water buffaloes. It was enough experience for the Pastinks to hire him for a full-time job in their milk parlour.
"If your background is related to agriculture in India, then it's not hard to do. It's easy. There's more technology here, like with milking cows, we did it by hand there. Here, we are doing it with machines. It's not a hard job," Aulakh says.
Over the course of a year, Aulakh proved to be reliable and hard working, exactly the right fit for the farm.
Shortly after Aulakh began working, the Pastinks decided to look further at formally hiring two foreign workers for full-time positions on their farm. Aulakh quickly volunteered his brother-in-law to be that second employee.
The Pastinks sigh as they remember the 18-month process began to formally bring the employees onto the farm.
The paperwork required to hire a foreign worker is extensive. A guide from the Ontario government to offer a foreign worker a job is more than 50 pages, a task that was daunting. Eventually, the Pastinks gladly hired a Mississuaga-based employment agency to deal with that.
As part of that process, the Pastinks conducted a Labour Market Impact Assessment, a requirement to hire foreign workers on a full-time basis.
"You have to see if there are enough Canadians in the workplace that could fulfill that position. And if not, then you're allowed to get somebody in from another country," Henk explains.
"And when you do get someone in from another country, you have to pay for their airfare, you got to pay for their transportation and you got to provide them with a house and the house has to be inspected by the Ministry of Health, and the house has to be inspected by the fire department. And if it all passes, then you get your approval for bringing someone in."
With patience and persistence, they were successful. Eventually Aulakh's brother-in-law Baljinder Singh arrived and began milking cows as well.
As part of the foreign worker agreement, employers must ensure that their employees have free accommodation, Henk says, and that all employees are paid, at least, minimum wage. Each contract is for two years under the foreign worker programme, and then if the employee wishes to remain on the farm, the farmers can request another two-year extension, which can enable the employee to apply for Canadian permanent residency.
Again, the work arrangement proved successful. Soon, more employees were applied for. Currently, the Pastinks have government approval to have four foreign employees at their farm. They're all from India.
Recruiting the right people has been key. Aulakh underlines that just like in Canada, workers who have a background in farming will be more likely to succeed in rural Ontario.
"If you live in the city in India, and then in Brampton, those kind of people don't like to farm. If your parents don't have a farm, you will not like farming in Canada," Aulukh underlines.
Henk says that the consulting agency in Mississauaga has been very helpful in recruiting the right kind of employees. That agency was contacted but was not available to speak on record for this article.
Henk adds that he likes having all the employees come from the same country, as it decreases communication challenges. If someone doesn't understand something, "we try to get another guy to translate, which is pretty easy because there are two or three guys on a shift," Henk says.
Aulakh, who began working with them four years ago, is still employed there. He's graduated from milking to additional responsibilities around the farm too – treating, needling and calving. He's become a permanent resident of Canada and no longer required to be on the foreign worker programme.
He plans to become a Canadian citizen and is saving towards his dream.
"I want a mixed farm here. It's quite hard, but I'm working on it. It needs money," Aulakh says.
Henk and Maria smile hearing this.
"My parents came to this country as agricultural workers and that was in the 1940s and 1950s. Maybe it's just a generational thing," Maria says. "The first immigrants to this country, it was agricultural based. It's always been like that." ◊