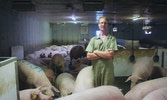 By Jeff Tribe
Graham Learn does not hold back in his support for the Canadian Federal Skilled Worker Program.
"Honestly, it was life changing," said the Oxford County pork producer. "I've got to meet great people from a different country and learn about their culture, and on top of that, bring highly-skilled workers to the Ontario workforce.
"And because of that, our business has been able to grow and prosper."
Husband and wife Richard and Marlene Learn and sons Adam and Graham are the partnership group for Richmar Farms, an 850-sow farrow to finish operation located between Norwich and Mt. Elgin. The swine side of the business is supported by 800 acres of wheat, corn and soybean production, with grain dried, stored and milled on-site.
Richmar also has three full-time employees, one from nearby Mt. Elgin, two from central Ukraine – all three are employees, not farmhands – a term Graham bristles at due to the fact it lacks the connotation of "a person working in agriculture as a career."
"These people are career people on our farm, not farmhands. They are well-educated and well-skilled to do a great job."
Learn views the term "farmhand" as indicative of a broader lack of societal respect and understanding for agriculturally-based careers, exacerbated in his opinion by the government's and education system's failure to adequately support their potential.
"It can be there, we've been focussed on industrial jobs and the idea you had to move into a city for a better life. Now, generations later, there is opportunity for a better life in rural areas.
"The honest truth is, no one understands agriculture any more, and you know how that works, what people don't know, they fear. And that is a problem, we haven't changed that perspective over generations and now we have a workforce problem."
Factoring in agricultural's aging population and the lack of an adequate number of young replacements as indicated by the fact Learn says there are four agricultural-related jobs for each graduate from the combined University of Guelph's home and Ridgetown campus's cohorts, helps underline a shortage of skilled agricultural labour.
Learn would like to see governmental promotion of agricultural as a place for both jobs and careers, eventually helping bridge a problematic gap.
Canadian Agricultural Human Resource Council (CAHRC) data indicates farmers across Canada's agriculture sector reported $2.9 billion in lost sales because of unfilled vacancies – an increase from $1.5 billion in 2014. Forty-six per cent of farmers who reported vacancies delayed or cancelled expansion plans and many reported extreme stress for themselves and their workers.
There are signs of improvement over the last four years. Most noteworthy is that total job vacancies in agriculture have declined to 16,500 from 26,400, largely as a result of the adoption of technology, and an increase in the number of international workers who fill jobs where no Canadians can be found.
Vacancy rates in agriculture are among the highest of any sector in Canada at 5.4 per cent (compared to the national average of just under 2.9 per cent), although have decreased from the 2014 rate of seven per cent.
"Labour shortages in Canadian agriculture can only be addressed by taking decisive action," said Portia MacDonald-Dewhirst, Executive Director of CAHRC in a press release. "By working together, we can find meaningful, creative solutions to increase the supply of labour and improve the skills of the sector's workforce for the continued success and growth of agriculture across Canada."
Richmar's firsthand experience was highlighted by a planned farm expansion.
"I spent eight months putting job ads out and interviewing people," said Graham, who ultimately conducted four interviews and made three job offers. "And not one showed up."
Throughout, Learn continued to receive international applications. Curious, he approached other producers who had sourced labour from abroad, and encouraged by their response, selected one applicant from a qualified list of 10, hiring a third-party service to handle required paperwork.
"A few months later, Yuliya (Kravchenko) showed up at Pearson airport."
The government of Canada allows foreign workers to fill gaps in the workforce through several venues, including the Temporary Foreign Workers Program, best known perhaps for welcoming Caribbean residents for a limited period per year to assist seasonally with Ontario's fresh fruit and produce production and harvest.
In contrast, the Federal Skilled Trades Program and Federal Skilled Worker Program applies to skilled trade or technical occupations requiring at least a one-year position at a minimum of 30 hours per week. Additionally, qualified participants achieving performance and experience benchmarks may consider applying for permanent residency.
In recognition of the fact an increasing number of producers are sourcing international labour, the Ontario Pork Industry Council (OPIC) has created a foreign workers guide booklet and hosted workshops designed to assist farmers in understanding rules, expenses and concerns through an extensive process. Those seeking more information are invited to contact the OPIC's Andrea De Groot at Andrea.opic@gmail.com.
In broad terms says Learn, applicants through Job Banks Canada must have appropriate education, work experience and command of the English language.
"From there, it's a lot of emailing and a couple of phone calls," said Learn, who considers the hiring of a third party service a worthwhile investment.
"Like everything, there is a lot of paperwork, but I suppose there's a purpose to it, so I shouldn't complain."
The unfamiliarity of a new process, up-front costs including transportation, and work performance across a two-year contract integral to the future of a family farm operation, were the hardest parts says Learn.
"You are putting out significant money to bring a person here. Will it work out – and will they be happy?
"You try and make the environment so they'll be happy."
Making an effort to ensure the latter was cautiously balanced by the desire to not encroach on personal space.
"It's important they are doing their own thing."
Program participants must be compensated comparably to Canadian counterparts. For Learn, this translates into an hourly wage of $18 plus living accommodations plus transportation; for Richmar the purchase and insuring of individual vehicles. It's a rough equivalency of over $20 an hour says Learn, if he were to hire Canadian contem-poraries. "I can't find them, they aren't out there."
Based on Kravchenko's performance and through a personal connection, Learn added a second program participant, Yevhenii Marchenko. Their responsibilities include managing sow barns, daily health, well-being and production. The work schedule is 7:30 a.m. to 4 p.m. daily with two breaks and a lunch, plus every other weekend.
"They have never showed up late or anything," Learn praised. "They are there every day, and if needed, they'll stay and get the job done.
"I haven't found anybody to meet their level of skill and commitment who actually wants to make a career on a swine farm."
International work permits are tied to the farm, and Learn presumes there are resolution mechanisms in place for both farmer and employees based around a failure to fulfill contractual obligations, should the need arise. "We've never had to worry about it."
It has proven a working and personal relationship Learn sees as jointly productive and symbiotic, part of the operation and, in a sense, part of the family.
"You are giving a person the opportunity for a better life in Canada, and the positive side is, we get highly-skilled labour we can trust."
He would like nothing better than some day, "when we're all long gone," for a descendent of the program's participants going through an archive, to point to Richmar as the bridgehead for what followed, a new life built on the highly-appreciated, highly-skilled labour of their ancestors.
"Because of them, we can keep growing our business," concluded Learn, whose shared operation recently added capacity. "If we were already struggling at the size we were, there would be no way we could keep growing.
"We couldn't have done it without our skilled workers, no question." ◊