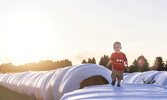 By Lisa Boonstoppel-Pot
Making hay while the sun shines is such an uplifting, catchy phrase but the actual process is risky as all get out.
How to manage the risk for forage crops (including alfalfa, grasses and corn silage) became a common theme among speakers at the Forage Focus 2019 event held December 5 in Stratford.
The conversation started with Christine O'Reilly, an OMAFRA Forage/Grazier Specialist who said last year was a nightmare of winterkill woes. The lack of snow (no insulation), untimely thaws and freezes (creating smothering ice sheets) and then standing meltwater, (which drowned plants) led to struggling alfalfa stands.
Weather cannot be controlled, however, there are five areas farmers can control when trying to grow excellent forage, she said.
1. Select varieties with good disease resistance to reduce stress on the plants
2. Feed the crop as recommended. Adequate potassium is important for winter hardiness.
3. Avoid cutting during the fall rest period so alfalfa can store energy reserves in its roots to fuel spring regrowth.
4. Plan to terminate alfalfa after nine to 12 cuts – more cuts put stress on the plants.
5. Scout throughout the growing season to manage insect and disease pressure.
When forage is ready is to be harvested, producer Mitch Kieffer, in his talk on making quality hay, reminded everyone to be ready.
"This may not be quite as technical but hearing what other people do can help it sink in," said the Teeswater-area dairy farmer. Kieffers owns Belmoral Farms Ltd., with his wife Dana and their two sons. They milk 70 cows and crop 300 acres. One of his bits of advice to reduce risk was to incorporate a maintenance schedule for your farm equipment.
"If you want to plant when conditions are right, you need to have proper maintenance on all equipment so that you are ready to go," said Kieffer. "You don't want to be sitting around waiting for something to get fixed. You do not get those days back."
Key points from how Kieffer manages forage risk include:
– Soil sampling. "I'm a big believer in soil sampling so that I know what I need and don't need."
– Know your planting rate and check often. "I just want to hop in the tractor and plant all day but every time you refill, you should check your planter. If you miss that step, you are lowering your yield potential for that crop."
– Spread manure post harvest. "I think a nice, uniform coverage of manure can be really beneficial."
– Hop on your quad or go for a walk. "You can learn a lot if you get into that field after it starts to grow. Take a good look at things rather than rest on the attitude that everything is sure to be fine."
– Evaluate. "We can all sit here and boast of our accomplishments. It's a little tougher to look back over the year and analyze what worked and what didn't work. But it's a great way to think about what you need to change."
Kieffer also shared that forage is stored on their farm in three ways: upright silos, wrapped hay (upright is possible) and also Ag-Bags.
"We like to have enough storage at our farm. I feed out of one silo so the other silo can ferment. Having enough storage is one of those small steps that can make a big difference,"
said Kieffer.
Joe Lawrence agreed. Lawrence was the keynote speaker at the event. Working in the Department of Animal Science at Cornell University in New York, Lawrence serves as a Dairy Forage Systems specialist with the Cornell PRO-DAIRY team.
Lawrence said he was very impressed with Kieffer's storage flexibility in terms of risk management.
"For a farm that size to have that many storage options is great. I think storage is huge," said Lawrence.
Lawrence had a lot of information to share (which you can read about in the February issue of The Rural Voice) but in terms of risk management, his main points revolved around choosing short season hybrids and focussing on fibre digestibility versus choosing forage on varieties.
Listing the top influences on forage quality in feed, he felt varieties, while in the top six, were at the bottom of the list. More important influences for quality forage were: maturity, crop species, harvest and storage, environment (climate) and soil fertility.
"We spend a lot of time talking about varieties and we run trials and we beat up our seed salesman but historically, there is little difference in forage quality in varieties," said Lawrence. "Certainly, there are differences in yield and pest resistance but not quality."
Nevertheless, he did believe that choosing shorter-season hybrids for corn forages was an excellent risk management tool.
"With our more dramatic weather, we can choose shorter-season hybrids," said Lawrence. "They can have tremendous potential."
Dialing back hybrid selections to make sure they mature on time is far better than risking a longer-season hybrid that won't mature on time. He said within seven days, a harvest can go from 32 to 37 per cent dry matter. "You get more yield when you let it get to an ideal dry matter content in the field versus gambling on a hybrid with longer maturity to get more yield," he said.
As to fibre digestibility, weather has an enormous impact on its measure, more so for corn silage than hay crops.
In corn, much of the yield potential of the crop is determined early in the season. Weather conditions at pollination impact the ear development which affects the ear to stalk ratio and starch content of the resulting forage, wrote Lawrence in his accompanying notes.
Farmers cannot control the moisture at pollination but by planting different corn hybrids, they can space out the timing of pollination. Hopefully some of the hybrid maturity dates would fall in line with perfect weather!
Rainfall and heat also affect fibre digestibility. There is little farmers can do about this either. However, it is good to note that drier weather isn't a bane to crop development. Rather, "excess rainfall continues to show negative impacts on fibre digestibility," said Lawrence.
Once feed finally makes into the barns to feed the cows, making sure it is always available to the herd is a major risk management factor, said Candace Schiestel, who spoke to the audience about increasing profitability at the feed bunk.
Schiestel is a dairy specialist with the Archer Daniels Midland Company based in Woodstock.
Empty bunk syndrome is one of the worst things to see in a barn, she suggested.
When cows are motivated to eat, the feed needs to be there, pushed in and reachable.
That feed also needs to be palatable and full of fibre to reduce the risk of compromised rumen health, she advised.
"We need to reduce the risk of sorting and to do that, you need to think chop length, chop length, chop length," said Schiestel. "Lots of long pieces give cows the opportunity to sort it out. They really aren't consuming what we think they are consuming," she said, showing a slide of a piece of forage the length of a pen.
For more information on increasing profitability at the bunk, see the full story on Schiestel's presentation in the February issue of The Rural Voice. ◊