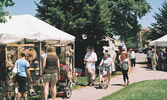 Artisans flock to Goderich for Arts and Crafts Festival
The Festival of Arts and Crafts is set to take over The Square in downtown Goderich July 6-8.
The event hosts as many as 120 crafters and artisans with beautiful hand-crafted items for sale. The festival draws thousands of shoppers to the lakeside town every year for the opportunity to see and purchase unique, hand-crafted items. The festival is also the largest fundraiser for Huron Women's Shelter.
The festival opens Friday, July 6 at noon and runs until 8 p.m. On Saturday it runs 9 a.m. to 5 p.m. and on Sunday 9 a.m. to 4 p.m.
For more information, contact Festival Coordinator Brenda McEwin at 519-955-0679 or