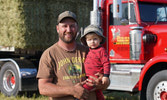 By Jeff Tribe
The sun was shining in Kenilworth and as the saying goes, three generations of the Culp family and 500 horsepower worth of machines were making hay.
Sixty-nine-year-old patriarch Paul, having previously knocked the field down with a composite 25 feet of mower (12 at the head of a John Deere 7210R, 13 behind) had returned with an 8420 steadily pushing three-by-four-foot rectangular bales. His sequential progress was matched and at times mirrored by Jared Williams, pumping out stacked bundles of small bales through an inline Massey baler and bale baron.
Across a drainage ditch, Glen Shaw was spinning 20-feet of horizontal hay into windrows as Brad Culp quickly and efficiently "telehandled" bales large and small onto a trio of 53-foot semi-truck trailers, "assisted" by 22-month-old son Henry.
They wouldn't finish the additional corner Shaw was raking before hay toughened up, as Brad predicted, but would complete the 30-acre patch both balers were working on, a cumulative 55 or so acres.
"That was a pretty easy going day, really," he summed up.
The Culp family has been in the hay-making business for over 60 years, based out of the Kenilworth area since Paul's grandfather Hiram Sr. started farming on a 50-acre property. Custom work is part of the family's Deer Run Farms century-plus legacy, originally with a neighbourhood threshing operation. Expanding on his own cash cropping, Hiram Jr. got into hay in 1959 or '60, says Paul.
"Custom hay around the neighbourhood."
Equipment has changed over the years, although sticking with a fondness for green paint that along with deer's habit to range through the site currently occupied by Brad's house lent the operation its name. Hiram Jr. didn't head into the field with teams of horses either, cutting with a sickle mower behind a 90HP 4010, and a 132 horse 5020 pulling the baler.
"Which was kind of big for its time," says Paul.
Paul, who came onboard around 12, recalls the addition of a 2020, replacing the 35HP unit he'd been raking hay on until that point.
"I thought I'd died and gone to heaven," he smiled. "Four cylinders - and power steering."
"And it just kind of blossomed from there," said Paul, who took over from his father in 1993, developing what has become a hay dealing along with hay production hub, their own hay only a fraction of what they move.
"And now it's Brad's turn."
Initially, Deer Run Farms produced hay for mushroom production, using anything up to and including "black" material. As the 1980's began, the operation began targeting the horse market, in Paul's words, "a bit more lucrative for the small bales."
More lucrative and also more demanding. Paul says the great majority of customers are reasonable, understanding the organic nature of hay production means some variation year-to-year.
"If the horse picks it and eats it off the truck, it should be good enough," he smiled.
By the middle of the 1980s one breeding farm in Campbellville was taking 25,000 small bales a year.
"We made two runs to Campbellville a day," recalled Paul, an hour-and-a-half trip one way with 450 bales per load.
"It was a full day, I remember, and not always cool weather."
Today, the horse market eats up roughly 70 per cent of their efforts, the balance to dairy, sheep, goat and beef operations. Higher-quality hay generally goes to the first four sectors, lesser-quality ending up with beef or for erosion and frost control. Their 53-foot trailers can take a load of 987 small bales or around 70 large squares, although if the destinations require offloading, a loader tractor can also be strapped on at the cost of a few bales.
"Quality is the biggest thing," says Paul. "But service and delivery time is important too."
"We pretty much drop everything to get the load out there," agreed Brad. "Customer service comes first."
Their original operational radius of 10-15 miles has expanded to many provincial highways and byways. A limited amount ships into the United States, a majority headed to Southern Ontario and points in between North Bay, Sarnia and Kingston.
The basic premise of making good hay has not changed. "You've gotta have weather and you've gotta go," Paul summed up succinctly.
Apart from scalability, reliance on larger machinery also reflects challenges of sourcing labour willing to embrace old-school haymaking's dusty, sweaty stickiness. High school students used to virtually "line up at the gate" says Paul, noting his father paid well for the times. Today is different, and while tractors are not cheap neither are labour costs, when and if you could find willing and dependable participants. In the "old days", a 2,000-bale day would be a big day Paul recalls, where now, Williams can bale and stack upwards of 5,000.
"And that tractor goes as long as there's someone in the seat," said Brad.
The other major difference is change in climate. The Culps take two cuts annually, historically beginning around July 1st. That has crept toward mid-June, and this year, poked into May for the first time in Paul's memory. The hot, dry weather of early 2023 summer was ideal for haymaking, however climatic transition has also featured increased variation.
"Weather is the biggest battle," said Brad. "A year like this, it's not hard to make good hay. You get the volatility, it's "catchy".
Paul and Brad Culp and Williams work full-time, with part-time seasonal help. Modern farming's reality also means spousal off-farm income in between helping on the farm. Paul's wife Judy retired from a 37-year office career with the OPP, Brad's spouse Alyssa is a nurse as well as mother to their four children (Jamie, Marla, Lila and Henry). Deer Run also calls on Brad's siblings in time of need, cropping land owned by them. Trevor is a carpenter married to Ashley, who have twin daughters, while sister Stacey and Brenden McDonald (who works on a pipeline) have four children.
Paul and Judy's eldest son Jamie was tragically killed in a truck accident, a loss felt in many ways. Involved in the business, Jamie had also purchased a farm.
"I kind of wonder where we'd be at with an extra mind and set of hands," says Brad, who was with him at the time. "Jamie is definitely missed."
Deer Run Farms does have a cash-cropping component.
"Wheat and beans, less of a gamble I'll say, less hair pulling," Brad summed up.
But there is both satisfaction and pride in those 5,000-bale days, says Paul, offsetting the aggravation of the frustrating others when machinery is "smashed all to hell."
"You hope the days of pride outweigh the days you want to throw your hands in the air and wonder why you're doing it," he smiled.
As for Brad, it's a life he's chosen since playing with toy tractors in his sandbox.
"I just always knew it was for me," he concluded of something that feels less like a job and more like second nature.
"More or less for me, it's a way of life." ◊