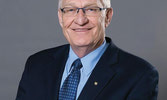 By Lisa Boonstoppel-Pot
After hearing reports of farm families being worried and scared to be on their own yards plus receiving hundreds of letters about aggressive trespassing at food processing plants, it was time to introduce legislation to protect Ontario farmers says Ernie Hardeman, the Ontario Minister of Agriculture and Food.
"We were convinced as a government that we had to do something to make sure we have a standard of safety for our animals and for our farm families. Also, we wanted to protect the safety of our food," says Hardeman.
The Agriculture and Food Minister is passionate in his support of farm families as part of the Security from Trespass and Protecting Food Safety Act, 2019 which he introduced as legislation on December 2.
The proposed legislation addresses the unique risks and challenges associated with trespass onto a farm or a food processing facility. These include:
• The risk trespassers pose to the safety of farmers, their families and employees
• Exposing farm animals to stress and disease, and,
• Introducing contaminants into the food supply.
If the act is passed, trespassers on farms will face escalating fines of up to $15,000 for a first offence and $25,000 for subsequent offences.
Also, if animals become ill or a farmers loses income when farm biosecurity is breached by a trespasser, courts will be able to order restitution for damage.
Since making the announcement, Ontario's various farm commodity groups, many of whom lobbied for the legislation, came forward in full support.
"The important aspect of this law is that it provides balance. People will still be free to have their views and talk about them on public property, but not on private property," says Eric Schwindt, chair of Ontario Pork.
He says animal rights activists host weekly vigils at meat processing plants. Trespassing is sporadic at the farm level, but does happen. Schwindt referenced an incident that happened last year on a pig farm in Ontario where an activist broke into a barn and stole piglets. The activist then posted the theft on social media as a positive act. What he didn't realize, was that he caused a health break in the barn afterwards.
"I think most people would agree that you cannot just walk in to someone's barn and steal a pig in the same way that you cannot walk into someone's living room and steal a television," says Schwindt.
The new legislation will give farmers confidence under the law that police will come and lay charges when activists trespass on their farms, he added.
Hardeman agrees. "No farmers should be nervous or scared to be in their workplace because of what other people will do to them," he told The Rural Voice days after introducing the legislation.
The legislation centres around the creation of an Animal Protection Zone on the farm.
Currently, most Ontario farms have biosecurity systems in place which include signage to prevent people from entering their barns. The new Animal Protection Zones will be more encompassing.
Hardeman explains that barns are natural Animal Protection Zones. Pastures, fenced in areas, processing plants and transport trucks will also be considered protection zones.
"We can also expand the zone to include the area between the house and the barn, where the family needs to be protected," he said.
Moreover, the legislation extends its reach to protect food processing businesses and livestock transporters.
The proposed legislation addresses the safety risks of people interfering with livestock in transport. Video of a woman trying to give pigs water at a Burlington abattoir in 2015 went viral after she was charged with criminal mischief, revealing the escalating tensions between the animals rights movements and the livestock industry. She was later acquitted.
However, incidences like that have direct consequences on food safety and truck driver safety. The legislation will prohibit activists from stopping, hindering, obstructing or interfering with a motor vehicle transporting livestock. Also, it will prohibit interacting with animals in trucks.
It also keeps activists safe, points out Schwindt.
"The last thing we want is for protestors to get hurt or fall underneath our trucks," he says.
Safety is the key word throughout out the legislation. As farmers and transporter need to be protected, so do farm animals. Hardeman said the proposed trespassing legislation coincides with the new law, named the Provincial Animal Welfare Services Act which came into effect on January 1. That law also increases penalities for cruelty offences. There will be 100 inspectors across the province, ensuring animals are well cared for.
"I have great faith in the agriculture community that they want to do right by their animals. They do not make a living when they do not take good care of their animals," said Hardeman. "That's the message we need to get out ... we need to do a better job of reducing the need for people thinking they have to storm in the barn to see what is going on."
Ontario Sheep Farmers are fully supportive of this idea. "Ontario sheep farmers are committed to the highest standards of animal care," states Marc Carere, Chair of Ontario Sheep Farmers. "This legislation includes a much-needed emphasis on biosecurity. It is critical to ensure the highest standards of animal care and ensuring that farms are safe places to work and live for our farm families."
Chicken Farmers of Ontario chair, Ed Benjamins said on behalf of Ontario's 1,300 chicken farmers, he thanks the Minister's extensive consultation process before creating the proposed legislation.
Hardeman stated the government held over 20 roundtables, meetings and conference calls with the agri-food industry, rural municipalities and representatives of animal advocacy organizations, though he admits the proposed legislation did not have "great acceptance" in their camp. Still, he believes it is fair. Benjamins agrees.
"The proposed legislation is a fair and balanced approach," stated Benjamins. "Trespassing for any reason, including animal activism, is illegal and puts the safety and well-being of our businesses, our families and our animals at risk."
Benjamins says its fine to have a different viewpoint. However, animal rights activists are not really concerned about food safety. Their goal, in reality, is to completely eliminate animal agriculture.
"Their goals and our goals are diametrically opposed. They really are," said Benjamins. "It's okay that they have different views but you can't suddenly trespass onto my farm, and break the law and consider that it is allowed because it is for the 'greater good'. That is crap! I can't break into someone else's business and do the same thing, no matter what my opinion is."
Benjamins says all the hard work of farmers to work closely with veterinarians, nutrition specialists, regulators and other experts to monitor the health and safety of animals can be undone by trespassers who can inadvertently bring disease into barns when they enter without permission or following biosecurity protocols.
While chicken farmers haven't faced the same level of trespass of beef, dairy and hog farmers, Benjamins said anyone involved in animal agriculture has "a common purpose to make sure animal agriculture has the chance to thrive."
Farmer and animal stress are key issues, says Keith Currie, president of the Ontario Federation of Agriculture. "This act will keep farmers, livestock, and agri-food workers safe throughout the value chain – from on-farm, though transportation and at food processing facilities."
Now that the bill has been introduced, it will be debated and then go to second and third reading. Once it is passed (Hardeman hopes it will be in early Spring), signage will be a key part of the process.
"These animals protection zones are in reality, biosecurity zones," explained Hardeman. Signage, however, is a courtesy. Trespassers can still be prosecuted even without signage.
Hardeman admitted that not every trespasser is intentionally trying to hurt animals. Some of them simply do not understand the biosecurity process and are unaware of the protocol when on a farm.
The announcement follows a similar move in the province of Alberta. Albert Premier Jason Kenney said he was in favour of free speech but when protestors trespass, create mischief and pose biohazards, then government must act.
"When you harass people who are simply going about their jobs legally, none of that constitutes a legal and legitimate protest," Kenney stated in a National Post article. "All of that constitutes trespass and harassment."
Benjamin's thoughts are in alignment with that statement. "People have to respect property and respect livestock and at the end of the day, people have to trust that the food they are eating has not been tampered with and is safe." ◊