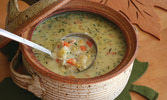 I love soup.... all kinds of soup, thick and sustaining, fresh and full of vegetable goodness, rich and creamy, familiar and exotic, and every batch is a little different depending on your base and what is available in your refrigerator or garden. We eat a lot of soup around our place and I make a lot of soup. I like to think I am working towards becoming a master soup maker according to Malcolm Gladwell's definition that it takes 10,000 hours of practice to achieve mastery in a field. I am fairly certain I am past a quarter of the way there and enjoying every minute on the path towards this goal!
With the arrival of cooler weather and the harvest still plentiful it is time to freeze a few batches of soup or the fixin's for them. I usually start off the fall with a pot of Tomato Dill or Tomato Rice when I still have garden tomatoes to use. This year I added a new corn soup to my repertoire and I think it will be a keeper. The corn gives a new slant on the squash and potato combo and I am sure the hot pepper will keep the sniffles at bay. After Thanksgiving I will make Turkey Corn chowder using leeks, potatoes, carrots and fresh herbs from the garden.
I love to keep homemade stocks in the freezer and fall is a great time to "stock" up when the herbs and vegetables are plentiful to add lots of flavour to your creations. You can make a simple vegetable stock to preserve the flavours of summer and while you are collecting herbs save some as bouquet garni or sachet d'epice. If you have some little people to help and a garden full of herbs, make some extra bundles for gifts and pack them in an old sealer for friends who love to cook.
Bouquet Garni
Many years ago my mother brought back a package of bouquet garni for me from France. I thought they were the handiest thing to have for a pot of soup or stew so the next year I made my own from the garden and they were even better. It is so wonderful to grab a sachet during the winter when your herbs are covered with snow to flavour your stock.
A classic bouquet garni is simply a few sprigs of thyme, parsley tied up with a couple of bay leaves but you may add rosemary, a small celery stem and leaves and lovage and wrap it all in a piece of green leek top. It is even handier if you tie up these herbs in a piece of cheesecloth for easy removal and so the herbs do not fall apart when they dry. When you do this is becomes a "sachet d'épices" and you may add a few whole cloves and peppercorns and coriander seed or whatever suits your own personal taste. I like to put in dried hot pepper since I always add one to stock. Here are some suggestions:
Bay leavesParsley with stem
Thyme sprig with 2 or three stemsRosemary sprig
Sage leafBasil leaves
Lovage leaves (see page 47) 3 whole cloves
Dried hot pepper or 3-5 peppercorns
Coriander seed or other spice of choice
Tomato Dill Soup
I have made this soup hundreds of times with sweet, home grown tomatoes and fresh dill and last winter 101.7 the One made a video with Julie B making this favourite with me. Mmmm good!
Ingredients:
1 Tbsp butter
1 Tbsp olive oil
1 onion, chopped
2 cloves garlic, crushed
2 Tbsp all purpose flour (optional)
4 cups chicken stock, homemade or low sodium
12 medium tomatoes, peeled and chopped, 7 - 8 cups OR 2 cans (28 oz) crushed tomatoes
2 Tbsp fresh or frozen dill weed or 2 tsp dry
1 Tbsp white sugar (omit sugar if using canned tomatoes)
1/4 tsp baking soda (omit if using canned tomatoes)
1 tsp salt, or to taste
1/4 tsp pepper
Directions:
Cook onion and garlic in butter/olive oil mixture until soft.
Add flour and stir until smooth.
Slowly stir in broth and bring to a boil.
Scald and peel tomatoes and cut into small pieces then add to broth mixture.
Add dill, sugar, salt, pepper and baking soda.
Simmer for 25 to 30 minutes.
Taste and adjust seasonings.
Serve 6
Caribbean Corn Soup
I was looking for a new corn soup recipe that used fresh corn on the cob and everywhere I looked were variations of a Caribbean soup using yellow split peas so I thought I should devise a variation of this using the most common vegetables from my fall harvest. It was lovely and as a bonus was Vegan if made with vegetable stock.
1 - 2 tsp olive oil
1 onion, chopped about 2 cups
2 cloves garlic, crushed
1 rib celery, chopped
1 carrot, chopped, about 1 cup
2 sweet coloured peppers, chopped
1 cup corn kernels, about 2 cobs or frozen
3/4 cup yellow split peas
4 cups stock of choice (I used vegetable)
2 sprigs fresh thyme
2 sprigs fresh parsley
1 whole hot pepper (Scotch Bonnet recommended but I use cayenne)
1 1/2 cups potato, cubed
1 1/2 cups pumpkin or butternut squash, cubed
2 cans (160 ml) coconut milk
1 tsp salt
1/2 tsp black pepper
2 cobs of corn, blanched and broken in 2 inch pieces or kernels cut off cob
Directions:
Cook onion in olive oil in saucepan for several minutes then add garlic, celery and carrots and continue cooking until softened, about 10 minutes.
Add peppers, corn kernels and split peas, and cook another minute before adding stock. Simmer for 30 - 40 minutes until the peas are soft.
Stir in thyme, parsley, hot pepper, potatoes, squash and coconut milk and continue to cook until tender, about 20 more minutes.
Remove pepper and thyme and puree until desired smoothness. You may remove half if you like to leave some chunks.
Adjust seasonings and add pieces of corn on the cob and simmer until corn is cooked and flavours are blended, about 5 minutes.
Serves 6
Turkey Corn Chowder
This is a rich, delicious, delicately flavoured soup, inspired by Anne Lindsay, that is just as good made with chicken. You will be eagerly awaiting the next time you have enough leftover chicken or turkey to make this soup again. I like to add mushrooms, sautéed in butter to this soup if I have them.
Ingredients:
1 Tbsp turkey fat, butter or olive oil
2 leeks, chopped, white and light green parts
1 cup sweet onion, chopped
1 cup celery, chopped
3 medium carrots, sliced
2 Tbsp all purpose flour
6 cups turkey stock, homemade or low sodium
2 bay leaves
2 large potatoes, peeled and chopped, about 2 cups
1 cup corn kernels, fresh, frozen or canned
2 - 3 cups cooked turkey, chopped
1 Tbsp fresh rosemary or 1 tsp dry
2 tsp fresh thyme or 1/2 tsp dry
1 Tbsp fresh tarragon or 1 tsp dry (optional)
1/3 cup fresh parsley, chopped
2 - 3 cups milk
2 tsp salt, or to taste
freshly ground pepper, to taste
Directions:
Cook leeks and onion in fat until soft, about 5 minutes.
Add celery and carrots and continue cooking on low for several minutes.
Stir in flour until smooth.
Slowly mix in stock so lumps do not form.
Add bay leaves and potatoes and cook until tender, about 25 minutes.
Add corn, turkey, rosemary, thyme, tarragon and parsley and cook another 10 minutes.
Stir in milk, salt and pepper and heat through but try not to boil.
Taste, adjust seasonings and enjoy.
Vegetable Stock
If you are vegetarian or use a lot of stocks it is nice to preserve the fresh flavours of summer in liquid form and use it to flavour soup or rice. I often use one chicken and one vegetable stock for a larger pot of soup.
Ingredients:
12 cups water
1 large onion
1 leek, washed and cut including green tops
1 clove garlic
1 whole hot pepper or 5 whole peppercorns
3 whole cloves
2 ribs celery with leaves
2 carrots, cut in chunks
1 parsnip, cut in chunks
4 sprigs fresh parsley including stems or 1 Tbsp dry
2 sprigs fresh thyme or 1 tsp dry
handful lovage, (optional)
1 sprig fresh rosemary or 1/2 tsp dry
1- 2 tomatoes (optional - they will alter the colour slightly)
1/4 cup fresh chives, roughly chopped
1 Tbsp salt
Any greens can be added in moderation but beware they will colour the stock
Directions:
Put everything in a large stock pot and simmer for at least an hour.
Strain and use in soups and sauces.
Lovage is an old-fashioned perennial herb that smells a lot like celery, with a hint of anise, parsley and cilantro in my opinion. The French call it céleri bâtard or false celery, the Dutch call it Maggiplant, with reference to the Maggi Sauce seasoning (but I was surprised to find Maggi sauce does not contain lovage, rather lovage flavour mimics the complex flavour of Maggi sauce). I have read that lovage contains a flavanoid, quercetin, that has possible cancer fighting health benefits, so perhaps we are not only adding flavour but health benefits when we use this in our soups.
I would highly recommend you buy a plant if you have a yard. Beware it will grow to 5 feet tall and provide you with more than enough leaves for your stock, and your neighbours, yet it requires no special care, except to be cut back after it flowers to produce leaves for your fall soups. ◊