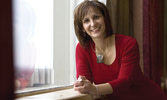 Living though a pandemic may seem like a dark time but like seeds in soil, it is the combination of light and darkness that makes them sprout.
"Exponential growth can happen, especially in these times of darkness," says mental health expert, Shawna Percy of Life Voice Crisis and Consulation Services in Guelph. "Significant challenges show us where our systematic weaknesses are and challenge us to find ways forward so that we are more resilient in the future."
Living during a pandemic requires grieving, stress management and choosing to use language like "physically isolating" versus "socially isolating" says Percy who offered a webinar via the Ontario Pork Industry Council. On the same day, Farm Credit Canada hosted speaker Stephanie Staples to also address mental health for the agriculture industry. Both offered insights and practical advice to stay mentally well during this time.
Language matters, says Shawna Percy, and using the term "social distancing" versus "physically distancing" suggests we have to distance ourselves from social contact. That isn't necessarily true and neither is it conducive to maintaining our mental health during the pandemic. "When we socially distance, we are eroding a resilience factor. We need our support systems to thrive. So how can we be physically distant but not socially distant?
Percy recommends making full use of social media and your car to maximize your social support. "Have a drive-by coffee with friends. You can see each other but still keep your distance," recommends Percy while offering a Stress and Resilience in Times of Uncertainty webinar to members of the Ontario Pork Industry Council on April 28. Percy shared slides of grandchildren learning to bake using Facetime with their grandparents or visiting through a window to see loved ones.
"As we build our connections, it reduces the stress and trauma load that we are carrying," says Percy. It also builds resiliency and that is the core trait pork farmers and everyone needs to survive stressful times.
"Resiliency is the capacity to recover from difficulties," explains Percy. Resiliency could be described as toughness, except it's an elastic toughness. Sharing a quote from Robert Ludlum, Percy says "Blessed are the flexible for they will never be bent out of shape."
So how do people build up their resiliency? Using research and advice from author Steve Covey, Percy says it's about relinquishing the need to control every aspect of our lives and understanding we can often influence change but not control it.
Percy said it begins by accepting change or hardship which lets the mind move from the situation to a different place; a place where the brain can think of new ideas. "Another way to accept it is to let our feelings be as they come up," says Percy. "During the first three weeks of physical distancing I spent it in pajamas and did a lot of 'shoulding' on myself. That did not get me doing anything any faster. So I accepted what I was feeling."
The next step is to change it. "Obviously, we cannot change the pandemic but maybe we can change a different part of the situation," suggests Percy. She was stuck in her house so she decided it was an ideal time to repaint the rooms. "There were lots of things I could not change but that little piece I could."
Sometimes, all that can be done is to escape it. Percy says sometimes our longing to escape a situation shows up in thoughts of suicide. She says it's wise to reframe those thoughts and understand that these thoughts are not true. "They are part of the brain and body's way of getting together to tell you that something needs to change because you cannot keep on going this way," says Percy. When those thoughts come, it's time to take a break, get help or find a different way to escape for a time. "Maybe watch a funny Netflix show or go for a walk or plant a garden," says Percy. The goal is to find meaning when you feel like life has no meaning. When you cannot find meaning yourself, then it is time to talk to someone else.
Percy also encouraged people to be vulnerable. "Vulnerability is a strength because you have to show up with courage to be it," she says.
Moreover, she encouraged people not to be afraid when their "autopilot" shuts off. Many people run on autopilot to perform all the tasks they need to do and it can carry people through some very difficult times. However, there does come a day when you cannot cook a meal or seemingly even tie your shoes. "The simplest things seem to take a lot of energy but you are not broke. Your system is working as it should. It's just that autopilot has turned off and your brain is telling you it is now time to take care of yourself."
Specifically, Percy encourages listeners to take advantage of any and all resources. These might be online resources such as Farm Credit Canada or Grain Farmers of Ontario's mental health fact sheets and assessment tools.
Also, farmers are most fortunate to be able to utilize nature as a resource. People should also be engaging their creative side, whether it be via community movements like hanging up posters to thank volunteers or developing an artistic skill such as painting.
When question time came up, one listener wanted to know how best to engage with family when everyone is feeling stressed. Percy says one of the best ways to get help for yourself is to tell people what you need. Also, recognize who the people are in your life to meet those needs. Some family members will make you laugh, others are good listeners while others can really problem-solve. Do not expect one person to meet all those needs.
Other suggestions Percy had for listeners included:
• Be aware of your trauma load. Keep up with the news but balance it with good news as well.
• Ask others how they are doing and really listen. If there is a lot of spring work to be done and there isn't time for a two-hour heart to heart, explain that this is check-in conversation and set healthy boundaries. ◊
On the same day as the Ontario Pork Industry Council was offering mental health advice with speaker Shawna Percy, Farm Credit Canada was hosting a free webinar for their clients featuring Stephanie Staples. She is a leadership, health and wellness expert who says NAP: Notice, Acknowledge and Plan is an effective three-step process to handle emotions.
"When faced with times like this, our emotions can run rampant in a way we have not felt before," says Staples, who is based in Sidney, British Columbia. "There isn't a right or wrong but when we have a plethora of emotion, it can be overwhelming and our brain does not know how to process it."
Using NAP helps sort those emotions. It begins with Notice. "Just pull out one emotion and notice it. That's it. Get rid of all the other clutter and focus on it," advises Staples. Our bodies and minds can handle one emotion at a time. The next day or even next week, notice another one.
Acknowledging it is the next step. "Emotions are information," says Staples. Guilt is a common emotion people are feeling right now as they struggle to balance work, homelife, parenting and homeschooling children. They feel they aren't doing a good job at any of those tasks. Looking at the feeling of guilt, Staples says you have to ask yourself is it helping or hindering.
You can also do a BMW – Bitch, Moan and Whine – session for a while. Sit and carve out a time to whine about why you feel so guilty and why it is so prevalent in your mind. Put a boundary around it so you can switch to BMW version 2 – Breathe and Move it Willingly. Once that happens, you are ready for the P of NAP.
• Plan: Continuing with the emotion of guilt, Staples say this is the stage where you discern if it's healthy or unhealthy guilt. Healthy guilt is when you did something wrong, or lied or made someone's life worse. You are feeling guilt remorse which requires you to make amends. However, some guilt is unhealthy and steals energy from your life and does not make you who you want to be. With this guilt, you need to process it and ask yourself if you are really doing the best you can given the circumstances. Have you been as patient and loving as you can? Can you do better tomorrow? If so, then release the emotion of guilt and plan to do better the next day.
Staples says it is important to have self-compassion in this time of the coronavirus pandemic. "We cannot bring our 'A' game. It is not possible. We need to lower the bar and be gentle and compassionate with ourselves," advises Staples.
Personally, as a speaker, Staples recognizes this may not be a financially successful year for her. Instead of moaning about reduced income, she has decided this is the year she will take the time to focus on her marriage. "This might be the worst year for my finances but it might be the best year of my marriage," she says.
The pandemic will end at some point. When that happens, do you want to look back with regrets? Or do you want to look back and say "I did the best I could with the resources I had in the circumstances I had."
Other advice Staples had for mental health and emotional success during the pandemic includes:
• Ask for what you need. We all think our loved ones should know or see what we need but sometimes, you just need to ask nicely and kindly.
• Add the word "really" to your questions. Instead of just asking "how are you", as "how are you, really?" Staples says she's amazed how that one word changes the whole conversation.
• Reframe happy hour. Instead of going for a drink with coworkers, make your happy hour the time you drink milk and cookies with your child. Physical distancing has changed our habits but we don't have to lose routines or connections that give us joy.
• End the day on a positive note. "My husband and I used to go to bed thinking of all the things we did not get done that day. Now, we end the day by asking each other 'what was your favourite part of the day?' and it makes us feel better! • Watch your words. Some people may describe not beingable to see loved ones as agony. Death is agony but not being able to visit right now is not agony, though it is hard and frustrating, agrees Staples. "I think it is important we watch the words we use and not make situations bigger than they are."
• Move your body. "Motion changes emotions," says Staples. "Moving your body makes the mind move. Get outside in nature. Hug a tree. Change your scenery. Do some deep breathing or stretching." Then make a list of what works so that next time you are feeling low and sad, you know what works.
• Remember how resourceful you are. "We have all come through challenges using our resources," says Staples. Remember that, and tell yourself that you are a smart, creative and resourceful person. Not only will you figure it out, but you can make it better because you know how to use your gifts and resources. ◊