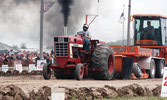 Dungannon Super Pull attracts 5,000 to village
The Dungannon Super Pull is one of the premier tourist attractions in Huron County and one of the biggest tractor pulls in the province. In fact, the Super Pull has been voted Pull of the Year in six of the last seven years and annually attracts over 5,000 people to the small village of Dungannon.
The event begins on Friday, June 16 with an outdoor dance featuring the music of Highway 21 running from 9 p.m. to 1 a.m.
On Saturday, June 17, the marquee event of the weekend will take place as the grounds play host to the Dungannon Super Pull truck and tractor pull, which begins at 4 p.m.
Rough camping options are available for those wanting to stay throughout the weekend.
For more information, visit www.dungannontractorpull.ca