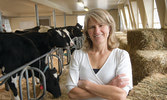 By Linaya Pot
For many dairy producers, the thought association when asked about carbon footprints could likely be a negative one. Recently the industry has been under pressure to reduce their carbon footprint – a goal which to some could seem either costly, labour intensive, or both.
However, research out of the University of Guelph has a more optimistic perspective to bring to light. Susantha Jayasundara, a research associate from the University of Guelph who studies the environmental impact of livestock systems, has found a positive relationship between Ontario dairy farm profitability and their carbon footprints.
"Our broad question when we started this research was 'Do farms that have higher profits pollute more?'" he describes of his research study, which he completed with the support from Dr. Claudia Wagner-Riddle of the School of Environmental Science at the University of Guelph.
"We wanted to see if there was a trade-off between profitability and environmental impact in terms of a carbon footprint," Dr. Wagner-Riddle contributed.
Their study, which was published in the Journal of Cleaner Production in 2019, found that reduction in the carbon footprint of milk production can be achieved while simultaneously improving the profitability of dairy farms. "This shows that we don't have to pick between the two" says Dr. Wagner-Riddle, "It doesn't have to be a win-lose."
A carbon footprint is the sum of all the greenhouse gasses being released into the environment from an individual, a corporation, or in this case – the production cycle of milk. Greenhouse gasses are responsible for trapping heat in the earth's atmosphere, contributing to climate change and the increasing global temperature. A carbon footprint is usually expressed as the total tonnage of carbon and carbon equivalents being released into the atmosphere per year.
To ensure they were capturing all the sources of greenhouse gasses that are created during milk production, Jayasundara used the standard life cycle assessment approach for his economic analysis.
"A standard life-cycle assessment means that we can see all the steps involved in the production of milk, including both the outside resources being brought into farms - such as fuel, fertilizers and feed purchased by the farmers – and then inside the farm as well, including crop production, animal management and manure storage" he listed. "This brings together all the upstream and downstream factors needed to produce milk, all the way up to the farm gate."
The emissions from these factors can be mostly attributed to four main sources: methane and nitrous oxide from manure management, nitrous oxide from cropping and land use, carbon dioxide from fossil fuel-based energy – and the methane created directly by the cattle themselves.
As Dr. Wagner-Riddle points out, that unlike poultry or swine products, milk has a unique emission source. "For dairy – and beef as well – the animals themselves are a large source of methane," she says.
Dairy cows are ruminants, meaning their stomach system is composed of four compartments. The rumen, the largest of these four compartments, host millions and millions of microorganisms that play a large role in breaking down and fermenting the fibre ingested by the cow. The fermentation of this fibre releases gasses with the cow's rumen, mostly in the form of methane and carbon dioxide. To prevent bloating of the stomach, the cow periodically releases the gasses by belching them up. This process is called eructation, and it allows the cow to release up to 250 gallons of rumen gasses per day. This creates a substantial source of emissions – in fact, Jayasundara's study found that it is responsible for over 43 per cent of the Ontario dairy farm's carbon footprint.
Unfortunately for dairy producers, methane is a particularly potent greenhouse gas. Methane can trap over 70 times more heat in the atmosphere over a 20 year period than carbon dioxide. This methane production contributes to the agriculture industry's emissions, which as a whole is responsible for over eight per cent of Canada's total GHG emissions.
This substantial contribution to the national GHG was one of the incentives for the creation of Dairy Farmers of Canada's national proAction program. One of the pillars of this program is to lessen the environmental impact of Canadian dairies, citing a goal of working alongside producers to reduce greenhouse gas emissions related to milk production. As a note of positivity, it also states that emissions from dairy farms have already substantially decreased since the 1990s.
This claim is reiterated by Dr. Wagner-Riddle. "We looked at census data from 1991 to 2011, and the data showed that there was a lot of improvement in greenhouse gas emissions over that time period. And then this study showed that overall, a lot of producers are quite efficient already."
However, Dr. Tom Wright from OMAFRA, another collaborator from the study, cautioned that relying on the industry's historical improvements would not be enough to endear the industry to the public.
"The industry is quick to point out thatits carbon footprint is much better than what it was 30 years ago, but this doesn't resonate well with consumers because everything is better than what it was in the past. Cars are more efficient, cows are more efficient – all industries are better than what they were," he cautions. "The public wants to know what have you done for them lately."
Wagner-Riddle agreed with this last sentiment. "There is still an obvious room for improvement – especially in the less profitable farms."
Jayasundara's study found that across the 142 Ontario dairy farms used in the study, the carbon footprint of milk varied by about 4-fold – a much higher range of variation than what was previously estimated. This means that while there are some very efficient farms, there are also some with high emissions relative to their milk production.
Wright thinks that the results from this study could really highlight the fact that this is an opportunity for these producers. "Since the link between profitability and carbon footprint is so strong – this is a chance to do something that is good for the producer that is also good in the eyes of the consumer."
Dr. Wagner-Riddle also commented on this strong link. "I didn't expect it to be such a clear correlation" she said of the relationship between CF and profitability. "Often in the GHG research space, theoretically, we know that efficiency gains leads to reduced emissions. But we saw this very clear result with real, on-farm data."
Due to this strong link, farmers that are simply trying to improve profitability can indirectly improve their carbon footprint. "By looking at, and trying to improve their bottom line, they can also improve on their environmental impact," says Dr. Wagner-Riddle says of Ontario dairies. In fact, their study suggests that in the absence of explicit GHG reduction policies, the main incentive for reducing emissions could result from the economic pressure on farmers to increase their profitability per cow.
However, if dairy farmers are trying to send a message to consumers about improved carbon footprints – the intentions must be clear. "Carbon mitigation also needs to be a direct strategy, not just a side benefit" emphasizes Dr. Wagner-Riddle. "We are looking for farmers to be engaged in the fight for the environment."
Thankfully there are many ways to do this, says Jayasundara. His study lists a number of management factors that they found were correlated with the carbon footprint of milk and farm profitability: calving interval, replacement rate, milk yield, feed use intensity, land occupation, and stocking rate.
They also found that the farms with lower carbon footprins had several defining characteristics. Average age at first calving and average calving interval were lower in low-emitting farms. Secondly, these farms had higher feed efficiency with a reduced reliance on purchased feed sources. Instead, the farms used more home-grown forages, specifically corn silage.
"Overall, we found that if a farm could improve feed efficiency, this is what led to decreased GHG emission per unit of milk. The farm can achieve this through a various number of crop, livestock and manure management techniques," says Jayasundara. What he wanted to emphasize was that it wasn't just one factor contributing to the lower CF. "There is no 'number one' thing to do – it's essential to work on all these factors that work together to decrease the carbon footprint."
What Jayasundara and Dr. Wagner-Riddle suggest is that each farm should try to determine their current base line level of emissions – which is important to be able to monitor and assess the farm's sustainability performance from year to year.
To help determine a base line, Dr. Wright suggests that producers visit the https://dairyfarmsplus.ca/ website, which has on online module to measure a farm's environmental footprint and compare it to the provincial and national averages. The same website has resources and fact sheets to help improve feed efficiency and manure emissions, which are based directly on research from Dr. Wagner-Riddle.
Producers may be heartened to know they aren't alone in this fight. Many agriculture universities have ongoing research trials with a goal to reduce emissions on dairy farms.
One such example is the Efficient Dairy Genome Project, an ongoing trial occurring at the University of Guelph's Elora Research Station. The main goal of this project is to combine genomics with methane and feed efficiency measurements to identify genetic markers that can be used to develop new breeding goals, explains Dr. Dave Seymour, a recent PhD graduate who worked on the study. The introduction of these traits into the Canadian dairy breeding program would allow selection of cattle with improved feed efficiency and lower methane emissions.
"So in theory, if we can combine short-term progress through management techniques, with long-term genetic progress, we can improve the carbon footprint of milk," he says.
In the end, it will be researchers and producers both working together to reduce emissions of Canadian dairies. Luckily, Canadian producers are adept at changing and improving, says Dr. Wagner-Riddle.
"The industry as a whole is always constantly improving. We always try to produce more with less resources – so the overall impact on the environment is less."
Other collaborators on the study include: David Worden, Alfons Weersink, Andrew Vander Zaag and Robert Gordon. ◊