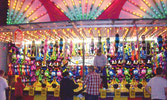 Clinton Spring Fair offers 3 days of fun June 1-3
The 164th Clinton Spring Fair is set for June 1-3 and features a "Down on the Farm" theme.
The theme will be met with the annual fair exhibits as well as sheep shearing demonstrations, the open miniature horse show and the mini-tractor and stock garden tractor pulls.
The fair opens on June 1 at 4 p.m., with a special opening ceremony set at 7 p.m. at Libro Hall.
One of the most prominent features of the fair is the demolition derby which starts Friday night. While many people come to see big vehicles and bigger crashes, the event starts with drivers so young they haven't got their licence yet. Called the Power Wheels class, the event features children in store-bought vehicles living out their demolition dreams. It starts at 7:30 p.m. on Friday, June 1. The full-size derby starts at 8 p.m.
Saturday and Sunday feature the baby show, poultry show, pet show, goat show and the Arabian Open Horse Show at the Regional Equine and Agriculture Centre of Huron (REACH).
Prior to the actual fair, the Ambassador of the Fair competition will be held on Friday, May 25. A new addition to the event is the Brussels Legion's Fish Fry crew hosting a meal at the event.