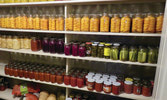 By Hetty Stuart
In my exuberance for the art of canning, I've spoken to my friends over the summer about canning experiences. I am taken aback at the number of 50-year-olds and older who no longer can. "Too much work," they say. "Not enough time," they explain. "Been there, done that," they say with an eyeball roll.
Then, there is another generation that is taking life by storm – the 30-something year olds. With young ones underfoot, they ambitiously put the word out that they are in search of more pint jars. THEY CAN!! With complete abandon and joy! There seems to be a grass-roots movement stirring among those women (and some men too) whose philosophy for future living is much "greener" than my generation.
These women mostly have the support and background from their own mothers; but failing that support, they turn to the ever-present You-Tube channels, or old recipe books. I have used the signature Ball Blue Book – an excellent guide to preserving – for my canning inspiration. This book says – in words that make my heart soar –"The irresistible appeal of canning and preserving is timeless. Let the whole family join in the fun of harvesting, preparing, simmering and preserving homemade goodness." Oh, yes, let the family indeed capture the abundance, the nutrition, the sweetness of the sunshine!
Even though my mother canned regularly throughout the season, I did not learn the art of canning from her. She focussed her whirlwind energy on working alone, efficiently accomplishing the blanching, boiling, cleaning, and preserving, by herself. Her five daughters, of which I am one, did all the food preparation at the kitchen table and never really learned the finer details of canning.
Incidentally, she also used the old-school inversion method of canning, which was standard procedure in Europe. She couldn't understand the "Canadian" method, with the hot water bath. Despite her dire warnings of the dangers of inversion canning, we have all lived to tell the tale.
In school, I had an excellent Home Economics class at F.E. Madill, where we learned very exacting methods of canning. (How I mourn the absence of culinary classes in present-day high school!) I loved the art of preserving from the start – it was a scientific process, moving from heaping baskets of peaches to full jars on the countertops – complete with popping sounds as the jars sealed into their state of submission.
In my adult years, my canning days began after we had our daughter: I processed a bushel of peaches without sugar to maintain her sugar-free diet. It took a couple years to finally finish off those tasteless offerings, and our daughter was gnawing on candy canes by Christmas. So much for sugar-free!
Live and learn is my motto and I have not stopped canning since. This year, in addition to the regular pickles, peaches and applesauce, I canned tomato soup. This was something new for me to try and I was amazed at the lovely flavour. I cannot wait to open a jar on a future blustery day when the gardens are void of all colour and bounty.
My daughter has her own little girls trailing after her now. At their young ages, they are watching with excitement as their mom plants seeds in mid-February.
"There is something quite miraculous about witnessing a plant growing from a teeny, tiny seed, especially when viewed through the eyes of a child," she admits. This little family is making some very conscientious choices as to growing and purchasing their food within a 100-mile radius, making their girls aware of the negative impact that our global food system has on the environment. The total number of miles that their food has travelled to get to their table is very minimal, as is their accompanying carbon footprint. Their desire is to educate their children to be good stewards of the earth.
I, too, am amazed, as I watch seedlings take root. My busy mind can relax and unfold as the sun warms the skies above, and my feet dig into the soft earth beneath. And then, the growing begins. The rows of empty jars are brought to the kitchen floor – hinting, suggesting, SHOUTING every day to be filled. And the process starts.
"Harvest time," says my daughter, "is not for the faint of heart." As she immerses herself in the throes of preserving, her mind goes dreamily to "snowy landscapes, void of any form of work-inducing vegetation." She is pining for winter.
What causes this irrational enthusiasm, this manic desire to fill those jars? Without even hesitating to think deeply, I can offer 10 reasons:
• When the gardens are bursting with abundance – or the prices of in-season fruits and vegetables are excellent, well – you buy and can. We bought peaches, seconds, for $30 a bushel. That is an incredible savings for peaches that had hardly any indentations or bruises. We just turned the blemished ones into jam. "Waste not, want not," is an expression my Dutch mother used to say. In the same place that we bought our peaches, a quart of canned peaches cost $10. At approximately 20 jars per bushel, my $30 turns into $200. (Except, mine are not for sale!)
• The taste is amazing. Being able to pick a sun-ripened tomato and process it into a sauce, soup or salsa is lip-smacking good.
• By growing your own veg-etables, or purchasing from a known source, you by-pass the harmful pesticides that go into any canned goods off the grocery shelves. I never worry about extra sodium, or unrecognizable ingredients in my jars.
• The sugar amounts are also controlled by you.
• I have family members who have farms, the old-fashioned farms where apple trees were part of the pioneering landscape. These old, gnarled trees still produce bushels of juicy apples. Solomon in all his glory cannot convince me that his "apples of gold in pitchers of silver" will rival my apples of red in bowls of green. To this simmering pot, I like to add crabapples. What a pucker-up, tasty, red sauce that makes!
• I love to hear the rewarding symphony of cans on the counter, obediently popping as they make their seal. "Thank you," I am wont to say to no one in general, my jars in particular.
• I have a pantry full of unique gifts to give to hostesses and friends, and for stocking stuffers. Nothing says "I love you" quite like a jar of strawberry jam. It is such a rewarding feeling to pass along these traditions. I feel like "Ma" in Little House on the Prairies, and it's a terrific, connective feeling.
• In the dead of winter, when a nasty cold assails my whole body and nothing pleases my taste buds, then a jar of pale pears hits me in my sweet spot, and suddenly, my heart will sing!
• Winter storms bring unexpected power outages in our neck of the woods. Not having to worry about a freezer full of food is pleasant indeed. Even though I still freeze a lot, I know that my pantry shelves are full, and that they will last at least a couple of years. Food security is knowing it's always there!
• Everybody uses a form of canned tomatoes for things such as pasta, pizza, soups, stews and sauces. Tomatoes couldn't be easier to preserve. My jars of tomato soup came from produce in my garden which is less than 40 feet away. I did not rely on a truck belching out emissions to provide me with the food that I serve on my table. That fact alone makes the cloud of steam that accompanies my canning so worthwhile!
• I'd like to think I've equipped the younger generation in some way with the appreciation and skills to preserve. By doing so, I've connected another generation to that cloud of witnesses who have gone before me.
What a timeless connection to the past, this preserving is. This traditional method allows us to relate with our mothers, our heritages, our cookbooks. My niece tells me fondly that she remembers working in the kitchen with her mom, all of them standing together in a row by the sink, each with a job to do. What a warm memory to preserve, right alongside the jars of pickled beets!
For myself, as a kid growing up on the farm, we lived off the land almost exclusively. I know that if I had to, I could still live this way, mostly because I have learned, among other things, the skills of preserving!
So, now that you are semi-convinced that this canning process is worthwhile, what are the how-tos? Well, there are many sources available. This article cannot possibly summarize all the details, but I do have a trick or two from my own kitchen to share.
• This is the first year in my 40 years of canning that I have ever used a magnetic lid wand. I saw my cousin use it when we canned peaches together, and immediately bought my own. What a difference this little $5 gadget makes! Buy one. Now. You will never burn your fingers again when the magnetic wand lifts the hot lids from the pan of water.
• Be prepared, and organized. Have everything at your fingertips - lids in their hot bath, jars in the oven to sterilize, sugar and funnels and lemon juice at the ready. I have a turkey cooker outside where I do the actual processing. You can truly be your own worst enemy if you do not take the time to organize yourself completely.
• Also, ALWAYS, use new lids. You should not recycle these. Canning is still a thrifty way to preserve your food. The jars and screw-on lids are re-usable. There is almost zero waste in canning.
• Do dishes as soon as possible. Do not wait, not even one second. You will be thankful when all those big, gangly pots and pans are dripping upside-down on your countertop, as your jars do their proud popping beside them. This is the moment for you to put up your feet and just be thankful.
• If you can get a second set of hands to help, that makes such a difference. My hubby has been roped in to help with the peeling, the lifting, and changing the music on my playlist. (I like to listen to music full-blast when I do mindless chores)
When you are finished, and all your stained clothing has been dropped into the washing machine, then it is time to reach for that equally delicious book. Or just sit and unwind. Winter is coming, dear daughter, and the landscape will be void of all vegetation! ◊