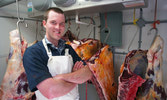 By Jeff Tribe
When circumstances prevent farmers from getting an animal to the abattoir, Aaron Wall brings his rolling abattoir to them.
AA Cuts Mobile Butchery converts pure loss into full freezers for producers with a healthy, yet injured cow which can't be legally transported and sold at the sale barn, or slaughtered at an existing facility.
"There are not too many people who do this type of work," says 25-year-old Wall. "I feel a great sense of satisfaction for being able to provide this service and make a living off of what would otherwise get wasted."
The Milverton-area resident's entry into the butchery business goes back to the age of 17, when he began working for family friends. Across four years Wall gained experience and exposure in each aspect of the business from slaughter through cutting and processing.
"I learned one skill at a time, starting on cheaper cuts and worked my way up."
Identifying a personal niche employment opportunity in producer need, Wall decided to take that carefully-developed skillset on the road. Step one was ordering a custom-designed bumper-pull trailer featuring thermal capability and sanitary components for chilling, cutting and processing meat, and facilitating meticulous clean-up. Secondly, he began the process of getting his name out through word-of-mouth, cold calls to neighbourhood farms and flyers he distributed for the first three months throughout Huron County.
"That's what helped kick-start it back in the day," says Wall. "I took it one day at a time and basically worked through one call at a time until I got on my feet."
The first year was a little unnerving, he admits, but based on his workload, he has gotten more than comfortable with what some might consider his business model's uncertain nature.
"I just work with the calls when they come in."
Over time, Wall has also gotten his procedure down to a science. There is no such thing as a regular schedule in his line of work and calls can be by nature very random, but volume of demand, means given reasonable geographic proximity and animal size, his version of six steady work days weekly (Monday through Saturday) has evolved.
"My schedule is very unpredictable but since this is my full-time work, I can get to a majority of calls."
Ideally, Wall will slaughter an animal in the afternoon, letting it hang and chill overnight inside his trailer before returning the following morning to cut and process that animal, subsequently heading out in the afternoon to repeat the cycle.
Host producers are required to have a front-end loader with enough lift capability to move the carcass during onsite processing, a water hose and tap, and a 220-volt welding outlet in order to power the mobile trailer's chiller unit.
In practice, following an onsite assessment based on years of experience, Wall humanely dispatches injured animals with one precisely-placed shot from a high-powered rifle. The carcass is then transported to and positioned on a portable cradle for preliminary work, lifted to finish the process and remove internal organs, halved with the assistance of an electric-powered saw, transported to his portable trailer, and further cut into pieces he can manually lift onto hooks for the chilling process.
The following day Wall returns, quickly and efficiently beginning a butchering process which can include boneless roasts, steaks packed in bulk, stewing beef and ground beef packaged in convenient microwave-safe plastic tubes, which are sealed to enhance quality during freezer storage.
Since the beef is not government inspected, regulations state it must stay on the premises where slaughtered, consumed by the producer and their immediate family, and cannot be sold, donated or transported.
Wall charges 50 cents per kilometre of mileage, a flat $100 fee for slaughter and 70 cents per pound of dressed beef. In ballpark terms, a local milking cow may run around $600, while a larger beef animal further away $900 to $1,000. Based five minutes south of Milverton, Wall's standard area of operations includes all of southern Ontario, within a three-hour radius.
The work is strenuous and physical.
"It's a lot of hours a day on my feet working with my hands," says Wall, who nevertheless thoroughly enjoys the changeable settings his chosen vocation provides. Outgoing by nature, he also appreciates interaction with clients. "It's a little bit of everything, lots of hard work, some variety and a lot of interesting people and places."
The majority of his work is repeat customers. That sector, combined with new clientele offers the potential for expansion at some point.
"Not in the near future," said Wall. "I'm busy, but content for the time-being as a one-person operation."
The mobile nature of his operation, both in terms of customer need and physical location, is not for everyone, but Wall has no regrets about life outside a standard '9-5.'
"Not really, I'm happy with the way this has been working out."
Wall's work ethic, professionalism and willingness to take a risk has turned AA Cuts Mobile Butchery into a successful business venture, which is working out for his bottom line. Well beyond that, it's a venture he finds personal satisfaction in through customer satisfaction: dedicated farmers who enjoy their chosen lifestyle discouraged at the thought of a good animal going to waste.
"I can take that situation, turn it around and fill their freezer with food for their family." ◊