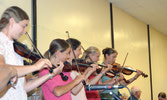 Brussels Fiddle fest celebrates traditional music
On Sunday, July 23, the Brussels Lions Club will be hosting its fourth annual fiddle jamboree at the Brussels, Morris and Grey Community Centre.
Building upon the success of the first jamboree, held in 2014, the Lions continue to attract attention for this unique musical event, which has now been featured in a documentary about the musical roots of Huron County.
"The Lions consider [the fiddle jamboree] to be a real opportunity to promote fiddle music in our area and encourage the involvement of youth," the event's website states.
Rather than bringing in musicians to perform for the community, the event shines a light on musicians within the community, inviting local fiddle players to perform on stage backed by a band of professional musicians.
Founder Jim Lee says he hopes the event will capture the heritage feeling of listening to old-time fiddle music on the radio in a Huron County kitchen.
For more information visit www.brusselsfiddlejamboree.ca or call Lee at 519-887-8011