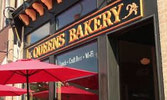 Blyth's become a foodie's haven
It's not so long ago when patrons attending the Blyth Festival or concerts at Blyth Memorial Hall had to find their way to nearby towns to get a meal that was a little out of the ordinary. In recent years, people who like good food have been making special trips to dine in Blyth's restaurants. Directly across the street from Memorial Hall are three very different dining experiences.
The oldest of the three is the Blyth Inn which has stood in the village for more than a century but has reached new heights under current owner and chef Jason Rutledge. A native of nearby Auburn who previously worked at the prestigious Benmiller Inn, Rutledge brought a combination of high-end pub food and more exotic fare to the dining room and bar often called affectionately "The Rubber Boot".
One door to the north, Peter Gusso and his wife Sarah opened Part II Bistro. Since then Part II Bistro and the Gussos have won a string of honours and were ranked number one in Ontario among 28,000 restaurants by Tripadvisor.com. Peter is the chef and specializes in superb meals cooked with local ingredients.
To the north again is the Queens Bakery catering to those seeking light meals, good coffee and mouth-watering desserts. Partners Anne Elliott and Les Cook and their staff are known for the friendly welcome they offer new and repeat visitors. Local artists display their work on the brick walls and from time to time local musicians entertain. The Bakery remains open late when the Blyth Festival is operating so you can drop in for a snack after the show.
Coming soon, the new Blyth Cowbell Brewing Company destination brewery will also offer on-site meals using local ingredients.