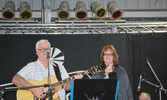 History, music, camping at jamboree
The Blyth and District Community Centre and nearby campground will be the perfect place to enjoy country music, a few great meals and some special shopping experiences this May.
The 20th annual Barn Dance Jamboree, hosted by the Barn Dance Historical Society, is scheduled to take place May 25-28 at the campground and centre.
The event features camping for those inclined but is also open to the public for those who only want to attend some of the great events that are part of the weekend.
Thursday, May 25 marks the start of the event and the campground opens at 10 a.m. with registration running until 9 p.m. that night. A special Campers' Jam Session is set that evening at 7 p.m. in the upstairs of the community centre.
Friday the celebration really kicks off with a second campers' session at 1 p.m. and the Bluegrass Show and Open Stage on Friday evening at 7 p.m. Registration is again running all day.
The big event, The Barn Dance Show, a modern version of the CKNX Travelling Barn Dance that is celebrated at the Jamboree, takes place Saturday night at 8 p.m.